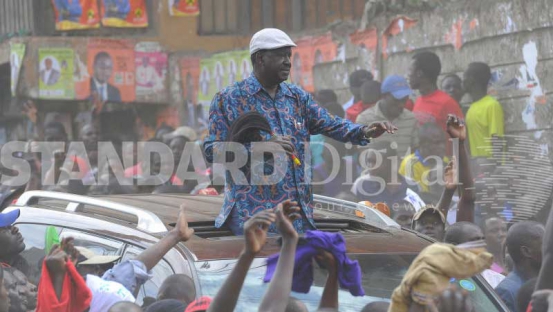 Politics
Mass protests and pushing for an independent audit of the presidential election results are among options Opposition leader Raila Odinga was reportedly weighing ahead of his announcement today.
Mass protests and the push for an independent audit of the presidential election results are among
options
Opposition leader Raila Odinga was reportedly weighing ahead of his announcement today. Although National Super Alliance (NASA) leaders have ruled out filing a petition at the Supreme Court, there were reports it could be lodged through proxy, possibly by a civil society group critical of the outcome of the presidential vote. There was also speculation that NASA could declare results showing Raila won and push for mass action. Sources also suggested Raila could open channels for background talks with Government following reports President Uhuru Kenyatta's emissaries were sent to him on Friday night.
SEE ALSO: Likely winners and losers in Cabinet purge
The Independent Electoral and Boundaries Commission (IEBC) declared Jubilee Party's Uhuru Kenyatta the winner with over 8.2 million votes or 54.2 per cent of the vote, against Raila's 6.8 million or 44.7 per cent. But now, it seems Raila wants to use street protests to challenge the outcome of last week's elections for president and five other elective posts. Nationwide rallies could be justified as a means of consulting supporters on the next course of action, sources suggested. In an interview with the Financial Times, Raila had also signalled he would push for an audit of the results transmission system on the back of NASA's hacking claims.
2013 example
SEE ALSO: City sheriff dwarfs Sonko with a huge Sh28 billion budget
NASA said it would not challenge the results in court, citing the 2013 example when Raila claimed the election was rigged and took his case to the Supreme Court and lost. The Standard has established a group of civil society organisations met yesterday to discuss the polls outcome and the possibility of challenging the results. One of the lawyers at the meeting could neither confirm nor deny plans to challenge Uhuru's victory. The lawyer only said they would make a decision before the expiry of the seven days allowed to file a petition. Raila said he was not trying to take the presidency by unconstitutional means by calling for mass action. "It is not about me. It's not about Raila Odinga. I am not going to be a candidate again. We just want Kenyans to know what happened and that the whole world is not understanding," Raila told the Financial Times.
SEE ALSO: Uhuru's few options as country takes stock, three months on
He noted that if the 'mistakes' remained uncorrected, there was no reason why Kenyans should go to elections again. "There's no point in Kenyans going to elections in future, queuing for hours to vote, or politicians running around for months campaigning. This is futile if it is the computer at the national tallying centre that is making the final decisions," Raila said. He claimed the IEBC servers were hacked and the results manipulated to favour Uhuru. "The IEBC had little choice but to falsify the results because the workers were under pressure from the Jubilee camp. With what happened to the IT manager, Chris Msando, other IEBC staff feared for their lives," he said. While addressing supporters in Nairobi's Kibera and Mathare on Sunday, Raila said he had predicted Jubilee would steal the election.
SEE ALSO: Report on reopening of churches, mosques handed to president as lockdown and curfew expire
"That is what they did but we are not done yet. We will not give up," Raila said. After denouncing the results, the NASA leader called for intervention by the international community to help end the impasse. "We are calling for an audit by the UN so Kenyans can know what is wrong and right. It is not about me. It is about Kenyans who queue for hours to vote but the results are cooked using computers." Raila said NASA also unfairly lost several other seats. His running mate, Kalonzo Musyoka, said: "We are not going to court but that does not mean we aren't using other means to challenge the outcome. I fully support what our flag bearer is saying."