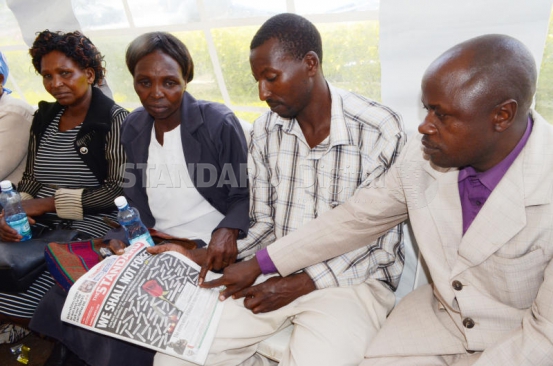 Friday April 3
We meet Muturi at 10am at the Chiromo Funeral Parlour, a day after the massacre. He had traveled to Nairobi from his Nyeri home for a busy day, and his phone had been switched off, only to be swamped with frantic text messages and missed calls at about 4pm when he came online. On learning that Waithera, a third-year student pursuing a Business Management degree at the Garissa University College, is missing, he spends the night in Nairobi eager to know her fate.
A reverend with Revival and Hope Ministry, Muturi catches our eye from his cool demeanour amid much distress. He is among the first people to view the bodies arriving at Chiromo. Waithera is not among the bodies.
Friday evening, Muturi visits Nyayo Stadium where survivors will be brought Saturday.
Waithera is not in the list of the survivors. Mournful and tired, Muturi has had no meal the whole day. He spends the night at a Nairobi lodge.
Saturday April 4
Muturi, joined by Waithera's brother, Ernest Murimi, visit Kenyatta National Hospital. Waithera is not among the convalescing survivors. They go back to the stadium. "We are hoping maybe there is a mistake in the list, and that Waithera is among the surviving students," he tells us.
When they arrive, Waithera is not among them.
Health CS James Macharia visits the stadium. Muturi introduces himself telling the Minister; that Waithera hails near the CS's rural home in Kigumo, Murang'a County.
In fact, Macharia's parents were the best man and maid of honour when Waithera's parents renewed their marriage vows.
"Kindly do everything to hurry up the identification process," Muturi urges the minister.
It is now late afternoon, and Muturi goes back to Chiromo. Not finding his sister-in-law among the dead, he decides to go back to the lodge for the night. He is still in the same clothes, a light-brown suit and a blue shirt, that he wore on Thursday.
"I feel the stench of the mortuary move with me, but the money I had on me is running out; I cannot afford new clothes. I decided to wash-and-wear," he says.
Sunday April 5
He is back at the Morgue early morning. Noticing the same clothes on Muturi, somebody at Chiromo asks him whether it is his work uniform.
Accompanied by Murimi, they view the bodies that had been mutilated beyond recognition. They cannot recognise Waithera.
But Murimi is convinced one of the bodies is his sister's. He has identified the toe nails and the nail polish Waithera was wearing only two weeks before when he bought her sandals in Kariokor (Waithera had taken time away from Kenyatta University where the Garisa college had visited for games). In the evening, Muturi meets CS Macharia again, who assures him the government is doing everything possible to speed-up the identification process.
At about 7pm, he is back at the lodge, and again, washes the clothes.
Monday April 6
At 4am Muturi travels to Nyeri aboard a 2NK shuttle. He misses his wife and three children, the oldest 12, the youngest three. And of course, he needs to change his clothes. He is barely home ten minutes when the phone rings. It is the minister.
"We have identified the body," CS Macharia says.
Macharia explains that the government had mobilised experts who worked Sunday night, matching fingerprints in the national database with the identified bodies.
Muturi asks his wife to pack a few clothes, and leaves immediately.
"Please take the children and leave for mom's place' (Waithera's home in Murang'a) he tells his wife. "I will meet you there."
By 2pm, he is at Chiromo. Murimi was right, the body he had earlier thought to be her sister's turns out to be hers indeed.
But it is not yet over. This is government business and it is moving so slowly. Information over a loudspeaker is brief and unclear and confusion reigns.
But at least, unlike the first few days where people starved, well-wishers are many, bearing food and soft drinks.
Tuesday April 7
Early morning, Muturi is back at Chiromo with Waithera's family, mother Alice Wanjiku, brother Murimi, uncles and aunts.
The mother breaks down. The loss of a daughter she terms a "blessing" is too much. There was another girl with the same name who died in childhood.
It is at this moment that the "rock" of this family, Muturi, ever since we met him four days ago - it seems like an eternity - sheds tears. All along he has been stoic, even comforting other bereaved families. Today even, Murimi cannot hold tears back. He remembers Waithera as a God fearing girl whose Facebook profile picture read; "I want you to accept Jesus". After a long wait, misinformation and psychological counselling from Red Cross staff and other volunteers, they write a statement with the police at Chiromo, a necessity in a crime caused death. Also post-mortem is done. Time to travel home and plan for the burial.
Wednesday April 8
Murang'a Senator Kembi Gitura and Kigumo MP Jamleck Kamau lead a delegation of leaders to Waithera's home to condole with her family.
A village in mourning visits the home all week long and since Waithera's father, Stephen Irungu, is long dead, Muturi has taken the role of guardianship and he won't be going back home anytime soon.
At 11pm, he calls us. They have been seeing visitors all day long and the reality is dawning home. He has a message to the government.
"As we speak, I am with the local chief," he starts, "but I will tell you this again, write the story and tell the government it cannot be business as usual. We cannot have children, imagine even girls, shot several times, sometimes from the back. Killed for nothing."
A week later; Wednesday April 15
Waithera will be laid to rest today. The procession is at Chiromo early in the morning and by 9am, they leave for Murang'a. By 11am, ACK Kamung'ang'a fills to the rafters. The County Government and National Government representatives are here. There are many tributes, including from three GUC schoolmates and survivors. The Minister's father, Julius Ndugire, sends his son's condolences and asks the County Government to offer Waithera's siblings, who are not doing well, jobs in her honour.
Muturi keeps on spraying the coffin with air freshener. He gives a moving tribute to Waithera, a girl he educated through secondary school and at the university.
Waithera's secondary school classmates, Ndogamano, are also here. A tearful Mary Irungu says, "She was clever. She was our head girl in 2012."
At 15:56h, Waithera is laid to rest. Around the country, over a hundred parents are also sending their beloved off; the future hopes they invested in. What stands out from GUC is that families who sent their children there are poor. Now, the future hopes have been shattered.