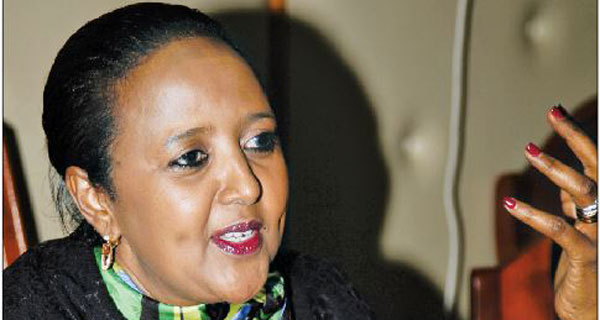 Cabinet Secretary Amina Mohammed addressing journalists in her office Wednesday. She denied allegations that Kenya's foreign policy was being shaped by the ICC cases. [PHOTO: WILBERFORCE OKWIRI/STANDARD]
By FELIX OLICK and AFP
Kenya: President Uhuru Kenyatta is among leaders said to have been invited to the United States for a summit despite concerns that Kenya's relationship with the West have sunk to a new low.
White House announced on Tuesday that President Obama will hold the first US-Africa Leaders' Summit in August with the President reportedly being among the invited guests.
Ahead of the March 4 presidential election, western states sent out strong signals that electing leaders who face trial at the International Criminal Court (ICC) in The Hague would have "consequences" for Kenya internationally.
"The White House is pleased to announce that the United States will host the first US-Africa Leaders Summit in Washington, DC on August 5 and 6, 2014," said the statement
"President Obama looks forward to welcoming leaders from across the African continent to the Nation's Capital (Washington) to further strengthen ties with one of the world's most dynamic and fastest-growing regions," the statement said.
According to the announcement, the summit will build on the progress made since Obama's trip to Africa last summer.
During the meeting, he would focus on trade and investment in Africa and also highlight America's commitment to Africa's security and its democratic development.
The government, however, is yet to confirm whether the President has received the invitation.
Yesterday, Foreign Affairs Cabinet Secretary Amina Mohammed dismissed claims that Kenya's foreign policy was being shaped by the ICC cases.
Amina maintained that the country's relationship with the West was stable, saying that the government was invited to the UK after 20 years by the country's foreign secretary.
"Our relationship is good, its complex it's growing," she said yesterday at a press conference in her office.
Snubbed Kenya
She also announced that her Ministry was planning to visit Germany next month, to among others, woo investors.
The indictment of the country's top leadership has been one of the reasons Obama is yet to visit the Kenya despite being the homeland of his late father.
Last year, he snubbed Kenya during his second African trip in which he visited Senegal, South Africa and Tanzania and unveiled a series of agricultural, power generation and development initiatives.
But Obama has spoken to Kenyatta on telephone, and has enjoyed more interaction with the outside world since the terrorist attack on Westgate Mall in September last year.