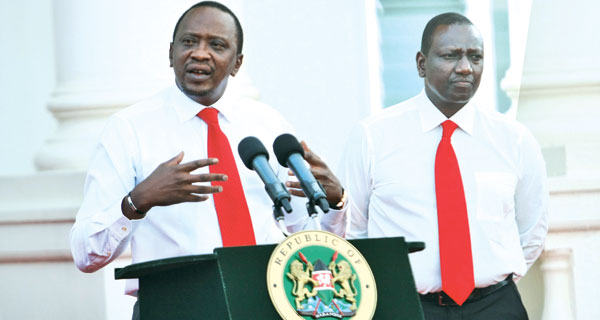 President Uhuru Kenyatta with his Deputy William Ruto
By KIBIWOTT KOROSS
[email protected]
The home regions of President Uhuru Kenyatta and his Deputy William Ruto have been rewarded with more than half of all senior appointments, a survey by The Standard on Saturday has revealed. Mt Kenya and Rift Valley regions hold a combined 57.5 per cent of the 87 appointments made by the nine-month-old Jubilee administration.
Public unrest
"I know there is a protest letter and a notice that is supposed to run in the papers expressing fears by the commission that the appointments could generate public unrest in some parts of the country," said the source who sought anonymity. Asked if he thought the appointments represented the face of the country, Mohammed said his office is yet to take an analysis of the appointments because President Kenyatta has said more are coming. "We are yet to analyse the appointments. We have to wait until when the whole process is over so that we can look at the lists in totality. But the two principals should stick to the constitution on all public appointments," he said.
Parliamentary approval
But he will have to wait a while longer for Parliament to approve his nomination. The appointments will see the replacement of public officials named by the coalition government of President Kibaki and Prime Minister Raila Odinga, which the Jubilee government replaced last year. The corporation chairman's position is not a full-time job – its holder is not paid any salary but sitting allowances. They draw Sh20,000 per sitting with a requirement that a board should not meet more than three times in one quarter. But chairpersons act as the direct link between the firm and the government and can exert their political influence to steer policy or decisions in a certain direction — not to mention the award of lucrative contracts. Of the 42 parastatal heads named by the President, 13 representing come from Mount Kenya region (30 per cent); Rift Valley has 10 appointees (23.8 per cent); Coast and Nyanza follow with five appointments each (14.3 per cent). However, most of the appointments from Nyanza were from the Kisii community whose Gershom Otachi was appointed new chairman of the Board of Trustees of the Policyholders' Compensation Fund. Otachi is a member of President Kenyatta's defence team at the International Criminal Court. TNA Secretary General Onyango Oloo is the new Lake Basin Development Authority chair while Edwin Yinda, a former Youth for Kanu (YK92) officail and former Alego Usonga MP was picked as the chairman of Kenya Information and Communication.