Trump kicks out Secretary of State Rex Tillerson after Kenya visit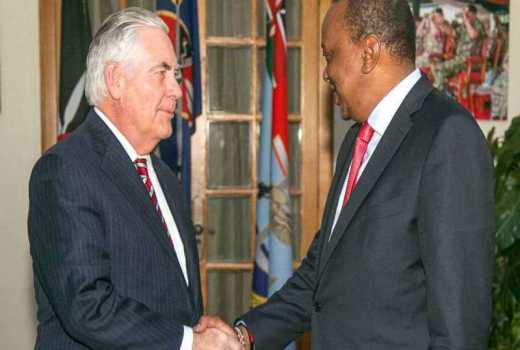 Barely a day after flying out of Nairobi US Secreatry of State Rex Tillerson was Tuesday fired and replaced with Central Intelligence Agency Director Mike Pompeo.
President Donald Trump has picked Gina Haspel to lead the CIA.
"Mike Pompeo, Director of the CIA, will become our new Secretary of State. He will do a fantastic job! Thank you to Rex Tillerson for his service! Gina Haspel will become the new Director of the CIA, and the first woman so chosen. Congratulations to all!" Trump said on Twitter.
On Friday March 9 Tillerson held talks with President Uhuru Kenyatta at State House, Nairobi. Speaking during the meeting, Tillerson said the United States of America would deepen security cooperation with Kenya to fight terrorism as well as seeking peace in Somalia and South Sudan.
The US Secretary of State also called for increased US investment, stronger trade and bilateral ties during discussions with President Uhuru Kenyatta.
Tillerson said US deeply values relations with Kenya as it commits to stronger security, economic, trade and bilateral ties.
On Saturday, it was reported that Tillerson was suspending his itinerary on an account of illness.
On Monday he cut short his African tour. The explanation was that he was flying back to Washing for an urgent in-person meeting. Chad was the next destination.
CNN however reports the Secretary of State might have been asked to step down on Friday.
Such a development of course meant he could not continue with his business.
CNN further reports that President Trump did not consult Tillerson on the planned unprecedented meeting with North Korean dictator Kim Jong Un.
"I made the decision by myself," Trump told reporters moments ago. The talks will be the first between a sitting US president and a North Korean leader, adds a CNN report.
As Tillerson met Uhuru on Friday, reports say that Trump asked him to step down. It is instructive that Tillerson had earlier maintained that conditions were not yet ripe for negotiations with North Korea.
Tillerson's replacement CIA Director Mike Pompeo said, ""I am deeply grateful to President Trump for permitting me to serve as Director of the Central Intelligence Agency and for this opportunity to serve as Secretary of State. His leadership has made America safer and I look forward to representing him and the American people to the rest of the world to further America's prosperity".
Pompeo was born in California in 1963 and graduated from the United States Military Academy with a degree in mechanical engineering in 1986.
He saw action in the Gulf War. He would later graduate from Harvard Law School University with a law degree. Like former President Barrack Obama, he also edited the Harvard Law Review.
According to an on-line source, in 1998, along with other West Point alumni, Pompeo founded Thayer Aerospace and Private Security, which received a two percent investment from energy and chemicals giant Koch Industries.
He would later sell his stake in Thayer after which he became the President of Sentry International, an oilfield equipment company, which was also a partner with Koch Industries.
To fight drought, involve communities
According to the latest information from the Meteorological Department, rainfall will be poorly distributed in April, May and June, and this will have a serious impact on agriculture