State must invest more in water and healthcare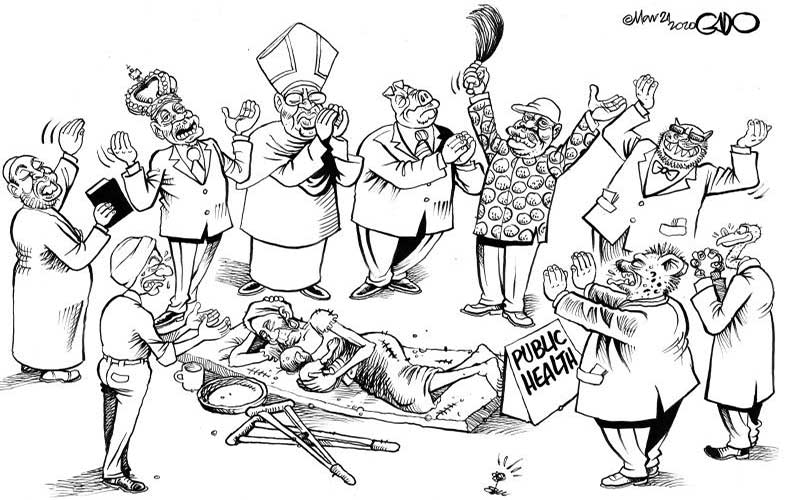 Of late, nothing has been more treasured and in demand than water. Lives depend on it in more than one way; a fact that the surprise emergence of coronavirus drove home with savage force. Yet, even though Kenya sits on a large underground water reservoir, sufficient water supply is one of the government's biggest challenges, especially in urban areas.
There is an unbreakable bond between clean drinking water and good health. My conviction, but I could be wrong, is that at least 80 per cent of illnesses are brought about by unclean environments. It, therefore, baffles that the government hasn't seen the need to act as a buffer between citizens and the 80 per cent pathogens arising from unclean environments.
Ironically, though Turkana experiences perennial water shortages, it sits atop one of the largest replenishable underground water reservoirs in Africa, estimated to hold 250 billion cubic metres of water. Our annual consumption is about three billion cubic meters.
Turkana is also famous for some of the oldest fossil discoveries and lately, oil. However, the oil that should have lifted Turkana out of abject poverty could be what will drive it into a deeper morass unless both the national and county governments wake up to the realities of intricate political intrigues that instigate instability in areas rich in natural resources in Africa, such as DRC, Congo Republic and Nigeria.
In any urban centre in Kenya today, you will find a bucket of water and soap every few metres, all in the spirit of taming coronavirus. To sustain that level of hygiene, national and county governments must ensure a steady supply of water. Unfortunately, that hardly seems to be a priority for leaders at both levels of government given their endless obsession with politics of ad hominem and partiality for pilfering public funds.
The deception often used to mask government's inefficiency was exposed last year when Ndakaini dam, the supposed culprit in the perennial water shortages that assail Nairobians, burst its upper storage limit, but Nairobi still experienced serious water shortages. Authorities were at pains to explain it, and the ensuing buck-passing did not help matters.
Lessons from Covid-19 should galvanise the government into seeking ways of exploiting and managing our water resources to ensure towns and homesteads have a steady supply of water for both domestic use and irrigation. We are staring food shortages in the face because we do not take agriculture seriously, futilely relying on rain-driven agriculture, despite being aware of the effects of global warming on weather patterns.
Besides, the government should come up with policies and support systems that will encourage water harvesting during the rainy season. We can learn from Japan that has the world's largest underground water tank, which also serves as a flood diversion facility.
The pandemic scare also makes a convincing argument for why the government must invest heavily in healthcare. Our healthcare system is chaotic, what with shortages of drugs, medical personnel strikes caused by poor remuneration and working conditions, poor doctor to patient ratios, an unregulated private medical practice that feeds off public hospitals, and a national health insurer that is more of a leech than a lifeline to patients.
Porous system
The National Hospital Insurance Fund's woes stem not from a lack of capital, but the propensity by some of its managers to indulge corruption, courtesy of a porous accounting system that private hospitals, working in cahoots with some NHIF staff, exploit to siphon funds. These loopholes must be plugged to ensure NHIF discharges its mandate diligently. Contracting a reputable international firm to manage NHIF funds could be the solution we seek.
Borrowing ideals from the 2010 Obamacare would serve us well in our endeavour to rebuild the health system. Suffice it to say that Obamacare made it possible for the indigent to afford medical care by lowering costs. Under Obamacare, medical insurance was compulsory and the affluent paid higher taxes to raise subsidies in support of the poor.
Post-coronavirus, these are some of the issues Cabinet Secretary for Health Mutahi Kagwe has to grapple with in his endeavour to resuscitate a critical ministry that has suffered decades of asphyxiation. Because Parliament cannot, of its own volition, enact legislation ensuring that medical insurance covers for public office holders are restricted to public hospitals, citizens should vociferously make that demand.
We cannot elect people to manage public resources in which they have no faith. Legislators must lead the restoration of public trust in our health system.
Mr Chagema is a copy editor at The Standard. [email protected]