Patience is defined as the capacity to control personal emotions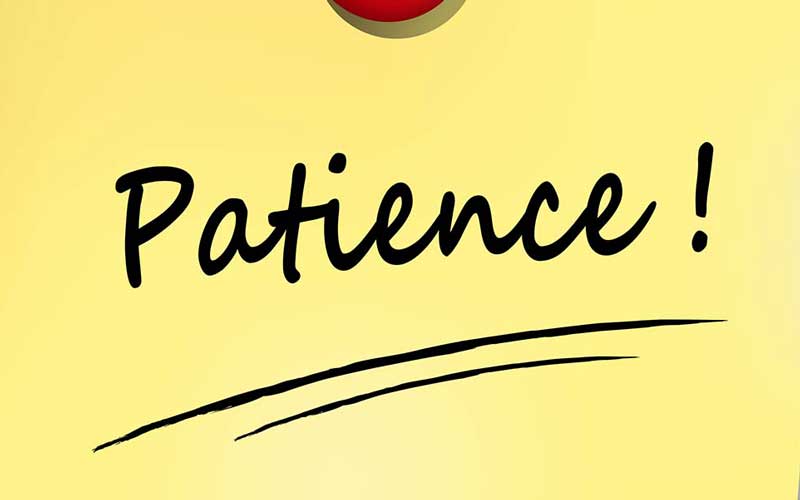 Once in a while, tempers get frayed and people do what others frown upon, or the horrible. Stories of couples quarreling and one killing the other abound.
We have had the unfortunate experience of fighting amongst ourselves whenever selfish politicians bickered over election results. Over the years, workers have staged industrial action demanding better pay and working conditions. All these happen when individuals or parties run out of patience.
Whenever such happens, there are those on the fringes who stand to lose something. These are the third parties who try their best to cool down tempers by urging patience. Often, the phrase 'exercise patience' is used and has become quite common. However, the question is; do we truly exercise patience?
To exercise (noun) is defined as an activity requiring physical effort, mostly for health benefit. As a verb, it means to engage, implement, apply, and occupy one's mind or worry.
Thus, we exercise our minds when we, say, try to explain the concepts of creation and evolution to those who are skeptical.
We exercise breathing to control our emotions or heartbeats when there is an adrenalin surge. We exercise our hands, legs and backs to relieve stiff muscles, or to improve blood circulation.
Patience is about capacity to control our emotions; it is a non-physical attribute that you cannot exercise unless you have named a part of your body or pet, Patience.
The phrase 'exercise patience' is therefore wrong, yet appears to have wormed itself into our grammar so much it is generally accepted. Indeed, very few, at any given time, would notice the slip. The correct phrase is, 'be patient'.
Public relations
Note also that an activity carried out for a specific purpose is said to have been exercised. For example, most organizations need to apprise the public of new developments by engaging in public relations.
When this happens, the organization is deemed to have carried out an 'exercise in public relations'. Without the preposition 'in' separating 'exercise' and 'public relations', the sentence would become ungrammatical.
Similarly, we can say: 'In the exercise (verb) of his authority (or in exercising his authority), Fred Matiangi instructed Cabinet Secretaries to provide him a list of corrupt people within their respective ministries within two weeks'.
On the other hand, patience runs out, but is replenishable. Running out of patience, just like running out of breath, is a temporal thing, never permanent unless one turns up the toes, which is to say, dies.
Get services
Among leaders who seem to have run out of patience with the nurses' strike is Elgeyo Marakwet Governor Alex Tolgos. Of course, other governors are not happy with the strike, but are more circumspect in their remarks; not so Tolgos.
He does not think nurses, among other civil servants, have a right to demand special treatment in regard to pay review. He voiced the question: do we do away with teachers to pay nurses?
Perhaps he was reminding nurses that teachers have also agitated for pay rise but shelved their threat to go on strike to create room for more negotiations, and nurses should do the same.
This brings to mind what most of us advocate for fairness; first come, first served. Of course, there are a few selfish individuals in society who believe everything should revolve around them.
They are the type who find others patiently queuing to get services in a public office but decide to go to the head of the queue. They do not subscribe to the, 'be patient' motto, and do not believe in the principle of 'first come, first served'.
Nevertheless, you might have noticed that this phrase has been subtly changed to read 'first come, first serve'. In grammatical terms, both are correct, but they convey totally different meanings.
While one means that service will be given in the order in which service seekers arrive, the other means that the first person to arrive will be the one to give the first service to others. The verb 'served' is the past tense of 'serve' and works as a 'past participle' as well.
When it is used as a past tense, 'served' denotes a single event in the past. As a past participle, it is used in the context of past, present or future perfect tenses.

Mr Chagema is a correspondent at The [email protected]