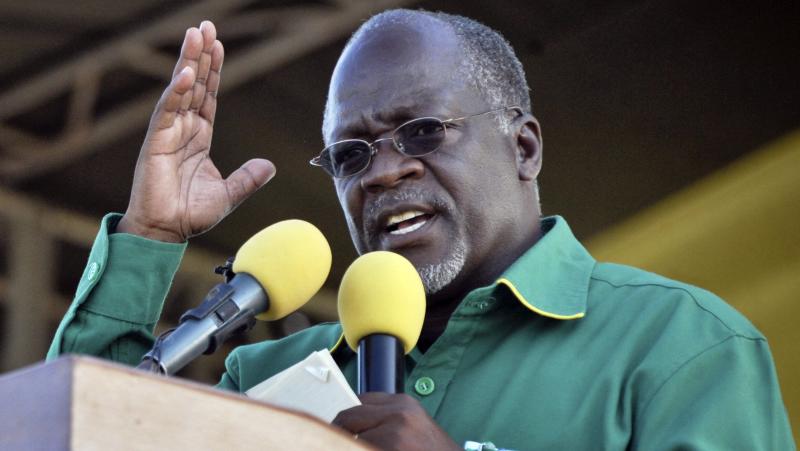 State officials in Tanzania have taken to social media to defend the continued absence of their head of state from the public even as silence from the president's official communication channels persists.
Today marks nearly two weeks since President John Magufuli was seen in public. Rumours within and outside Tanzania continue to spread about the whereabouts of Magufuli. Yesterday, Tanzania's Cabinet Minister for Constitutional Affairs Mwigulu Nchemba countered allegations by the country's leading opposition figure Tundu Lissu over the head of state's whereabouts.
"The president of a country is not a church worker. Neither is he a church elder who did not show up for a scheduled appearance. The president is not a TV presenter who had a show and failed to show up. A head of state is not a head of a jogging club who should always be around taking selfies," Nchemba posted on his social media platforms in the country's national language Swahili.
"Let us stop this stupidity. You have sullied the name of the country, you have wished that we fail and now you are wishing ill over our president. Those who are breaking the law, think about what the penal code says on cybercrime. The government is at work," the minister said.
By close of business yesterday, this remained the most notable comment from a high-ranking State official on the president's continued absence.
Critics of President's Magufuli's tenure believe that the words from the minister and evoking of the country's penal code was meant to prevent local media from reporting on the matter.
Magufuli's first term in office was marked by strong arm tactics towards the media.
Tanzania's main opposition leader Tundu Lissu yesterday said Magufuli is in India receiving medical treatment for Covid-19 and is in a serious condition.
Lissu, who lost last year's election to Magufuli, cited medical and security sources in Kenya for his information that the president had been transferred from hospital in Kenya to India and was in a coma - but did not provide evidence.
Tanzanian government spokesmen have stayed mum during days of speculation over the 61-year-old Magufuli's whereabouts and health. Representatives of Kenya's and India's governments also contacted by Reuters have not given information either.
In power since 2015 and nicknamed "The Bulldozer," Magufuli was last seen on February 27 looking his normal robust self during a ceremony at State House in Dar es Salaam.
Lissu told Reuters that Magufuli was flown to Kenya's Nairobi Hospital at the start of this week and then on to an unknown destination in India. "He's comatose since yesterday morning," he told Reuters, without elaborating.
Journalists based in Tanzania followed reports of Magufuli's absence from international news organisations and from stories published in neighbouring countries.
"We are reading things on BBC and following tweets by Kenyan media houses. It is dark here. We have no information whatsoever and there is no government official willing to speak about this matter but there are rumours in all corners of the country," a journalist based in Dar es Salaam told The Standard.
A history of violence and intimidation towards the fourth estate in Tanzania has led to the control of the airwaves and public opinion by the ruling class. "It is not easy to get any information and it is very risky for us to ask," the journalist said.
With the extended media blackout, other ministers too have been posting on their pages warning the public against sharing any unofficial information on Magufuli. On Tuesday, there were unconfirmed reports about the possibility of the Tanzanian president being admitted to a hospital in Nairobi and later on transferred to an overseas facility for treatment.
Although he is reported to have a history of a heart ailment, rumours of his hospitalisation from Covid-19 have dominated debate perhaps because he was one among the dozens of heads of state who consistently dumbed down the potential dangers posed by the pandemic. In the months that followed declaration of the coronavirus as a global pandemic, Magufuli did not put his country under lockdown, encouraged mass gatherings and recommended yet-to-be-verified medication like a Madagascan concoction and procedures such as smoke inhalation as possible Covid-19 cures.
Earlier this month, at a funeral for a top presidential aide, Magufuli said Tanzania defeated Covid-19 last year and would win again this year. The aide died hours after the vice-president of the country's semi-autonomous islands of Zanzibar, who was being treated for Covid-19.