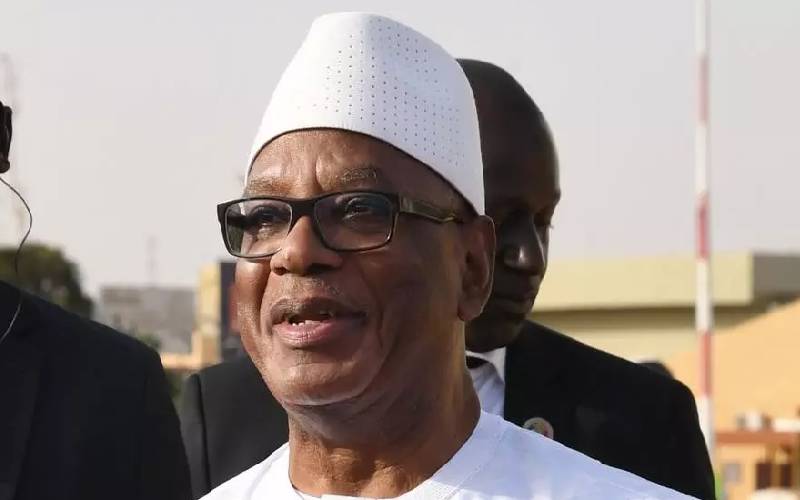 President Uhuru Kenyatta and other African Heads of State have strongly condemned the Tuesday military coup in Mali during which President Ibrahim Boubacar Keita was seized by mutinying soldiers. Mali coup
Led by the African Union Chairperson Cyril Ramaphosa, the leaders called for the immediate release of President Keïta and senior members of his administration among them the country's Prime Minister Boubou Cissé.
Read More
President Uhuru urged for a "speedy, peaceful and democratic" resolution of the crisis while President Ramaphosa called for dialogue to restore peace and stability in the West African country.
President Felix Tshisekedi of the Democratic Republic of Congo (DRC) rallied African countries to take a firm position on the matter saying the coup was "dangerous for democracy in Africa".
The Heads of State spoke on Thursday evening during a virtual meeting of the African Union Bureau convened to discuss the continental response to the Covid-19 pandemic.
Military officers who overthrew Mali's president pledged to restore stability and oversee a transition to elections within a "reasonable" period.
President Keita resigned and dissolved parliament late on Tuesday, hours after the coup leaders detained him at gunpoint, plunging a country already facing an armed movement against it as well as mass opposition protests deeper into crisis.
Colonel-Major Ismael Wague - a spokesman for the coup-makers calling themselves the National Committee for the Salvation of the People - said they acted to prevent Mali from falling further into chaos.
"The social and political tension has undermined the proper functioning of the country for quite a while," said Wague, flanked by soldiers.
"Mali descends into chaos because of the fault of the people in charge of its destiny. Real democracy doesn't go with complacency, which must guarantee freedom and security of the people."
Army officer Colonel Assimi Goita announced himself as the leader of the military coup.
"Let me introduce myself, I am Colonel Assimi Goita, chairman of the National Committee for the salvation of the People," he said after meeting top civil servants.
Goita had appeared among the group of officers seen in the overnight televised statement but did not speak.
During that address, Wague said all international agreements will still be respected and international forces, including the UN mission in Mali and G5 Sahel, will remain in place "for the restoration of stability".
The coup leaders also remain "committed to the Algiers process" - a 2015 peace agreement between the Malian government and armed groups in the north of the country, Wague said.