Malawi polls: Opposition's candidate Chakwera on verge of recording historic win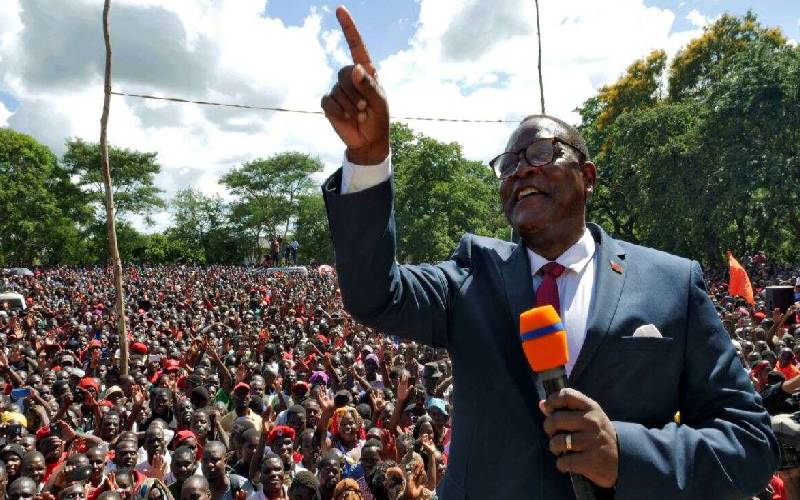 Outside government for more than two and a half decades now, Malawi's former ruling party Malawi Congress Party (MCP) is on the verge of recording unforgettable history by becoming the first former ruling party to make a comeback should it win the June 23 election.
MCP was the ruling party at independence in 1964 under Hastings Kamuzu Banda and was the only legal party in the nation from 1966 to 1993.
It has continued to be a major force in Malawi's politics since losing power in 1994 to Bakili Muluzi of the United Democratic Front.
Malawians, on Tuesday, exercised their democratic rights in a repeat election that saw close to 4 million voters elect their new president, this, after the Malawian constitutional court in February 2020 annulled the incumbent Prof Arthur Peter Mutharika's 2019 controversial win.
This is a repeat poll was a tight race between Mutharika, MCP's Dr Lazarus Chakwera with Peter Kuwani of Mbakuwaku Movement for Development also running.
MCP competed in the ballot with Vice President Saulos Chilima's United Transformation Party while Mutharika's ruling party joined hands with Atupele Muluzi's United Democratic Front.
In Lilongwe, Malawi, journalist Mathews Malata reckons that it might be a new dawn for the nation.
"Malawians have generally been in a very difficult situation, Malawi economy has not been stable, it's been a country of uncertainty and suspense for months,'' he told KTN News on Thursday.
"It has been a precarious situation and now that the people were able to vote, and decide this is what we want, everyone feels relieved and looking forward to a new era and see what next is going to happen, but key is to see the new leaders who are coming to deliver what they promised to Malawians," Malata added.
Malawi Commissioner of Police Noel Kayira already confirmed that no elections related incidents have been reported in the last 24 hours, with 38 cases being recorded for the entire process while 46 people have been arrested including ex-Malawi Defence Forces soldiers for participating in election malpractices.
Though the official results have not yet been declared by the Malawi Electoral Commission, state media MBC, and other broadcasters report that Dr Chakwera has taken an early lead with 59 per cent of the vote. Embattled incumbent Mutharika who is defending his second term has 39 per cent.
Rigging claims
Unofficial results as reported by MBC reporters spread across all the districts in the country put Chakwera in the lead.
The MCP candidate has dominated in the Central and Northern regions of the country, wrote MBC on its official Facebook account.
In a dramatic turn of events, Mutharika's DPP has already accused the opposition of foul play in the repeat polls and warned it will reject an opposition win, said Atupele Muluzi, Mutharika's running mate.
''If Chakwera had won the election fair and square, I would have congratulated him, but unfortunately, that is not the case,'' he wrote on his Facebook account. ''I will not accept the outcome.''
Congratulation messages
Africa's known opposition leaders have already congratulated Chakwera. Zimbabwe's Nelson Chamisa took to Twitter on Thursday and posted a goodwill message.
''New life to Malawi, congratulations President-elect. A true believer in Christ,'' read Chamisa's tweet.
Kudos to state organs' professionalism and citizens' vigilance, well done Malawi, the tweet further read.
Mmsi Maimane of South Africa also took to twitter and posted;
''Fewer days I get to celebrate more than this, my friend, brother and leader has just won the Malawian elections…pray for his nation and thank God for renewal in that nation, change is coming,'' he said.
Vote counting is still underway at the National tally centre in Blantyre, the commercial capital. Malawi Electoral Commission chairperson Justice Chifundo Kachale while addressing reporters on Thursday evening said final results will be ready in 36 to 48 hours.