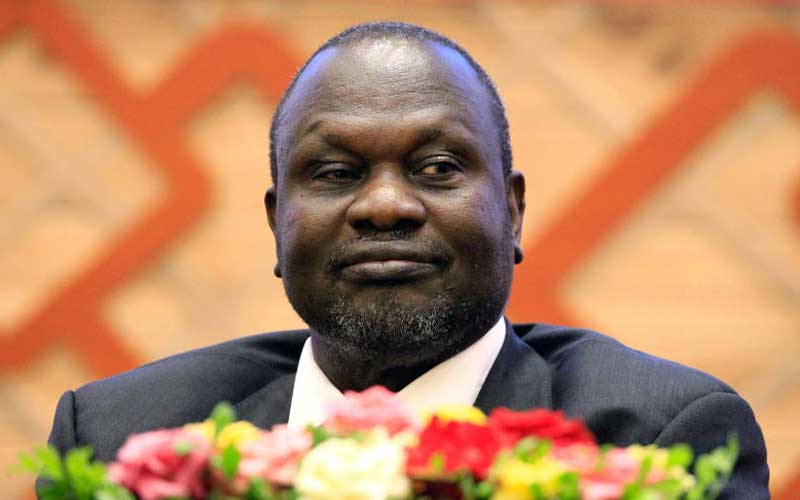 South Sudan has joined a growing list of countries that the highly-contagious coronavirus has breached the walls of its executive.
The first vice president and former rebel leader Riek Machar has tested positive for coronavirus, his office said on Monday.
Machar's wife Angelina Teny-Dhurgon, who serves as the defence minister, also caught the virus.
According to local media, Teny said she was encouraged to take the tests after two people in her ministry died after contracting the virus.
Read More
A number of workers in Machar's office and his bodyguards have also tested positive for Covid-19, the disease caused by Th Coronavirus, a statement attributed to press secretary James Gatdek Dak said.
"This came as a result of the testing done by members of the high-level task force on Wednesday, May 13," the statement said.
More tests results are expected today and will show the full extent of infection within the taskforce.
The taskforce to fight the coronavirus was headed by Machar until last May 15 when President Salva Kiir dissolved it, reportedly for being full of politicians making non-scientific decisions.
Machar's press secretary added that an earlier test taken by 67-year-old vice-president on April 27 returned negative.
"Another testing was done on all the member of the taskforce after one of their members tested positive."
Machar, his wife and staff at his home began self-quarantine Monday and will last 14 days.
"He is healthy with no symptoms and also confirmed by the doctor," the statement said, adding that Machar rallied the public "to conduct testing and know their personal status".
South Sudan has recorded 347 cases of coronavirus and six deaths as at Monday 18.
The East African country, which is rebuilding itself after a six-year-long civil war, has conducted about 3,500 tests since confirmed it first case on April 5.
Last week, President Kiir eased the movement restrictions placed to tame the spread of the virus amidst protestation that it could engineer a full-brown pandemic.
As of March 14, all interstate movements had resumed and the capital Juba has allowed resumption of domestic and international flights.
Across to South America in Chile, about 20 members of the Senate and four ministers have gone into isolation after coming in contact with some three colleagues who tested positive for the virus.
Senator Jorge Pizarro of the finance committee, who has interacted with a number of his colleagues, has been confirmed positive of the virus.
The country has reported about 46,000 cases of the virus, according to Worldometer figures. There had also been 478 deaths as of Monday.
The virus has afflicted 4.8 million people and killed more than 318,000 worldwide.