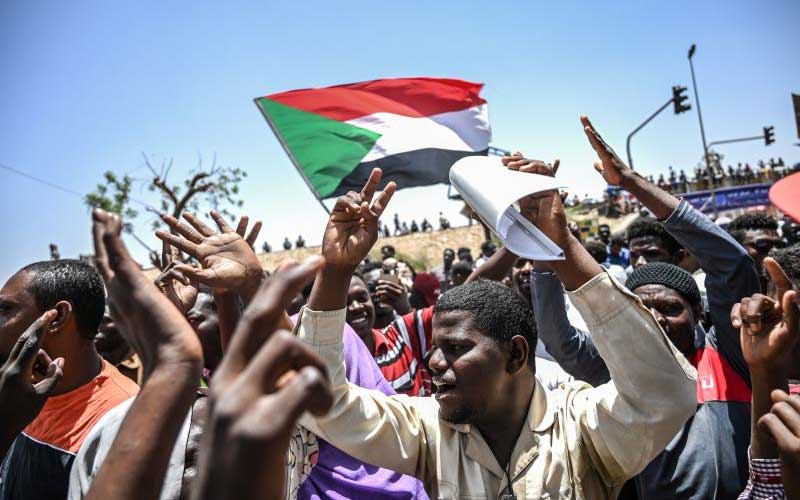 A week after a popular uprising in Sudan brought down President Omar al Bashir's 30-year rule, the political uncertainty in that East African nation is worryingly deepening. There is a genuine concern that the old guard may be scheming to torpedo the hard-won revolution in a continent where public protests hardly produce democratic governments and dictators are known for looking out for one another. The military leaders who eased out al Bashir and seized power on April 11 are yet to surrender full authority to a civilian-led government as demonstrators have demanded. Sudanese's main concern appeared centred on the political direction their country is taking after al Bashir.
SEE ALSO: Civilians, soldiers clash leaving 127 dead in South Sudan, army says
Will it mimic its northern neighbour, Egypt, where in 2013 the military ousted a democratically elected president and installed one of its own?
Adopt style
Or will it adopt the style of its eastern neighbour, Ethiopia, whose new Prime Minister Abiy Ahmed has, in just one year, transformed his country from a quasi-absolute dictatorship in which the ruling party and its affiliates held all 547 seats in parliament to a nation that is now aspiring to become a functioning democracy. "That will partly depend on the ruling military's decisions in the coming days or weeks," Asim Ismail Mahmoud, an independent Sudan analyst, told the Sunday Standard by phone. "If the military accepts to hand over power to a civilian government, we can say that Sudan is at least on track to establishing a democratic system. But if the military balks at ceding power, then Sudan's future is up in the air," Mahmoud said. Managing post-al Bashir era is not going to be easy, as the old system, which has taken root in almost every sphere of the nation, is likely to fight back to keep its privileges or escape retaliation.
SEE ALSO: Some 120 said to be killed or wounded in attack in Sudan's Darfur region -U.N
On Wednesday, the ruling military said it had thrown al Bashir into over-crowded, high-security Kobar prison that is the home to many political prisoners. But many Sudanese remained unconvinced about the authenticity of that news, and the absence of any hard evidence to substantiate the official narrative had only added to the public's distrust of the military brass. Abdelwahab Elaffendi, the dean of the School of Social Sciences and Humanities at Doha Institute for Graduate Studies, said: "There are more worrying than re-assuring signs at the moment, as intransigence appears the more prevalent mood" in the country. "There is a need for more constructive dialogue, and for international pressure in this direction. The AU needs to be more interactive than it currently is," he wrote in an email to the
Saturday Standard
. The African Union has given the ruling military 15 days - starting from April 15 - to hand over power or suffer ostracisation "until the restoration of constitutional order." The continental body said "a military-led transition would be completely contrary to the aspirations of the people of Sudan, as well as to the relevant AU instruments." The AU asked coup leaders to allow "all Sudanese political actors and stakeholders to agree on the modalities, duration, leadership and content of a civilian-led and consensual transition, which will lead to the holding, as quickly as possible, of free, fair and transparent elections."
SEE ALSO: Ethiopia says first year of Nile mega-dam filling 'achieved'
On April 11, Lieut. Gen. Ahmed Awad Ibn Auf, the defence minister, announced the ouster of al Bashir and hours later got sworn in as the country's interim president. Protesters, who have been calling for al Bashir's removal for months, swiftly rejected what they saw as a gambit by the military to retool the old rule, forcing Auf to step down and within 24-hours hand over the mantle to Lieut. Gen. Abdel Fattah al-Burhan. The Sudanese Professionals Association, or SPA, which was organising demonstrations against al Bashir regime, said the protests, which started on December 19 last year after the government tripled bread prices in a country whose economy has collapsed, will continue until the military transfers power to a civilian government. The protesters are demanding a presidential council, a small Cabinet and a Legislature. To resolve the current stalemate, the two parties need to take a leaf out of what happened in 1985, when Field Marshal Abdel Rahman Suwar al-Dahab helped oust President Jaafar al-Nimeiri after a popular uprising, led a transitional military council for a year and then handed over power to an elected government that was toppled by al Bashir, said Mohamed Elnai Mohamed Enour, an associate professor at Sudan University of Science and Technology. "I think the two parties need to hammer out some sort of power-sharing agreement that can save the country from a prolonged political deadlock," Enour said. While, as the US said in its first reaction to the removal of al Bashir "Sudan has the opportunity to set itself on a new path," yet the future of that country's political trajectory will only be decided by the Sudanese people, but will also more likely be influenced by outside powers, especially the Saudi-Emirati axis, which is trying hard to deny the Qatar-Turkey bloc any impactful sway over the direction of the transitional period in Sudan.
Joint delegation
A joint delegation from Saudi Arabia and United Arab Emirates has on Tuesday met with al Burhan and conveyed their respective leaders' messages of support for Sudan. Egypt, which is a part of the Gulf states' alliance, has also sent a delegation to Khartoum to confer with the Transitional Military Council. President Abdel Fattah al-Sissi, who is the current chairman of the African Union, has also spoken with al Burhan on the phone to assure Cairo's support. As if on cue, al-Burhan on Thursday fired Badruddin Abdullah Mohammed Ahmed, the under-secretary of the Ministry of Foreign Affairs, after the ministry – without consulting the military – issued a statement saying a Qatari delegation will visit Sudan. Ahmed's dismissal comes a day after Al Arabiya TV reported that Sudan's new rulers refused to meet with Qatar's Foreign Minister Mohammed bin Abdulrahman Al Thani who eventually returned to his country. The Gulf nations may offer the council the succour it needs to get through the economic crisis that brought about the revolution, but the council is also cognizant of the balancing act it has to perform to win over the support of everyone, including the African Union. In its first visit abroad, the council sent a team led by Gen. Galaledin Alsheikh to Ethiopia to brief Prime Minister Abiy Ahmed, who is the chairman of the Intergovernmental Authority on Development, on the situation in Sudan. "He encouraged the Transitional Military Council to be inclusive in addressing grievances and concerns as Sudan makes a peaceful transition," said a statement from the Ethiopian Prime Minister's office after the meeting, stressing that Addis Ababa's "support is based on respect for Sudan's sovereignty and on the principles of non-intervention." Another concern for the Sudanese that is no less important than the future direction of the country is what the coming government – assuming that it will be a civilian-led one - will do with al Bashir, who stands accused of genocide, war crimes and crimes against humanity. Alsheikh told reporters in Addis Ababa, the seat of the AU, that only an elected government can decide whether to take al Bashir to the International Criminal Court or not – a scenario that, if it comes to pass, will mirror the fate that had befallen Liberia's former leader Charles Taylor. Ellen Johnson Sirleaf, Liberia immediate former president, had pushed for Taylor's extradition to the Special Court for Sierra Leone, or SCSL, near The Hague, which finally sentenced the man to 50 years in prison. Uganda said it would "not be apologetic at all for considering an application by Bashir," according to Reuters, echoing a tradition by the continent's strongmen in which they watch each other's back. When in 1991 a rebel group led by late Meles Zenawi captured Ethiopia's capital, Addis Ababa, dictator Mengistu Haile Mariam fled to Zimbabwe, where President Robert Mugabe, a fellow strongman, granted him asylum.