Army opens fire on opposition protesters in Zimbabwe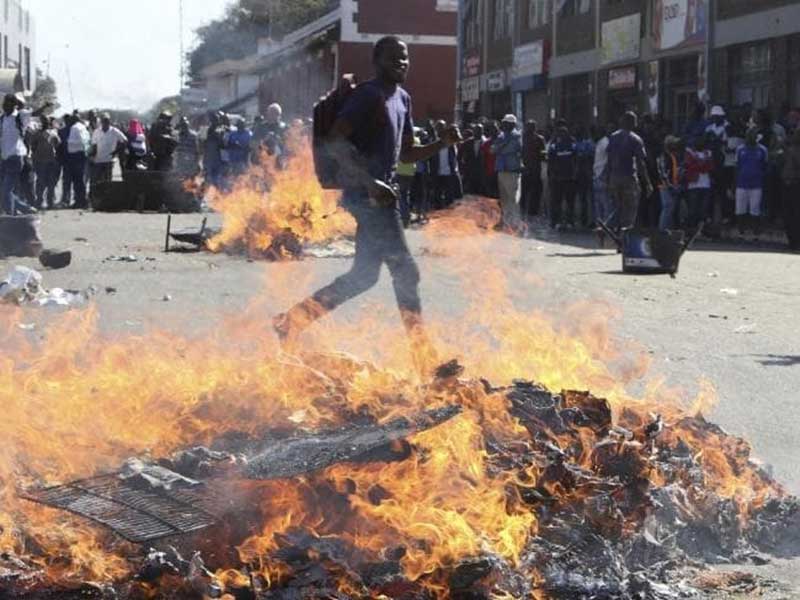 Zimbabwe police said three people were killed in Harare as soldiers dispersed stone-throwing opposition supporters who accused the ruling party of trying to rig Monday's presidential election.
The deployment of soldiers and their beating of unarmed protesters set back President Emmerson Mnangagwa's efforts to shed Zimbabwe's pariah status after decades of repression under Robert Mugabe, who was ousted in a coup in November.
Even before the violence, European Union observers questioned the conduct of the presidential and parliamentary poll, Zimbabwe's first since Mugabe was forced to resign.
The observers expressed concern about delays in releasing the results of the presidential contest.
Thousands of supporters of the opposition Movement for Democratic Change (MDC) chanted anti-government slogans and destroyed benches, signs, traffic lights prompting police to fire warning shots, water cannon and tear gas in an attempt to disperse the crowds.
Protesters responded by burning tires and throwing rocks until the army intervened sending people running for cover as many were wounded.
Officers had been facing off through a locked gate against protesters who brandished opposition party banners, lit fires and chanted slogans against the ruling ZANU-PF party.
"You said you were better than Mugabe — you are the picture of Mugabe," shouted one young male protester wearing a white T-shirt. "We need security for the people."
Opposition leader Nelson Chamisa's Movement for Democratic Change (MDC) has accused President Emmerson Mnangagwa's ZANU-PF party and the Zimbabwe Electoral Commission of using underhand tactics to steal the election from them.
An angry crowd of mostly young men, some of whom covered their faces, whistled and chanted "Chamisa, Chamisa" in downtown Harare.
It comes as Zimbabwe's president warned against making "provocative statements" as protesters ran rampant through the streets. "Now is the time for responsibility and above all peace," President Emmerson Mnangagwa said on Twitter.
Meanwhile, opposition challenger Nelson Chamisa is again claiming victory over Mnangagwa writing on Twitter that, "No amount of results manipulation will alter your WILL."
European Union and US election observers are warning about the delay in announcing the presidential results and urge their release as soon as possible. The electoral commission says it will advise "sometime tomorrow" when it will begin announcing those results. It has five days from Monday's vote to release them.
To fight drought, involve communities
According to the latest information from the Meteorological Department, rainfall will be poorly distributed in April, May and June, and this will have a serious impact on agriculture