Founding Seychelles President feted for peace efforts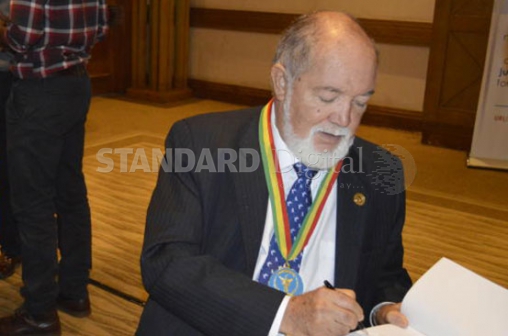 NAIROBI: Seychelles founding President James Mancham was in Nairobi to receive the Africa Peace Award from the United Religions Initiative Africa, one of the many accolades since he quit power 39 years ago.
And the former Head of State is as humble as they come. There were no hawk-eyed body guards hovering around the former President or menacing police officers in sight.
Kenyans used to straight-jacketed dignitaries had a field day taking selfies and group photos with the former president without being elbowed by mean-faced security men.
He freely signed autographs for those lucky to grab a copy of his latest book titled: 'Seychelles, The Saga of a Small Nation navigating the Cross-Currents of a Big World'.
The 400-page book traces the transition of the Indian Ocean country from colonial rule to the peace and stability obtaining there today.
His acceptance speech was peppered with humour and statesmanship. "Peace has been illusive on our continent for myriad but surmountable reasons and that is why we have lagged behind," he said.
"I was dislodged from power in a coup-de-tat after only 11 months at the helm and I went into exile for 15 years, but returned in the spirit of humility and reconciliation when invited back by President Albert Rene who had led the coup against me. I had no bitterness because I knew the cold war pitting the West against the East had a lot do with it. My goal was to help improve and transform the country from where it was.
"Right from my ouster, I set to help not only my country but Africa as a whole understand that there was life after office. I soldiered on out there without engaging in activities that would undermine my motherland."
Mancham was ousted by Rene, his childhood schoolmate and Prime Minister while on a trip to London on an official assignment. He had earlier served as Prime Minister under British Colonial rule.
He reminisces: "That was the time I promoted tourism as a leading foreign exchange earner. I oversaw the creation of an airport that would allow easy access to visitors from around the world and boost tourism."
LIFE AFTER POWER
He says overstaying in power that has become the vogue of some African leaders is brought about by a feeling of insecurity and uncertainty after power, hence the need for amnesty to reassure such leaders.
"We laud Nelson Mandela, Mwalimu Julius Nyerere and others of their ilk who have shown the right way to go, but we must not condemn those still stuck in the ways of the past. We should encourage them that there is life after power."
His memory is great at 75. In a humour coated throwback to his childhood, Mancham narrates: "My contact with Kenya dates back 65 years. It was the first African country I visited when I came with my parents in 1947 for medical treatment. You may not believe this, but I ate my first ice cream in Nairobi, then a city divided by colour bars that relegated Africans to the bottom after whites and Asians. Nairobi had the best medical facilities in this part of Africa which remains the case today.
"I returned to Kenya in 1963 as a representative of the Government of the Seychelles at Independence celebrations. I was privileged to meet Tom Mboya, a most brilliant son of Africa! I was a young barrister and Attorney-at-Law in the Supreme Court of the Seychelles. A year later, I founded the Seychelles Democratic party in 1964 to champion the fight for independence."
Mancham's oratorical skills are such that he deviates abruptly to capture the attention of those gravitating into dreamland.
He strokes his trademark white beard and suddenly breaks into songs of yore, leaving his audience in stitches with guttural versions of 'Malaika nakupenda" and 'Harambee, tujenge pamoja'. Even those who had started dozing sing along with him.
"Those were songs I enjoyed whenever I was visiting Kenya in the early post-independence days," he says.
Mancham has won the International Jurists Award for peace (2010) for promoting peace and helping settle international disputes. The Gusi Peace Prize in 2011 recognised his untiring effort to find peaceful solutions for people's welfare.
Presenting him with his latest award, Regional Director for United Religious Initiative that incorporates 182 countries, Amb Mussie Hailu said Africa Peace Award amplified efforts by individual leaders to promote good governance in Africa.
"You are a role model for African leadership," he told Sir James. Mancham was born in Seychelles on August 11, 1939 in a family of four brothers and one sister.
He had his early education on the island, later proceeding to London for Legal Education between 1958 and 1961, the year he was called to the bar. He studied economics at the University of Paris in 1962.
Mancham was the island's first Chief Minister in 1966 and first Prime Minister for 10 years prior to his ascension to the Presidency at Independence in 1976. He has been married twice and has three children, two sons and one daughter and a grandchild.