Uganda gay pride rejoice after anti-homosexuality law overturned
AFRICA
By AFP | August 8th 2015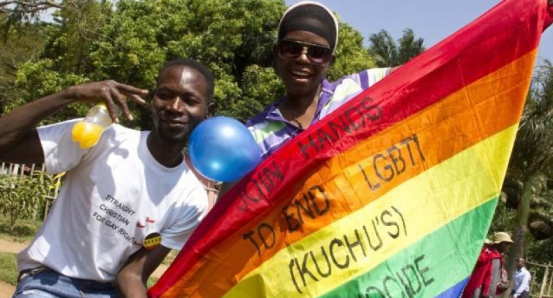 Ugandan activists gathered for a gay pride rally Saturday, celebrating one year since the overturning of a strict anti-homosexuality law but fearing more tough legislation may be on its way.
Condemned by rights groups but popular among many Ugandans, the overturned law called for proven homosexuals to be jailed for life and requiring the public to denounce gays to the authorities.
The constitutional court threw it out on a technicality last August, six months after it took effect.
On Saturday, dozens met outside the capital Kampala on the shores of Lake Victoria, waving rainbow flags.
The rally culminated a week of events that included a transgender awareness day and a "Mr and Miss Pride" beauty pageant, attended by about 200 people.
"For us, this is a celebration of who we are - celebrating our lives, also celebrating with our friends and allies," said one of the organisers, Richard Lusimbo, welcoming the changes in the past year.
"There has been some progress, the law was nullified and this also opened a new chapter in how we are doing advocacy," he added.
Homosexuality remains illegal in Uganda, punishable by a jail sentence.
But politicians have proposed new legislation that would criminalise "promotion" of homosexuality -- a key feature of the law that was overturned.
Those taking part in the rally said it was important to stand up for their rights.
Ritah, 32, a gay mother, said the past year had also been "scary" at times.
"I almost thought of going for asylum with my child, but if we all run away, who is going to keep the movement going?" Ritah said.
Homophobia is widespread in Uganda, where American-style evangelical Christianity is on the rise.
Gay men and women face frequent harassment and threats of violence.
Critics said President Yoweri Museveni signed the law to win domestic support ahead of a presidential elections in February or March 2016, which will be his 30th year in power.
Activists fear that with Ugandans heading to the polls early next year, homophobia could be exploited for political gain.
"The whole anti-gay issue is always about 'how do I gain as a politician'," added Lusimbo.
"I've seen the gay issue being used as political capital, so anything could happen."