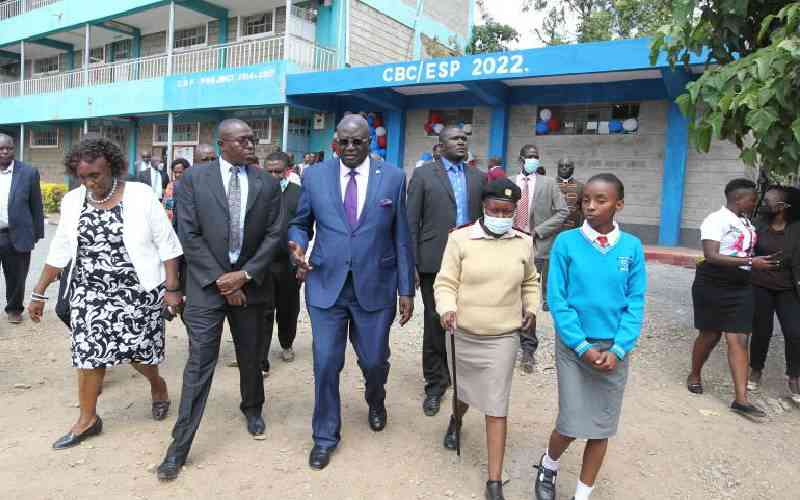 It's now official that the next generation of Kenyans will go through the Competency-Based Curriculum (CBC).
Unlike the previous 8-4-4 system, which was heavily debated, there has not been much debate over CBC.
This is surprising considering that public participation is deeply enshrined in our Constitution which premises that the voters - read the people - will be vigilant.
Kenyan voters are unlikely to be vigilant about their leaders and the decisions made on their behalf.
We have other bigger issues to be vigilant on, from seeking our daily bread to paying rent.
It is no wonder democracy and affluence are closely related.
The next president will have it easy. He will lead citizens who have become obedient because of being forced by circumstances. Think of what employees go through because they may never get another job if they lose the current one.
Think of ordinary Kenyans' key preoccupation with the current inflation after the Covid-19 and oil price hike due to Russia's invasion of Ukraine.
Other observers opine that the evolution of current Kenya has left citizens exhausted and tamed into total submission.
Colonialism, Mau Mau, the struggle for multi-party democracy and the fight for the new constitution coupled with the adverse external environment and bad weather all have conspired to dampen the national spirit.
Noted how dull the current electioneering period is? CBC is touted as the next iteration in education reforms that have roots in the colonial era.
CBC, we are told, will mute our exam orientation. We shall focus on a student's competence and develop it. But competencies are funded.
And we hope enough resources from labs to sports, music and other facilities will be availed to students irrespective of their social-economic background. Without an emphasis on exams, it's not clear what will be used in job replacement. Exams, in addition to forcing us to be serious and focused in school, are used to select us for jobs and other privileges like scholarships and social pecking order.
Graduating from an Ivy League or Oxbridge opens floodgates of economic opportunities and ups your social status. What is our Oxbridge and Ivy League equivalent in Kenya?
Shall we use a lottery in job selection? Shall muting competition mute innovation? Competition spawns innovation and characterises human civilisation.
Nobel prizes
It brings out the best of us. Like other species on this planet, we compete for most things including that girl snatched from you by your friend.
The problem that has bedevilled every education system is not really competition and exams but what to do with those at both tails of the normal curve. We never take care of our brightest, we never challenge them to their full potential.
Do we have any schools for the gifted? Why have Nobel prizes and equivalents eluded us in sciences or economics? We rarely take care of those not academically endowed, we call them failures which is abuse because they could succeed in other areas.
We burden them with creating jobs and being entrepreneurs (jua kali), which is harder even for the gifted.
Are you surprised that Google's founder was at Stanford and Facebook's (owned by Meta) founder was at Havard? CBC seems to suggest it can identify the strong areas of every student in junior secondary school and then channel the student to the appropriate stream in senior secondary school.
That mimics the defunct A-level system but looks broader. And could demand more resources. Let's not forget that 8-4-4 was not that bad. It exposed as many students as possible to as much education as possible.
This education was broad enough to make its graduates open-minded and competitive both in the workplace and in school, attitudes apart.
Are 8-4-4 graduates not running the country? Pioneering graduates are not in their early 50s. When are we getting our first 8-4-4 president?
8-4-4 has been blamed for the lack of jobs. Will CBC create jobs?
It's assumed that by identifying the student's competence and nurturing it early, we shall create the next generation of innovators and job creators. No one will be a failure because everyone has competence. We must not forget the reality in the market.
To create jobs, someone must buy our goods and services.
We must up their quality and price them competitively. Jobs are created by the market.
That's why 80 per cent of the jobs are in the informal sector. In tandem with CBC is a bold attempt by the government to make education affordable and accessible with a 100 per cent transition to high school. This has had some unintended consequences.
One is that free things are not valued. Noted how we value alcohol more than water which is free and has more value for your body?
Why does insurance demand a co-payment or better excess? Do I sound like a hard-nosed economist or a realist? Some parents have found it economically prudent to take their children to the nearest day school because it's free.
Some have avoided taking their children to national schools.
This denies the student lifelong experience of meeting new people, new places and gaining new perspectives on life.
Education is more than books.
Bus fare and echoes of 2007/2008 post-election violence keep some students in their home counties.
We can add emphasis on devolution. The expansion of national schools may not achieve the set objective of giving students new experiences away from their villages. Add the comfort of getting to a university near home.
Why did we abolish the University of East Africa? Talk to those who studied in Dar es salaam or Makerere. Will free education mute our global competitiveness by keeping us in our villages?
Finally, quoting Mao Zedong, the leader who shaped modern China, "I don't care if the cat is black or white, so long as it catches mice. By the same token, the name and the distribution of the years in an education system do not matter.
What matters is what the students study and if they graduate with confidence to be successful in their lives as entrepreneurs, workers, family men and women.
And live to their full potential and achieve their long-life dreams.