Increased school fires: It is the future burning, not schools …
XN IRAKI
By XN Iraki | November 7th 2021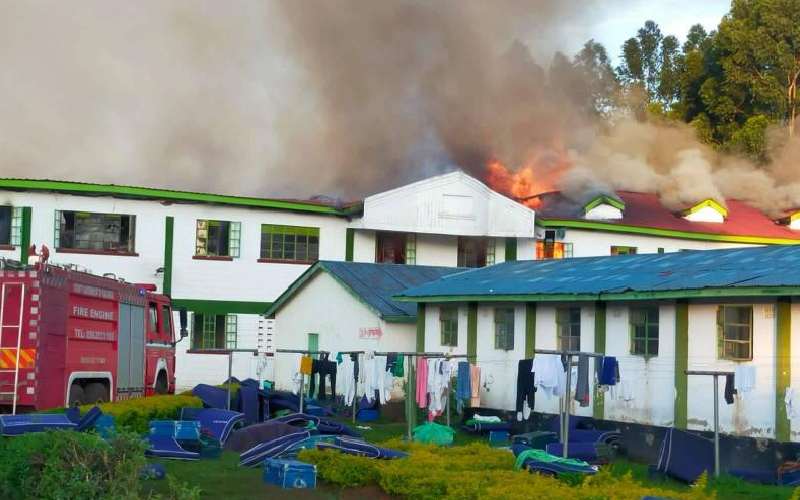 The list of schools on fire looks like an honours list. We should not publicise it, and I agree with Nairobi Senator Johnson Sakaja. It encourages other schools to get to the list, to be counted. It is more of heroism to them, albeit misplaced.
There is more than what meets the eye in images of girls jumping from the burning dormitories. There is more to pedestrians taking video clips and sharing.
I would equate burning schools to low-level terrorism. A counter blame game will most likely follow.
The parents will blame the school, mostly the principal while the schools will blame parents for the indisciplined children.
The Ministry of Education will blame the administration, often transferring or demoting the administrators while the root cause is not addressed. Like viruses, the problem keeps evolving. What's going on in our schools?
I am shaken by the use of fire, not so much because of risks but symbolism. If the fire does not lead to the closure of schools, what will students or whoever is responsible for school fires do?
By giving students mid-term because they have burnt schools, we are institutionalising the use of violence to achieve our objectives.
The government should have given half-term in third term next year not this year. Will children now start threatening their parents with fire at home?
Lighting a fire in a dorm is not for the faint-hearted. Who is this so bold? What else can he or she do?
My speculation is that whoever is lighting the fires has insiders working with him or her.
We should not discount leadership rivalry. Once a school is in trouble, someone usually loses his or her position and there is always a beneficiary. We should not forget that schools are not just academic institutions, they are financial centres with big budgets.
My worry goes beyond money and fire. It's the public schools being closed over fire incidents.
It is not the private or international schools. It's the schools patronised by Kenya's hoi polloi, the disadvantaged members of the society. By burning schools to go home, they are making their precarious position worse.
The time lost and anxieties will wear the student. Add the cost of repairing the schools and bus fare amidst Covid-19. After school, they can give the excuse "our school got burned." But the world has no time for excuses. One wishes each grade in every subject is qualified with an excuse. We should however not shy away from the realities of public boarding schools.
They are overcrowded, courtesy of 100 per cent transition and the firm belief that boarding schools do better than day schools.
We lost a golden opportunity to build new schools during the nine months of Covid-19 induced closure. Such overcrowding breed discontent and homesickness.
We have mega projects like Lamu Port, Nairobi Expressway and the Standard Gauge Railway. It's time we have a mega project on education infrastructure. We also need to cap the size of schools.
My suggestion is 1,000 to 1,200 students per school.
Put any species under crowded conditions and the worst of its character will come out. That's why we need to upgrade slums.
The marathon schooling devoid of extracurricular activities amidst Covid-19 is another powder keg. Some schools, particularly in urban areas have no space for co-curricular activities. I always wonder why we can't get extra space for schools the same way we get it for roads.
What is so special about cars compared with our children? When did you hear of land compensation for building schools?
The traditional discipline meted out by parents and teachers was curtailed by law and replaced with counselling which is often mixed with religion. Students perceive that as appeasement.
By giving them a half-term, we have appeased them more. Will the arsonists have their day in court?
We saw all this coming, we wanted to be modern. We never thought of unintended consequences.
I can predict that soon, the Teachers Service Commission will find it hard to get teachers.
Two classes of Kenya now have their total freedom - politicians and students. These two further worry me and keep me awake at night. One is that such indiscipline will widen the class fissures that characterise our society beyond dynasty and hustlers.
The children from humble or poor backgrounds can be characterised as indisciplined, even out to burn dorms.
If the Directorate of Criminal Investigations (DCI) makes good its threat to keep indiscipline records for the students, their goose is cooked. Employers could demand such records before employment. But I can bet a "cleaning industry" will emerge.
Imagine an A student denied a job over indiscipline in school? Two is that our students compete with students from the rest of the world. They compete for jobs in big organisations, companies and entrepreneurship.
Who will head the United Nations, International Monetary Fund, World Bank, East African Community, Coca Cola, Google, Apple among others?
Great companies are willing to hire the best brains and are least bothered by where you come from.
They do not think like our counties. Check who heads Google? Who is the next head of Barclays?
We don't seem bothered that while students in other parts of the world are preparing to be future leaders, we are preparing our students to go home. Few appreciate the government's effort to save a whole year of earnings for our children.
In other parts of the world, students are learning how to exploit ideas at the frontiers of knowledge from nanotechnology to quantum computing, gene editing, or artificial intelligence. We are learning how to stop fires.
Bill Gates was one year older than our Form 4s when he started Microsoft. The counterparts to our students in other countries will employ them or sell goods and services to them at premium prices. We shall boast that we can afford them! Our students should focus on the future not burning it.
If you think of the long-term consequences of dorm fires, you would not post those video clips or list the schools burning dorms.
We must not create a lost generation. We should have BBI type of meetings to address school fires and a restless generation that will not leave this country as adults.