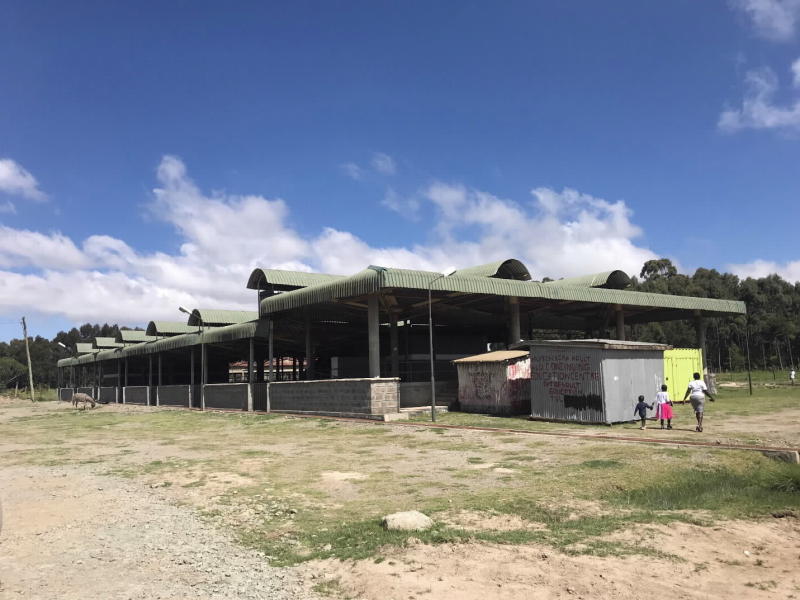 On the Boxing Day last year, I stopped by a town called 'Flyover' just before you start descending to Naivasha with the scenic view of Mt Longonot to the West and Aberdares to the East.
My attraction was a structure with a green roof which is a farmers' market. It is complete but there are no sellers or buyers. A newly constructed gravel road takes you from the highway to this market.
An elderly man, the caretaker informed us it's opening in 2019; he even had a stall on sale. One official from County Government of Nyandarua informed me the market was constructed about 10 years ago under economic stimulus programme (ESP) which was in 2009/2010 budget when Uhuru Kenyatta was the finance minister.
The ESP was a reaction to 2007/2008 post-election violence which battered our economy. There are similar projects scattered all over the country.
A stimulus programme or package is a government spending which creates economic activities and jobs possibly dragging an economy out of a recession.
John Maynard Keynes showed clearly that the Government can stimulate an economy out of recession by buying goods and services or better-creating demand. His views made the statement the "government has no business in business" redundant. It has business in business but indirectly. We do not expect the Government to start running a series of kiosks.
The existence of the Privatisation Commission is an indicator that the government should not directly run businesses. It's better regulating it and using fiscal and monetary policies to influence the economy.
Fiscal policy is through its own spending and taxation. Monetary policy is mostly through the change in interest rates or buying and selling bonds or to appear more learned quantitative easing. In recessions, lowering interest rates can stimulate the economy to grow while raising rates can tame inflation.
Buying and selling bonds can have the same effect. ESPs are common in developed countries but the 2009/2010 economic stimulus package was the first we can think of. Its success can be debated. Do we need such ESP in 2019? We are yet to reach the magical 10 per cent growth in the gross domestic product (GDP) envisaged in Vision 2030.
My hunch says yes. Here are our suggestions on what such an ESP should contain.
Disposable income
One ESP is natural and God-given, rain. It lowers food prices leading to lower inflation and more disposable income that can be invested or consumed elsewhere. That is why a good irrigation system would supplement this natural ESP.
What of a tax cut? It is a fact; lower tax rates could lead to higher government revenues.
It's possible that tax revenues under a rate of 10 per cent would be higher than for 16 per cent. Alice Laffer showed that.
The problem is that we do not know the tax rate that would give us the highest revenue.
Tax cuts stimulate the economy because we have more money to spend or invest.
Money in our hands is often more efficiently spent than in government hands.
Getting an alternative and immediate source of revenue for the Government makes this ESP unpopular. Another ESP beyond our control is lower oil prices. In a rare case, oil prices went down recently due to overproduction and economic slowdown of some major oil consumers.
Such low prices cut inflation and give us money to spend or save. The Government could cut taxes on fuel to stimulate the economy. But our addiction to oil means it's a lucrative source of government revenues.
Another ESP would be the efficient provision of government services. Huduma Centres made such a difference.
Efficient services leave us with time to focus on economically productive activities.
Whether it's getting an ID, passport, a police bond or disposing of cases, we want the freedom to focus on our core economic activities.
Think of the economic toll if your court case drags for 10 years. One wonders loudly why our lawyers are resisting automation of land transactions?
The most popular ESP has been lower interest rates which worked so well during Kibaki era. Central Bank monetary policy committee meets regularly to review the rate. The interest rate cap was supposed to be an ESP so that we can borrow more to spend or invest. The results are at best mixed. Did the cap reduce the effectiveness of monetary policy?
Building highways
Big government projects like the standard gauge railway or building highways are great ESPs. They create demand for goods and services leading to jobs and growth.
How they are funded is another question. Well planned, such projects can stimulate the economy even across generations.
Other ESPs includes good news e.g., victory in a war or an election. That is why regular elections are good.
You can get new and hopefully better leaders with new thinking. Trumpeting national achievements can be a good ESP.
What of salary raises linked to productivity? What international linkages which bring in innovations and new thinking?
Incidentally, reforming an education system can be a great ESP. What else affects our economy more than our thinking, the ideas we carry in our heads mostly from school?
Festive seasons like Christmas are great ESPs.
Some businessmen make more than 50 per cent of their profits around this season.
Sadly, you may have overspent. Maybe that will stimulate you to work harder. Any other ESP we left out? And do you have a personal ESP?
Kenya may not be in a recession but we have no limit to economic growth. If these ESPs can make a difference to our economy in 2019, why not try them?
-The writer teaches at the University of Nairobi