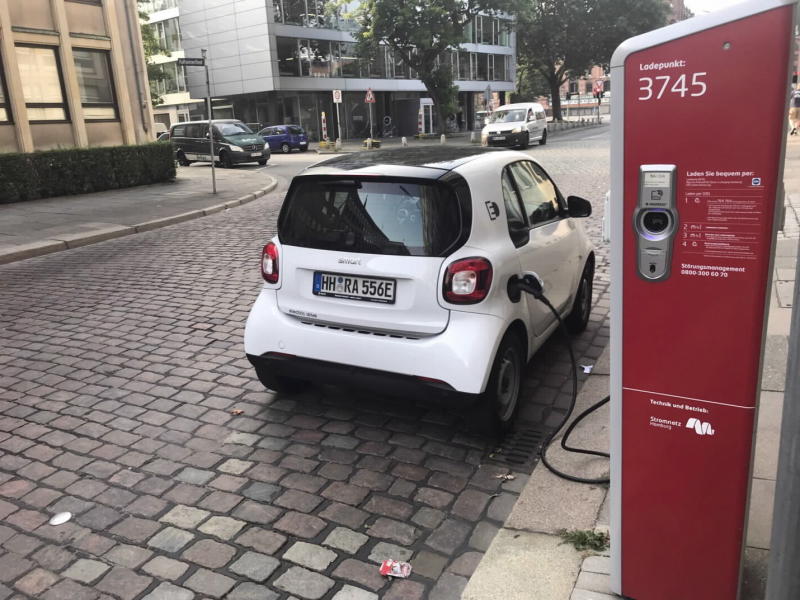 One of the biggest surprises in visiting Germany, the home of BMW and Mercedes, is the number of small cars on the streets. Two-seaters and electric cars are the most popular. Every car firm including Mercedes is making small cars the size of Toyota Vitz, Nissan March or smaller. The fuel guzzlers are rare unless hidden from the public.
One would naturally have expected Germany to be the land of big cars considering they manufacture the vehicles! The correct term would be 'assembling' because most car manufacturers source their parts from wherever they can be found cheaply but of right quality. The only exception might be design and the engine. Such outsourcing reduces the cost of making cars despite destroying jobs at home - just listen to President Trump. The days of vertical integration, where manufacturers owned and controlled entire supply chains are long gone.
More surprising is the number of workers who cycle or walk to work. One would expect everyone in Germany to be driving to work. As we prepared to board a subway or buses, the workers were taking their bicycles home. You are more likely to be hit by a fast bicycle than a car.
Walkway
The roads have a path for bicycles and walkway for pedestrians. The contempt for cars seems real. In Kenya, pedestrians are considered a nuisance, yet out of a population of 45 million there are less than two million cars.
Read More
One German told me that young men no longer bother to get driving licences. They do not need them; there is adequate public transport. With a single ticket, you can take a bus, subway or ferry. The city of Hamburg is full of canals, some hugging houses just like our streets. In restaurants, you enjoy the view of the canals with boats, unlike in Kenya where you enjoy the view of pedestrians and cars.
Why would citizens of a developed country like Germany shift away from big cars back to the basics like walking and cycling? Why would a country known globally for top-of-the-range cars shift back to the basics?
One could be the relentless fight against climate change. Germany was against USA leaving the Paris Accord that set out to limit global emissions and reverse the rising global temperatures and their effects.
Germany is very green from the air, very forested. It is way ahead, a leader in solar energy and shifting from the internal combustion engine. Solar is basic, and abundant. There are several "charging stations" in Hamburg for small electric cars and Tesla models. Did I hear Uber is introducing such small cars in Kenya?
Also surprising was that Germans, particularly the younger generation, no longer consider a car a status symbol unlike the post-war generation. They have other symbols such as friends on the net, followers, likings and writings on their wall. It never occurred to me that social media could be that closely related to cars and roads!
Our obsession with big cars is a sign that we have been left behind by the rest of the world. We still define our status by the size of the car, with government officials driving the biggest cars. I have offered a prize for anyone who comes across a government official driving a Vitz, not his own but owned by the government.
The shift from big cars could be explained further by the Germans' self-confidence. Having made the best cars in the world and other machines, it is time to be parsimonious, return to the basics.
Ride to work or walk. Our obsession with big cars may have something to do with our inadequacies, the need to show off to an invisible audience that we have power and influence. It might also be part of our Americanisation.
Another interesting return to basics noted in Germany is having your hotel room cleaned once a week or for 19 euros if you want an extra cleaning. Why do we want our linen changed every day in hotels yet we never do that in our homes?
There are no waiters to ask for your "room number" as you take breakfast. There is a list for you to write your name and sign. You then take your cutlery to a rack. This reduces hotel costs and hopefully customers pay less. Labour is not cheap in Europe, unlike in Africa.
Free movement
Another return to basics is free movement of people across German states (laders) and across the European Union. One of the receptionists was from Bavaria and the other from Salzburg in Austria. One of the facilitators in our logistics seminar was from England and the other from USA. We met MBA students from Mexico, who were very amused that we watch Mexican soap operas.
Yet, if you look at history, human beings have moved freely from one place to another; national borders are a recent invention. Free movement leads to innovation. How easy is it to move from county to county, or from one East African country to another?
Other interesting facets is living and working in the city instead of forever commuting and wasting time. Did we not work from our homes in the days of cottage industry? How have Indians succeeded in working and living in the city? Will the high-rise apartments coming up in once prestigious Lavington reverse this trend?
Also surprising is that in the workplace individual competition is de-emphasised. One would expect that data on performance would be used for salary raises. In Germany, that's not the case: Team work is the key.
Any student of management can recall the human relations movement, it seems to have made a comeback in Germany which sharply contradicts the American way. The spirit of 'time is money' seems to pervade the air for the American firm we visited (Amazon).
What of the fact that shops close at 8pm and are closed on Sunday? Even malls. One might think Germans are very religious because they close shop on Sundays. It is part of being human, back to the basics; we need to rest.
The return to the basics contradicts Thorsten Veblen's conspicuous consumption which has defined modern capitalism. Does this mean that capitalism has reached its limits in Europe? The frugality of Germans might be a contagion from Scandinavians who have embraced moderated capitalism for a long time. Europe, despite its earlier encounter with capitalism, seems to have learnt of its excesses earlier than Americans.
The slower pace of life in Germany and mostly Europe must be a major tourist attraction, particularly for Americans across the Atlantic. The same way lots of tourists love visiting Kenya because we are relatively slower compared with the West and parts of the East. Nairobians are mesmerised by the relaxed pace of life at the Coast and are willing to pay for it through holidays.
The other indicator of return to basics is the predominance of family business. They are the lynchpin of the German economy. What can be more basic than families running businesses instead of faceless capitalists?
"The 500 largest family-owned companies in Germany employ 57 per cent of the country's workers, far more than the 27 corporate-run firms traded on the blue-chip DAX index," reports Anja Müller in Handelsblatt Global.
Some famous family-owned businesses in Germany include Volkswagen, BMW, Bosch, Jungheincrich, Carl Zeiss and Continental. Family-owned businesses are universal, including in Kenya; in Germany it's their predominance that stands out.
Are there any lessons we can learn from Germany's return to the basics?
One, we must stop defining development in terms of physical things like highways, bridges, skyscrapers, houses or how hard or long we work. The human part of economic growth is equally important. Economists ignored this part until the rise of behavioural economics. Germans seem to have known and practiced that all through.
Relate with others
How do you relate with others, those at the same level, higher than you or lower than you? Do you treat labour like any other factor of production, just like the inanimate capital? It surprises outsiders when you find workers are represented at the board in German firms through workers councils. And why not, they are the real producers.
The truth, ignored by generations of policy makers and even academics, is that like democracy, capitalism was always about human beings and must have a human face espoused by leave from work, interpersonal relationships, respect for one another and equal pay for equal work. Capitalism was never a glorified name for slavery. After all, we make money from people who consume our goods and services. There should be more symbiosis than parasitism in capitalism.
- The writer is on intellectual pilgrimage in Hamburg, Germany.