Mosque is known to be base for Salafist groups, which fought the jihadists
WORLD
By AFP | Jan 25th 2018 | 2 min read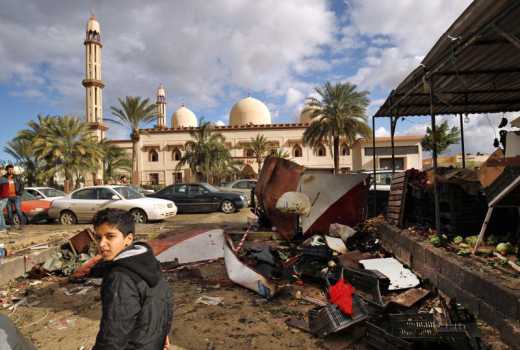 Over 30 people were killed and dozens wounded in two car bombings outside a mosque frequented by jihadist opponents, medical officials announced.
The attack in Libya's second city Benghazi after evening prayers on Tuesday underlined the continued chaos in the country that has been wracked by violence and divisions since dictator Muammar Gaddafi was toppled and killed in a 2011 NATO-backed uprising.
Benghazi has been relatively calm since military strongman Khalifa Haftar announced the eastern city's "liberation" from jihadists last July after a three-year campaign, but sporadic violence has continued.
The bombers blew up two cars 30 minutes apart outside the mosque in the central neighbourhood of Al-Sleimani, according to security officials.
Emergency and security workers who had rushed to the scene were among those killed in the second blast.
FOUGHT JIHADISTS
There was no immediate claim of responsibility but the mosque is known to be a base for Salafist groups, which fought the jihadists alongside Haftar's forces.
Mourners gathered outside the mosque yesterday, walking through puddles of water stained red with blood. Vehicles in a parking lot outside the mosque were burnt-out and mangled, their windows shattered.
The city's Al-Jala Hospital received 25 dead and 51 wounded, its spokeswoman Fadia al-Barghathi said. The Benghazi Medical Centre received nine dead and 36 wounded, spokesman Khalil Gider said.
Ahmad al-Fituri, a security official for Haftar's forces, was among those killed, military spokesman Milud al-Zwei said.
Medical officials said many of the wounded were in critical condition and the death toll was likely to rise.
Haftar supports an administration based in the east of the country. It declared three days of mourning following the attack.