Harvey moves inland, leaves trail of destruction in Texas
WORLD
By Reuters | August 31st 2017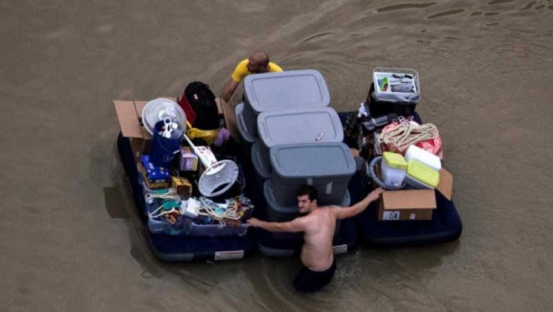 Tropical Depression Harvey weakened as it moved inland over Louisiana on Thursday, leaving behind record flooding that drove tens of thousands from their homes in Texas.
The death toll was rising as bodies were found in receding waters. A new threat came from explosions at a flood-hit chemical plant in Crosby, 30 miles northeast of Houston.
The storm that paralyzed Houston is predicted to be one of the most expensive natural disasters in U.S. history and presents the administration of U.S. President Donald Trump with massive humanitarian and rebuilding challenges.
The storm has killed at least 35 people and forced 32,000 people into shelters since coming ashore on Friday near Rockport, Texas, on the Gulf of Mexico Coast. It was the most powerful hurricane to hit the state in half a century.
The Houston Fire Department will begin a block-by-block effort on Thursday to rescue stranded survivors and recover bodies, Assistant Fire Chief Richard Mann told reporters.
On Thursday Harvey is forecast to move northeast through Louisiana into Mississippi, dumping 4 to 8 inches (10 to 20 cm) of rain, the National Hurricane Center said. Flood watches and warnings extend from the Texas-Louisiana coast into Kentucky.
"Our whole city is underwater," said Port Arthur, Texas, Mayor Derrick Foreman in a social media post where he also broadcast live video of floodwaters filling his home in the city of 55,000 people, about 100 miles (160 km) east of Houston.
Nearly 30 inches (76.2 cm) of rain hit the Port Arthur area, the National Weather Service said.
Beaumont, near Port Arthur, said it had lost its water supply due to flood damage to its main pumping station and residents in the city of about 120,000 people would lose water pressure from Thursday morning.
Fort Bend County ordered a mandatory evacuation on Thursday for areas near the Barker Reservoir, which was threatening to flood. The reservoir is about 20 miles west from Houston. The county did not say how many people would be affected by the evacuation order.
Clear skies in Houston on Wednesday brought relief to the energy hub and fourth-largest U.S. city after five days of catastrophic downpours. The first flight out of Houston since the storm hit boarded on Wednesday evening. Mayor Sylvester Turner said he hoped the port of Houston, one of the nation's busiest, would reopen soon.
Police in Harris County, home to Houston, said 17 people remained missing.
Nearly 200,000 homes and businesses in Louisiana and Texas were without power on Thursday, utilities reported.
Neighbors helping neighbors
Two explosions hit the Arkema SA chemical plant in Crosby, and the company said more could come. A deputy was taken to hospital after inhaling fumes at the plant, the Harris County Sheriff's Office said on Twitter.
County officials had ordered an evacuation on Tuesday of residents within a 1.5-mile radius of the plant.
Flooding shut the nation's largest oil refinery in Port Arthur in the latest hit to U.S. energy infrastructure that has sent gasoline prices climbing and disrupted global fuel supplies. [O/R]
Average U.S. retail fuel prices have surged by more than 10 cents per gallon from a week ago, the AAA said on Thursday.
Average retail gasoline prices have risen to $2.449 per gallon nationwide, up 4.5 cents a gallon from a day earlier and 10.1 cents from a week ago, data from the industry group showed.
Moody's Analytics is estimating the economic cost from Harvey for southeast Texas at $51 billion to $75 billion, ranking it among the costliest storms in U.S. history.
At least $23 billion worth of property has been affected by flooding from Harvey just in parts of Texas' Harris and Galveston counties, a Reuters analysis of satellite imagery and property data showed.
"The worst is not yet over for southeast Texas, as far as the rain is concerned," Governor Greg Abbott said on Wednesday.
He warned that floodwaters would linger for up to a week and said the area affected was larger than that hit by 2005's Hurricane Katrina, which killed more than 1,800 people in New Orleans, and 2012's Superstorm Sandy, which killed 132 around New York and New Jersey.
Houston's metropolitan area, with an economy about as large as Argentina's, has a population of about 6.5 million, far greater than New Orleans' at the time of Katrina.
A day after visiting Texas to survey the damage, Trump pledged on Wednesday to stand by the people of Texas and Louisiana.
The storm made it less likely Trump would act on his threat to shut the federal government over funding for a border wall with Mexico, Goldman Sachs economists said. They now estimate that probability at 35 percent, down from 50 percent previously.
Vice President Mike Pence and several Cabinet secretaries will travel to Texas on Thursday to meet residents affected by the storm as well as local and state officials, Pence's press secretary said.
An army of volunteers has turned out to help the thousands of police, National Guard personnel, Coast Guard flood teams and emergency crews to ferry thousands of people stranded in floodwaters to safety.