Adama Barrow sworn in as Gambia's new president as regional troops gather
WORLD
By Reuters | January 20th 2017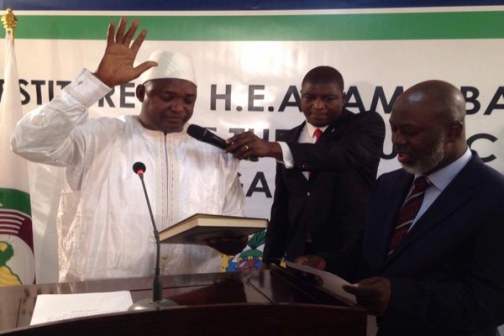 Adama Barrow took the oath of office as Gambia's president on Thursday at its embassy in neighbouring Senegal, calling for international support as regional troops prepared to back him in a showdown with incumbent Yahya Jammeh, who has refused to step down.
Barrow's appeal that could trigger a military push into Gambia by West Africa's ECOWAS bloc, which has said it is ready to remove Jammeh by force if necessary.
Jammeh, in power since a 1994 coup and whose mandate ended overnight, initially conceded defeat to Barrow following a Dec. 1 election before back-tracking, saying the vote was flawed. Overnight talks to persuade him to stand down failed, despite his increasing political isolation.
"This is a day no Gambian will ever forget," Barrow said after taking the oath, which was administered by the president of Gambia's bar association. "Our national flag will now fly high among the most democratic nations of the world.
"I hereby make an explicit appeal to ECOWAS, the (African Union) and the UN... to support the gov and people of the Gambia in enforcing their will, restoring their sovereignty and constitutional legitimacy," he said.
ECOWAS and the African Union have said they will recognise Barrow from Thursday.
Senegal's army, which has deployed hundreds of soldiers at the Gambian border, said on Wednesday it would be ready to cross into its smaller neighbour, which it surrounds, from midnight. Ghana has also pledged troops.
A senior military source in Nigeria, which pre-positioned war planes and helicopters in Dakar, told Reuters that regional forces would only act once Barrow had been sworn in.
Barrow gave the oath in a tiny room in Gambia's embassy in the Senegalese capital, Dakar, and many of those present broke into the Gambian national anthem once he had completed it.
Outside the building on a residential street amid a heavy security presence, dozens of Gambians listened to the ceremony through loudspeakers.
"It's very sad to be swearing in a president in someone else's country. I am happy and sad at the same time," said Fatou Silla, 33, a businesswoman who fled Gambia with her son a week ago.
Fearing unrest, thousands of Gambians have fled the country, the United Nations estimates, and diplomats said its Security Council would on Thursday vote on a resolution backing ECOWAS's efforts.
A senior aide to Barrow said that, once sworn in, arrangements would be made for him to return to Gambia though it was unclear how he would travel.
At a bar in the Gambian capital Banjul's popular Senegambia strip, people crowded around a television to watch the swearing in and cheered and danced when it was over.
"I'm so happy there's a new government," said a cashier who only gave her name as Fama. "We have been suffering for 22 years and now things will be different."
Commander in chief
During the brief inauguration speech, Barrow asserted his new role as commander and chief of Gambia's armed services, ordering soldiers to stay calm and remain in their barracks. Those who did not would be considered rebels, he said.
As tour companies pressed on with the evacuation of hundreds of European holidaymakers, shops, market stalls and banks in Banjul remained closed while police circulated in trucks and soldiers manned checkpoints.
It was unclear what Jammeh's next move would be.
He faces almost total diplomatic isolation and a government riddled by defections. In the biggest loss yet, Vice President Isatou Njie Saidy, who has held the role since 1997, quit on Wednesday, a government source and a family member told Reuters.
Gambia's long, sandy beaches have made it a prime destination for tourists but Jammeh, who once vowed to rule for "a billion years", has also earned a reputation for rights abuses and stifling dissent.
He has ignored pressure to step aside and offers of exile.
Robinho recalled for Brazil's Chapecoense friendly
Former Real Madrid striker Robinho was recalled by Brazil for the first time in more than a year on Thursday to face Colombia in a charity match to raise funds for the victims of the Chapecoense air crash.