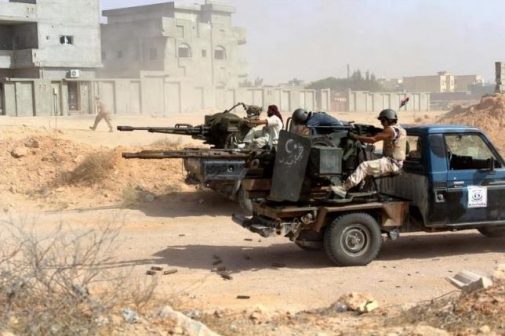 Libyan forces fighting Islamic State in its stronghold of Sirte said on Friday that four of their troops and 10 militants were killed in heavy clashes around the port area as militants tried to flee the city under siege.
Brigades from the nearby city of Misrata, allied with the country's U.N.-backed government of national unity, launched a campaign to retake Sirte last month. They rapidly recaptured ground west of the coastal city, but their advance slowed as they closed in on its centre.
Islamic State militants, who exploited Libya's security chaos to seize Sirte last year, have been fighting hard to defend territory they still control in the residential centre.
"Brigades of Bonyan Marsous intercepted a group of Islamic State militants on Friday attempting to escape from the coastal side of the city," said Rida Issa, a spokesman with the government's operations room.
"The clashes were massive and have resulted in four troops killed and 24 wounded. After the clashes ended, our forces found about 10 bodies of militants."
Since the fall of Muammar Gaddafi in 2011, Libya has had no official national army, but brigades of former rebels who once fought together against him have steadily turned against one another and allied with rival political forces on the ground.
Misrata city forces, among the most powerful military brigades, are aligned with the U.N.-backed unity government that arrived in Tripoli in March. It is seeking to replace two other rival governments that were set up in Tripoli and the east in 2014, and to unite Libya's many political and armed factions.