US launches probe into killing of Zimbabwe's beloved lion 'Cecil'
WORLD
By AFP | Jul 31st 2015 | 4 min read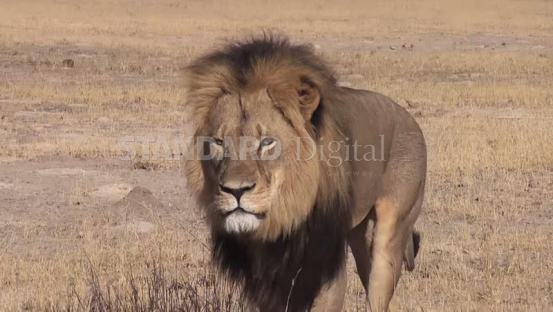 US authorities launched an investigation Thursday into the killing of a beloved lion in Zimbabwe, as the American dentist who hunted the big cat remained in hiding amid mounting global outrage.
Trophy hunter Walter Palmer killed Cecil the lion earlier this month after the feline was allegedly lured out of the Hwange National Park boundaries with a dead animal as bait.
The professional Zimbabwean hunter who organized the hunt has been charged in Zimbabwe with "failing to prevent an illegal hunt." But a court hearing for the landowner accused of allowing the hunt was delayed on Thursday.
The US government, meanwhile, has opened a probe into the hunt.
"The US Fish & Wildlife Service is investigating the circumstances surrounding the killing of Cecil the lion," said Edward Grace, deputy chief of law enforcement at the agency.
But Palmer remained out of the public eye, and US authorities said efforts they have had no luck so far in their efforts to track him down.
"Multiple efforts to contact Dr Walter Palmer have been unsuccessful," Grace said.
"We ask that Dr Palmer or his representative contact us immediately."
Crowds left plush toys of lions, tigers and monkeys at his River Bluff Dental practice in Minnesota. A sign reading "Rot in Hell" was plastered on the office door.
An online petition garnered more than 850,000 signatures expressing outrage over Cecil's slaughter, while more than 100,000 concerned Americans on the White House website urged the government "to fully cooperate with the Zimbabwe authorities and to extradite Walter Palmer promptly at the Zimbabwe government's request."
A Minnesota congresswoman joined calls to investigate the dentist, a seasoned hunter with a poaching conviction over the 2008 killing of a black bear in the United States.
"To bait and kill a threatened animal, like this African lion, for sport cannot be called hunting, but rather a disgraceful display of callous cruelty," Betty McCollum said Wednesday.
She urged the US Attorney's Office and the USFWS to "investigate whether US laws were violated related to conspiracy, bribery of foreign officials, and the illegal hunting of a protected species or animal."
Meanwhile, Safari Club International, an international hunting organization that Palmer belonged to, said it also supported a probe and that it had revoked his membership.
"SCI has imposed immediate emergency membership suspensions of both the involved hunter and his guide/professional hunter, and they will remain in place pending the outcome of an investigation," the group said in a statement.
Cecil was a popular attraction among many international visitors to the Hwange National Park and was part of a University of Oxford research project.
The beloved lion was apparently enticed to leave the park's boundaries by bait and initially shot with a bow and arrow before Palmer and his guide tracked Cecil down and shot him dead with a gun some 40 hours later.
On Tuesday, Palmer issued a statement expressing regret at killing Cecil but said he had no idea the lion was protected and part of a study and that he thought the hunt was legal.
Donations pouring in
Twitter was aflutter with insults aimed at the wealthy dentist, and the hashtag #WalterPalmer was trending.
Rocker Ozzy Osborne's wife, Sharon, joined the online attack.
"#WalterPalmer is Satan. I don't know how anyone could go to this man for dental services after this. He is a killer. Beware!," she wrote.
Amid the global anger over the lion's killing, appeals for donations to protect endangered felines are being answered enthusiastically.
After an appeal by Jimmy Kimmel, a popular late night talk show host on ABC, tens of thousands of dollars were promised in a matter of hours for an Oxford University research and preservation project that Cecil had been a part of.
Kimmel called Palmer "the most hated man in America."
In asking for money, he said he wanted some good to come out of the tragedy.
"At the very least maybe we can show the world that not all Americans are like this jackhole here," he said, as a photo of a smiling Palmer advertising his dental practice filled the screen.
The African Wildlife Foundation, based in Nairobi but with an office in Washington, was inundated with calls and emails of people expressing sadness over the death of the lion, said spokeswoman Mayu Mishina.
The foundation issued an appeal called "Justice for Cecil" and noted that the lion population in Africa has fallen 30 percent over the past 20 years and is now below 30,000.