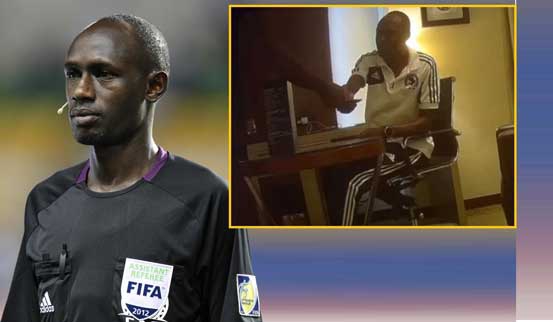 From grass to grace and back to grass
Aden Marwa accepts 'poisoned gift' in a sting operation by Ghanaian undercover journalist.
In an uncanny similarity with Obi Okonkwo character in Chinua Achebe's No Longer At Ease, Kenyans are yet to come to terms with reports assistant referee Aden Range Marwa accepted a $600-gift in a sting operation from an undercover journalist that has since seen him resign from officiating at the Fifa World Cup in Russia.
Marwa is one among dozens of referees in Ghana and across Africa secretly filmed taking bribes or gifts – a transgression that puts the continental football in the eye of a storm.
Marwa, a teacher at Komotobo Secondary School, celebrated for his historic journey to the top of world football, now finds himself in a sticky spot for receiving $600 (Sh60,000). The act goes against world football body, Fifa, which forbids match officials from accepting gifts of whatever form.
And like the judge in No Longer at Ease, who convicted Obi Okonkwo of corruption saying, "I cannot comprehend how a young man of your education and brilliant promise could have done this.." Kenyans reacted in disbelief Marwa's naivety.
Held in high esteem in a country so short of role models outside sporting realm, Kenyans' collective prayer for Marwa resembles prophecy of Reverend Samuel Ikedi of St Mark's Anglican Church, Umuofia, as they prayed for Obi Okonkwo before he flew to England to study Law.
In the book, Rev Ikedi recited the poem: "The people which sat in darkness, Saw a great light, And to them which sat in the region and shadow of death, To them did light spring up."
And until the seismic sting operation conducted by Ghanaian journalist Anas Arameyew Anas, Marwa was that light, at least for Kenya.
Predictably, Marwa's phone is off, but has since told BBC that he vehemently denied the accusation of taking a bribe.
In the footage, Marwa, 41, while receiving the cash is heard saying: "You know, thank you for the gift, but you know, the most important is that friendship, getting to know each other…"
The footage, according to the undercover journalist, was taken during the 2018 Africa Nations Champions hosted in Morocco in January and February.
Football Kenya Federation Referees Manager Sylvester Kirwa said: "Obviously it will disappoint anyone who knows how diligent Aden Marwa is in his work. However, we have to wait for Caf and Fifa communication. For now, I have nothing further to say."
Kenyans took to social media to express their shock at the turn of events as they were ready to watch him officiate at the Fifa 2018 World Cup which kicks off on June 14 in Russia.
Sam Gichuru (@SamGichuru) took to twitter saying: "Aden Marwa has not brought shame to Kenya, the shame was already there, he just lifted the veil and took it global. We can keep dreaming of a corrupt free Kenya or we need to look inside ourselves and awaken."
Victor Mochere (@VictorMochere) wrote: "Aden Marwa ensuring that the Kenyan corruption goes global...a Sh60,000 bribe costs a Ksh2,500,000 job."