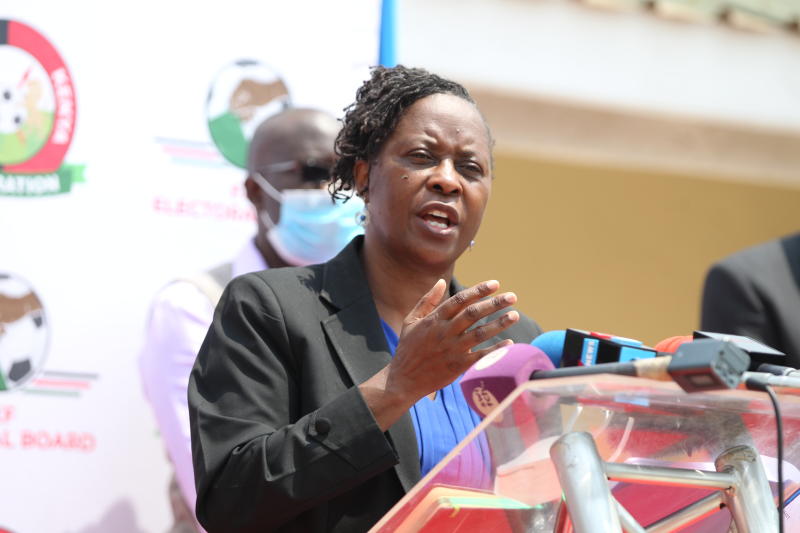 Communications expert Kentice Tikolo is the person who was tasked to ensure Football Kenya Federation (FKF) elections went on as planned last week.
A woman of many firsts, the FKF Electoral Board chair carries with her so many titles in different areas of her specialisation.
Played several sports and eventually got married to one of the greatest cricketers, Tom Tikolo.
Meet the First Kenyan Woman to oversee a football Election in Kenya:
Who is Kentice Tikolo?
A simple but firm woman (with a big heart) who believes in equality of people. We all deserve an equal chance on this earth. This can best be achieved through sincerity and integrity. I have a special calling to help those who are disadvantaged. I am very strong on justice. A stickler to regulations, I'm a little bit of a perfectionist. I take life seriously: loyal almost to a fault. So, when I give myself to do something, I go out of my way to deliver perfectly. I also am passionate about communication and enjoy teaching.
How was life-like while growing up?
I grew up in the village, a firstborn in a family of eight. My parents were very strict teachers who believe in the value of education. They went out of their way to ensure we received a good education. But most important they taught us to be generous, honest and to value everyone.
In a summary, tell us about your school life, being a sportsperson and the sports you played.
I went to several primary schools (come to think of it, 6 schools!), because of my parents' frequent transfers. The only school in which I stayed for 2 years was Mumias Girls Boarding (now St. Anne's), where I did my CPE. Run by Irish nuns, that was the first school where I read novels (Enid Blyton series), played my first board games, watched my first movies (The Computer Wore Tennis Shoes, Sound of Music) and generally just had so much fun as a child.
I then went to Loreto Limuru, where I took to sports like a duck in water! I was a natural in hockey, volleyball and lawn tennis. As an athlete, I was a sprinter and long jumper. I also learnt how to play the guitar. At Alliance Girls, where I did my A Levels, I participated both in hockey and basketball. I can proudly assert I may have been one of the very best centre forwards during my time!
I so thoroughly enjoyed my school life: I made the most of it, especially the boarding schools, where I made lots of lasting friends. I also learned to respect others. But most importantly, I learnt the importance of having a good work ethic.
Your name sounds familiar; could you be related to the famous Cricket players the Tikolo's?
Yes I am by law! Married to Tom Tikolo, who happens to have been the first African captain of the Kenyan Cricket team.
What is the most challenging career place you've held before?
Head of Communication at the Kenya Wildlife Service. It marked my transition into consultancy, eventually setting up my own company, Impact Africa (now Cause Impact) Limited.
What inspired you to take this role in football?
Having been the chairman of Wazito Football Club, I experienced the challenges clubs go through. Yet we made a whole difference in professionalising the club and built a great, cohesive team that could have done extremely well with financial support at the right time. I was so traumatized, watching my team disintegrate at the KPL, due to lack of finances. Yet we had built it painstakingly into a professional outfit, using our own very limited personal funds (we had an extremely passionate and professional team of volunteer board members). We believed that getting the team to the premier league would provide a financial reprieve: but we were so wrong. There was no money! The sponsorship was a huge joke! It was crushing.
So, when I was asked to help with the election, I naturally accepted. I felt it was important that I do my part and bring to bear the management experience I have gained over the years. I saw it as an opportunity to contribute to the game where it matters a lot -- the strategic level.
You are the first Kenyan woman to ever chair a board of a men's football team, how does this make you feel? Tell us about your experience?
I am proud of the board's performance and achievement. I worked with a fantastic team of professionals, with different areas of strength, all of whom were so focused on ensuring a credible election. We had a common goal: it was great teamwork. I couldn't have asked for a better team of board members. I'm proud of the fact that we delivered on our promise: a world-class election with no drama!
I'm not one to shy away from a challenge. We took this one in stride and have set the standard for future elections!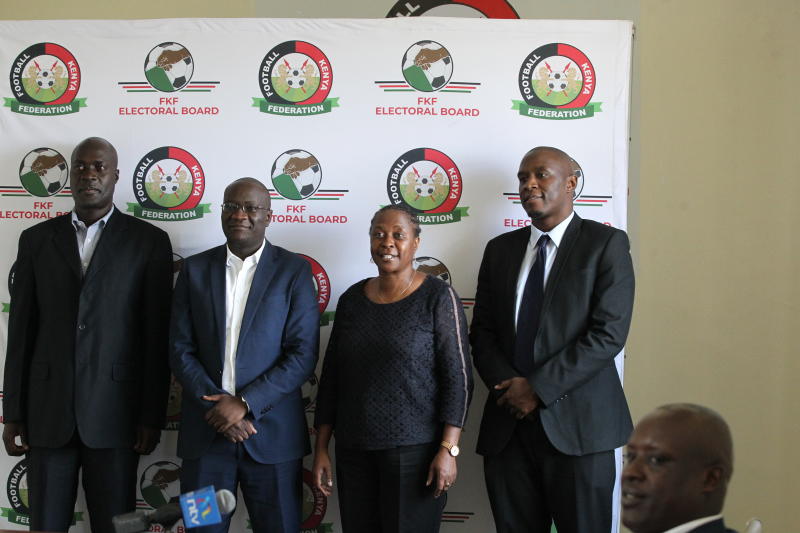 In a scale of 1 to 10, how would you rate your performance as the Chair of the FKF Electoral Board in the just concluded FKF Elections?
Nine (9).
What is your general overview of this year's election and the turnout of events?
We have received excellent feedback. There's a general shock that there was no drama.
It's a first! I was warned of the possibility of violence during the election. There was none. We did extremely well – beyond expectations.
In 2008 you received Golden Honours Award for Excellent Support in Advancing Public Relations Excellence by the Public Relations Society of Kenya?, winning seems to be the language you understand, what is the secret?
Whenever I commit to doing something, I do my very best. I don't know how to deliver below par. I was chairman of the PRSK, and the first Kenyan to be elected onto the board of the Global Alliance for PR and Communication Management, a delegate at large for Africa. Due to my passion for communication, I have dedicated myself to promoting the profession. I put all my energy into what I do: I always strive to deliver the very best. Perhaps a trait inspired by my involvement in sports?
What inspired your career path in Sports management?
My interest in sports has had me realise the enormous potential it has as an industry.
I feel sports as an industry is completely underrated in this country. The old-time belief that sports are not for high achievers is so unfortunate. I am convinced that with a critical mass of the right management skills in charge, this country can unleash the greatest source of employment for the youth. There is lots of natural talent. If we can get enough qualified coaches and managers, we can be a showcase, neck-to-neck with the developed world in sports. I'll do my part whenever the opportunity presents itself.
The myth that sports and brains are not bedfellows must continuously be smashed. We need the very best in management to venture into sports to bring out the very best in the industry!
Back then there were many stereotypes in regards to women being around the stadium during games, the rhythm is slowly if not fully changing, and slowly women are not only spectators but have a voice in Sports.
What are your thoughts on this?
We are not there yet. Nowhere near where we should be. Far too few women are involved in sports. And when we are, we are not provided the visibility that we should.
A good example is the just-ended London Marathon. While Brigid Kosgei the ladies event, the focus was on Eliud Kipchoge's loss! How now? At the very least, they should have received equal attention! Did we use Brigid to brand Kenyan tea? No. We need to deliberately prop up women is sports. I'd like to see more stories about our sports heroines: Harambee starlets, Tegla Lorupe, Valerie Onyango, Catherine Ndereba, etc.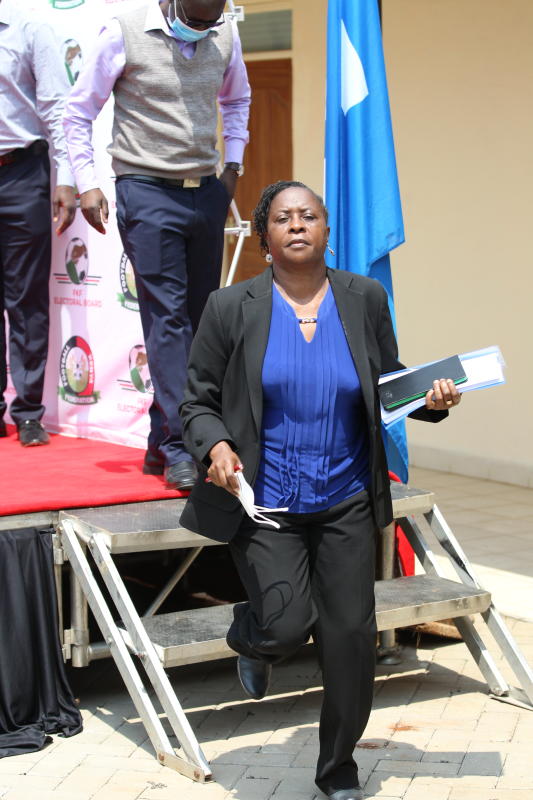 What do you think Sports managers in Kenya need to do to meet equity and efficiency in sports management?
There is a need to deliberately brand and showcase women in our sports. The two-thirds gender rule should apply. For example, I would have loved to see some affirmative action at the FKF election level concerning women teams. There ought to be deliberate efforts to include more women teams in the register.
That requires that the FKF Constitution and Electoral Code be amended to accommodate more women teams. The same should happen in other sports.
Women would bring other views in management. That is lacking. Having more women in sports management would promote sound decision making, problem solving and strategic planning, due to the diverse and multiple perspectives that they would bring on board.
Kenya is on the verge of implementing the two-third gender rule, women leaders are fighting for the same, what is your opinion on this?
It's about time this rule was enacted. There are enough qualified women to take up these positions. They should be encouraged to come out and take their places. And this does not mean that they should be under the wings of the men. They should stand out with regard to their capabilities. The playing ground needs to be level. The challenge usually comes from rough play and violence. That needs to be curbed.
What are the rules that you live by?
Fairness, integrity and excellence.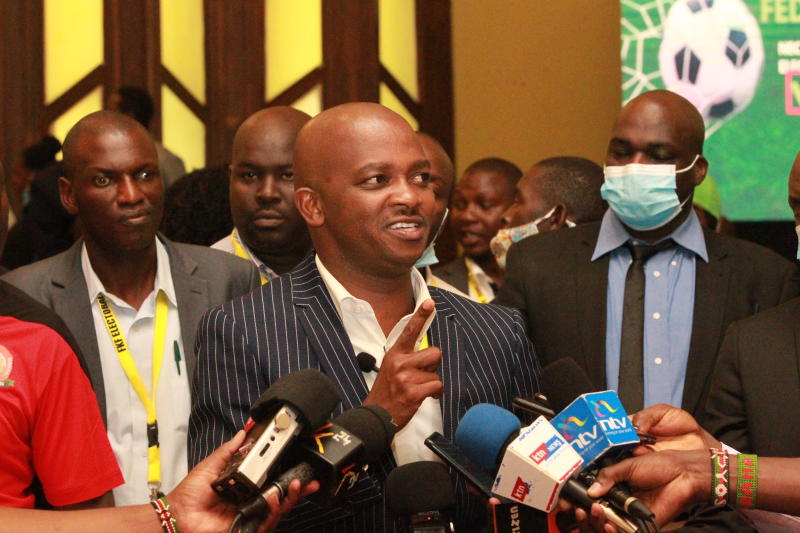 You appear to be calm, have you always been like this or it came with training? How and why is that so?
I'm laughing! Those who know me will tell you I'm a volcano! I am very demanding when it comes to excellence. I work towards perfection. And so I notice when things go wrong. But then I also have been accused of over-praising! So I guess I balance out in the end.
I must admit I'm a very tough (and yet soft) person. I set very high standards and hold everyone around me to the same.
There are two things one is likely to have a run-in with me over... standards and integrity. I don't compromise on those. Usually, the result is worth the pain! The FKF Electoral Board's Secretariat will bear me out on this.
In your career path which position did you enjoy the most?
Public Relations Manager at the Kenya Sugar Authority. That was where I learnt the possibilities that this profession holds for me. Allow me to add Beyond Zero.
Conceptualizing and implementing the initial campaign and First Lady's Half Marathon will always be a high for me. I look forward to birthing other initiatives that will make a difference to mankind.
What is the most expensive thing you possess and how much did it cost?
My MSc in Public Relations from the University of Stirling in Scotland. I couldn't afford it, yet I so badly needed it. The public paid for it through fundraising, and my very young family then sacrificed to have me away for a year.