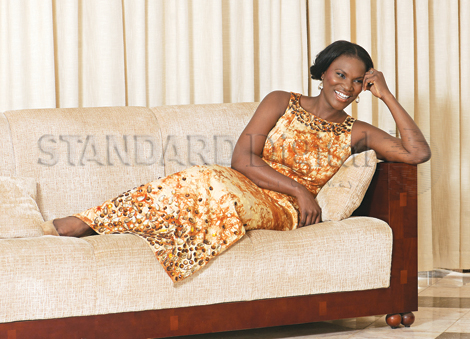 Anita Erskine Amaizo
Anita Erskine Amaizo, 33, started working when she was eleven years. She is a mother of two, a wife, a producer, MNet presenter and musician. She spoke to Shirley Genga
Anita is a lady of many talents; she has literally dipped her fingers in all things media.
She can sing, act, is a great television and radio presenter, has dabbled in public relations, is a French translator, an emcee and currently owns and runs her own production company.
Spend time in her aura and there is no question why Anita is so good at everything she touches.
Anita has an enthusiasm and passion for life that is evident in the way she talks and carries herself. She is quite the jack of many trades, but a talented one none the least.
Read More
As a television producer, she has an exemplary skill: She has mastered the art of capturing the best that Africa has to offer. Her tool of choice is television and her purpose in life is to shine a light on the good that Africa has to offer.
Her dream is for Africa to be seen for all its glory and not the negative image that is constantly shown on the international media.
Not long ago, she was in Kenya working on her latest project, The concept of making of a mogul — Making of a Mogul: Ladies Edition, for Africa Magic Entertainment.
"Making of a Mogul profiles Africans under 35 years who are taking business from their native countries to the global arena. Africa needs to be inspired by it's own success stories," she explains.
Further, Anita explains that the documentary opted not to feature the current known moguls spread across the oil, banking and telcom industry. This is because their stories have already been told.
"We shall feature fresh new faces. We want our show to be a platform to highlight great works by people who we believe are on their way to being the next moguls. The show fits right in with my goal to project the best of Africa and it is wonderful meeting all these inspirational strong African women. Meeting and interacting with them has been inspirational. I'm extremely happy to be part of this show that presentts different sides of the 21st Century African woman," she continues.
Working history
Anita has an impressive professional portfolio. After completing her BA degree in Cultural Studies at Trent University in Canada, she began working at Flow 93.5 FM in Ontario as a communications consultant and on-air host.
"I produced, directed and hosted The Word, an urban gospel programme. I later got to work at Trent Radio 92.7 FM in Peterborough and City TV in Toronto. I also did some writing for the local newspaper. I actually spent a good chunk of my adult life on Canadian television, radio and print. It was a great experience as I also got to meet celebrities like Jay Z, Nas and Drake," she remembers with a smile.
Before making the decision to return home to Ghana in 2007, she went on vacation and even got to visit Kenya, South Africa and Nigeria.
"I wanted to read the mood and gauge the growth and development in media at that time. I noticed that the media was growing and curving a niche of its own and I wanted to be part of the movement. I always knew that I would come back and so I packed up and came home in 2007," she says.
When Anita returned home to Ghana, she first jumped into public relations and advertising. However, she did not do it for long and she returned to her fist love: Television.
Anita got the opportunity to work as a presenter on MNet's Studio 53 (now 53 Extra) for four years, where she got to introduce her audience to the best that Ghana had to offer in terms of arts, culture, personalities and places.
And while there, she began her own production company and is currently the executive producer at Modern African Production.
Anita is the host of Pamper Your Mum and a producer on the new Africa Magic entertainment show The Dzigbordi Show. She is also the producer for: The One Show and This Morning at Viasat One in Ghana. Other shows to her credit are Ghana's first ever dating show, Looking for Love, and the music show Mentor II.
Being multitalented, Anita is also a gifted singer who has released two singles, Ghana and Crazy. She is currently working on her album.
"I was part of a singing group with Angela Angwenyi back in the day; she is a close friend. We met while studying in Canada. I have a busy schedule so I'm taking it a day at a time. I'm not pressurising myself. If I can make it to the studio once every two months then I am happy," she says.
Anita also recently made her acting debut in the film Single and Married.
Childhood
"I was born in Israel, but was raised in Ghana. My parents worked for the United Nations and I'm the last born in a family of eight," she says.
Anita has a strong work ethic, which was instilled in her by her parents while she was a young girl. During the holidays when her age-mates were out playing, she was out working.
"I started working at Ghana Corporation at the age of eleven. I worked in the radio and television library. When I was younger I hated the fact that I was out working when all my friends were on holiday, but I came to know that my parents wanted the best for me.
"By the time I was 17, I had landed a spot on a live television show. My job was to review The Bold and the Beautiful episodes," she says with a reminiscent smile
That one show sealed her destiny and set her on a path that she is on today.
"It started my appreciation for the camera lense. It was the beginning of my long friendship with the camera. Before that, I was not so sure I wanted to be on television. I now know what to give and when to give it to capture my audience," she says.
After high school, she continued to work at Ghana Broadcast Corporation for two years. Before flying out to Cananda in 1999 for higher education.
Family
Anita has been married to Regis Amizo, an event constructor from Ghana, since 2009 and together they have two children, Marley, four, and Nesta, three.
"I met him during an event; I think it was 'Ghana at 50'. I was the event's host and he was the director and manager of the stage and I disliked him immediately because he was a strict director (laughs).
"We later met at another event, but this time we became friends and one thing led to another," she recalls.
Further ,she explains that though they have busy work schedules, they try to always prioritise family time.
"We both travel so much that sometimes we poke jokes at each other when one of us has been home too long and not travelled in a while," says Anita.
What people do not know about Anita is that she is an introvert when not on work mode.
"I love my work and interacting with people, but at the end of the day I find solace at home, spending quality time with my husband and children," she says.
When she is not at work, you will often find Anita with her family travelling the countryside of Ghana.