New boob after mastectomy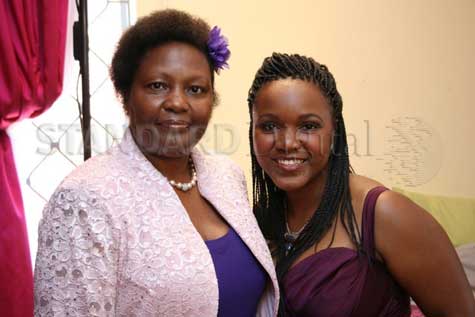 Bilha Gichuru with her daughter,Joy Waruguru after Bilha's breast reconstruction.[PHOTO:NJOKI CHEGE]
It is Breast Cancer Awareness Month and this year, we choose to focus on life after mastectomy. Breast reconstruction after mastectomy is a trend that is fast gaining momentum, as Njoki Chege found out
My triumph over cancer
Bilha Gichuru's journey with cancer began in March 2010, when she went for her annual medical check-up. The mammogram indicated some suspicious involvement, while the biopsy turned out negative.
Disturbed
"Deep inside, I was unsettled and though I'm a firm believer in miracles, I felt some fear. In October the same year, I felt compelled to present myself for a second mammogram in a year and this time, I was diagnosed with stage two cancer" she says.
Bilha decided to have the surgery at a small hospital in the UK that specialises in breast cancer, where she had the infected breast removed.
"When you realise that you have cancer, you begin to question your existence. Most people think death, stigma, what will others say? I was more concerned about my loved ones and how they would be affected, more than I worried about my ability to cope," says Bilha.
She chose to reflect on her relationship with God and that is exactly where she drew her strength. Soon after, it was time for chemotherapy.
She says: "You know, cancer comes with one agenda, to take you out, and the pain of chemotherapy is unbelievable. It is a thief that comes to kill, steal, and destroy. I lost my hair, eye lashes, and eye brows, my nails and my complexion changed due to the treatment. I had to fight back and starve it of the power to put me down"
Bilha conquered the chemo in one piece and in June last year, she began to contemplate breast reconstruction surgery. She did her research, and zeroed in on Kenya.
On September 14, this year, at exactly 8am, Bilha was wheeled to the theatre for a seven-hour breast reconstruction surgery.
When she woke up, doctors and nurses expected to put her in the High Dependency Unit (HDU), but they were in for a surprise.
"I woke up smiling, waved to my family saying 'Hi guys!' they couldn't believe it," she says.
It's been slightly 30 days since her breast reconstruction surgery, and Bilha is quick to note that her replaced breast feels absolutely normal, complete with sensitivity and blood flow. She exercises and goes about her business as usual and in a month's time; she is looking forward to doing some laps around the swimming pool.
New breast
So, how does it feel? "For any woman, this is a priced possession. Though it does not define me, knowing that I'm not void gave me that "Wow!" feeling. Nothing beats the satisfaction of knowing that you can wear a strapless dress without fear, she says.
"I'm in the list of the privileged few, as making a decision like this is not easy. No one can truly understand unless they have travelled this road".
Breast reconstruction, Bilha notes, is necessary to the physical and psychology fulfilment of a woman because it goes a long way to reinstating normalcy in her.
Bilha's experience and triumph over breast cancer is an ideal example that breast cancer is not a death sentence. The biggest lesson she has learnt is that cancer will only conquer you if you let it.
"I encourage women to be courageous and go for early screening for this could save your life. You owe it to yourself and your generations.
"Cancer doesn't come to define who you are, it comes to make you stronger. Don't let it steal your life and make you wallow in pity parties. Adversity is a teacher to make us better people because I believe my triumph over cancer made me a stronger, better and more focused person," she says.
In her parting shot, she encourages families to be compassionate and render support, which goes a long way in comforting the affected woman.
Life after Mastectomy
Total mastectomy not only robs you of your breast, but self-confidence and self esteem as well. The good news is, there is a viable solution to create a natural breast through a process known as breast reconstruction.
Breast reconstruction is a type of surgery for women who have had a breast removed (mastectomy), it rebuilds the breast mound so that it is about the same size and shape as it was before. The nipple and the darker area around the nipple (areola) can also be added. This surgery is done by a plastic surgeon.
Dr Ismail Aref, a Nairobi-based plastic surgeon says that plastic surgeons use the muscle fat of the stomach or the back and transfer it to the breast area. In other cases, when the tissues from your back and tummy are not sufficient, an implant may be necessary.
"This process should only happen when the general surgeons have declared a patient tumour-free because there are some medications that a patient is required to take after the reconstruction," says Dr Aref.
As Dr Aref advises, breast reconstruction goes a long way in restoring normalcy to your life by giving you a perfectly natural breast, which will go miles into boosting your self-esteem.
"You can swim, wear a bikini, exercise normally, run and live a normal life after the reconstruction," says Dr Aref.
This reconstructed breast is not susceptible to cancer, and the only thing it cannot do is breast-feed. This is why Dr Aref encourages patients to remain optimistic even after losing their breast to mastectomy.
"There is hope after mastectomy. We can always come up with ideas to reshape the lost breast and make a naturally looking and acceptable breast using adjacent tissue," says Dr Aref.
Dr Stanley Ominde Khainga, the chairman of The Kenya Society of Plastic, Reconstructive and Aesthetic Surgeons notes that early diagnosis has increased the demand for breast reconstruction. He says that women now have the free choice of choosing to have the reconstruction immediately after mastectomy or one or two years later.
"You should see the trouble women go through to make their breasts proportional — they use all kinds of artificial external implants, pre-fabricated bras, and some, even rags. Breast reconstruction has brought some good news to women who have had mastectomy," says Dr Khainga.
After surgery, Dr Khainga explains, patients are still required to follow up through with frequent medical check-ups.
Cost implication
Of course the question on everyone's mind right now is "How much does it cost?" Well, you will be surprised to note that most medical insurance packages will cover breast reconstruction, due to its reconstructive nature. The cost will vary depending on where you get it, and you don't have to catch a plane to South Africa or UK to have it done.
It is possible to have it locally done, as there are very many qualified and experienced reconstructive surgeons in the country. These services are available in most referral hospitals including Kenyatta National Hospital (KNH), Moi Teaching and Referral Hospital, and private hospitals like Aga Khan, Karen Hospital and Nairobi Hospital.
"What women need to realise is that these services are locally available locally. We have handled many patients who are happy with the results. Women need not suffer after mastectomy anymore," concludes Dr Khainga.