Award-winning Mwende Gatabaki, 43, never stays in one job for too long. Currently at the African Development Bank, she's a problem solver and is highly sought after in the corporate world, writes JOAN BARSULAI
Mwende Gatabaki was declared Africa's leading ICT Achiever Top public sector CIO in Africa by Africa ICT Achievers in South Africa, in 2007.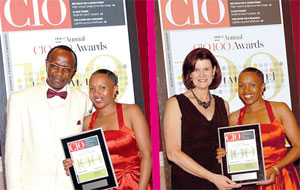 Mwende celebrates her CIO 100 award with her workmates Dee and Maryfrau Johnson in 2009.
She became the first African to win the global ICT award 'CIO 100' — awarded by the US-based CIO magazine, in 2009.
This is an ICT award that recognises champions in Africa with initiatives that exploit technology and boost the economy.
Read More
Globe-trotting
Born in a family of 19, this high achiever, whose father is a chief, credits her success to a combination of her parents' leadership abilities.
She says, "I might not be as hardworking as some people but I have stoic determination to succeed, and I get this from my parents," says Mwende who has always set her direction in life, and who has had a slow steady climb to the top.
During her first employment at the United States Aid Mission (USAid) Kenya office, she headed the IT department, and at only 28 years, successfully implemented a communication network using high frequency technology (the only workable technology in the region at the time) to connect the Hergesia office in Somalia to the Nairobi office.
This was the first data and voice network of its kind in the region covering over 2,000km.
Her reputation quickly preceded her, and two years later she was sent to Rome, to join the World Food Program to strengthen their ICT field support services.
She was put in charge of 26 country offices across the world, and this was the beginning of her inter-continental globe trotting.
This opportunity took her to so many places and gave her the much-needed exposure to different cultures.
With enough experience, she finally headed back home in 2004, and was promoted to group general manager-ICT for the Kenya Tea Development Agency Ltd (KTDA).
Connecting the company
This became the place where she put all her ICT skills to good use, and later went on to become a globally recognised ICT achiever. At KTDA, Mwende managed to change the way people view ICT.
She ensured that all the important information from the company's 60 factories became accessible at the click of a button.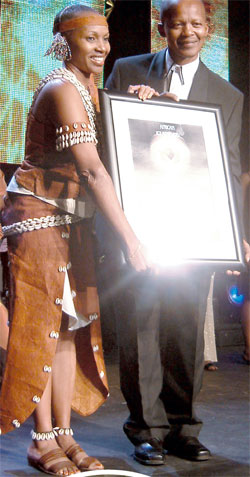 Mwende receives the Top public sector CIO in Africa award in 2007
Despite her success, Mwende decided to move on.
"My role is to transform an organisation to be technology-enabled. I never stay in any organisation long enough to become permanent and pensionable and I usually leave after making my mark," says the IT guru.
After winning her second award, she left in pursuit of new opportunities, and before long she landed a prestigious position as division chief of the client technology services at the African Development Bank in Tunisia in April last year.
Mwende holds a Masters degree in Organisation and Development from USIU, but she says her success does not come from her educational background.
Says she: "I pride myself in my ability to combine technical expertise with business acumen — and this ability lacks in many organisations.
So in that sense I'm able to speak the language of the business and even propose ways to grow the business while at the same time providing guidance on technology."
When asked about her experiences working in a male-dominated field, she says that she is far more comfortable working with men than with women.
"As long as they remember to serve themselves tea during board meetings and not wait for me to do it," she quips.
She has to however grapple with a few challenges that come with working with men.
She says: "It's more challenging to move up the ladder as a woman. In dealing with men at all levels, I choose my battles. I only fight the battles I can win and those that need to be fought.
But when I believe in something, I fight for it. I might not win, but I like to make my stand on issues clear. They might not like me because it might embarrass them, but they respect me. This works for me."
Despite a few challenges she faces in the every day running, Mwende says she immensely enjoys the process of building a high performing team, and seeing people gain confidence in themselves and become more effective.
Personal life
Mwende's career schedule means she has to spend a lot of time away from home. She is currently based in Tunisia, while her husband of 16 years lives in Nairobi.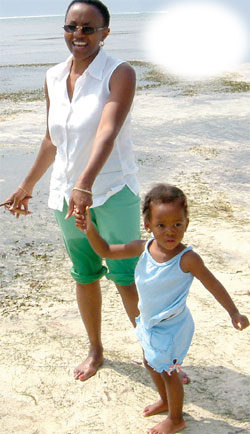 Mwende takes a walk at the beach with her daughter Wangeci. Photo: Courtesy
They have however managed to make it work — thanks to Skype. She currently stays with her four-year-old daughter Wangeci in Tunisia.
She credits much of her success to her husband, whom she refers to as the love of her life.
She says: "He is the wind beneath my wings, and he keeps me flying higher. He is my moral compass, using which I test my values and my standing and without which I would not succeed in leading people."
When Mwende is not busy working and advancing technology, she likes to relax by doing aerobics.
She also recently picked up golf, and usually does 36 holes per day, which she equates to walking over 12 km.
Future plans
In the long-term, Mwende plans to help formulate policies that will facilitate and create an enabling environment for the growth of ICT. She says that this has not been well exploited in the African continent.
Mwende encourages women, saying success is theirs for the taking, as long as they set their vision and strategise on how to get there.
"A vision must stretch you. And remember it takes time. It is a man's world, and I even let men believe it so that nobody sees me coming until I look them straight in the eye, across the boardroom table, and take a firm stand. Only then do they ask 'Who allowed her to get this far?'" she concludes.