Environmental researcher who knows no borders
By Brenda Kageni
She is one of the few trailblazers for women and for the continent. Holding a doctorate in Public Policy, Dr Esther Mwangi has done numerous projects in environmental and land tenure issues and is now leading the development and implementation of a property rights and tenure strategy at CIFOR.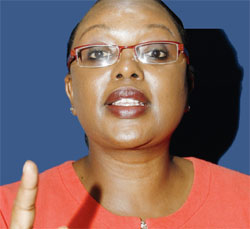 Esther during the interview Photos: Maxwell Agwanda
She also tries to incorporate women into the organisation's research programs. CIFOR is a nonprofit, global facility dedicated to research in environmental conservation and to informing equitable use and management of forests in less-developed countries.
She is currently carrying out research in Tanzania and Indonesia on what the presence of biofuels means for forests and the people living in and around forests.
"The research is looking at how the communities in Africa and Asia are dealing with the influx of investors and how this affects their access and rights to land and forests," says Mwangi.
Esther's doctoral dissertation in 2005 on the transformation of property rights in Maasailand won the Harold D. Laswell Award for the best doctoral dissertation in the field of policy studies, awarded by the American Political Science Association.
Esther has published numerous papers, reports and several books and has even co-published with Nobel Laureate, economist Elinor Ostrom, who was her supervisor, and remains a friend and mentor.
Background
The last born of 11, Mwangi grew up and went to school in Nairobi before joining Kenya High School and, thereafter, Kenyatta University, where she took a Bachelor of Education in Science, Botany and Zoology. It is here that her love for environmental issues begun to bud.
"I enjoyed ecology classes, especially one course we had on sem-arid land ecology. I found that intriguing," she says.
She momentarily taught at Visa Oshwal Primary School, before an opportunity opened up at Moi University's Biological Sciences division for her to pursue a Masters degree in Environmental Studies.
There she got two interesting opportunities that were to further spark her interest in forests. One was to carry out a research on Lake Bogoria on vegetation mapping and the other was an internship at the National Museums of Kenya with the Kenya Indigenous Forest Conservation Program in South West Mau Forest.
Upon her graduation she worked at The Kenya Wildlife Services Forestry Research and Planning Unit where she did ecological monitoring for forested areas under KWS and conducted several forest elephant surveys in conflict areas. She worked for KWS for the next five years after which she left to pursue her PhD in the US.
It was at KWS that her eyes were opened to the issue of policy on land and forest resources. They had been trying to create systems and institutions that allowed people to benefit from the resources.
Says Esther: "In the end everything is tied to politics — policies that are people friendly, that take into account people's needs and provide incentives to people to do the right thing, which is to conserve and use resources wisely. You can have very good technical reports but in the end policy and politics shape implementation."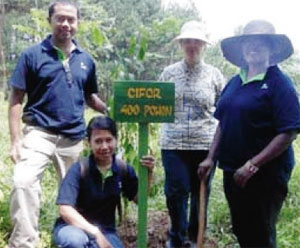 Dr Esther Mwangi says: "I learnt a lot on linking science to actions and achieving positive results on the ground." Photos: Courtesy
Turning moments
During her PhD, she undertook an interdisciplinary program that saw her study law, ecology and political science. This she considers as one of her watershed moments.
"If I had pursued further studies in Kenya it is unlikely that I'd have been able to make this shift from biophysical sciences to social sciences. Finding the connection between disciplines is the way of the future. Policy problems in environment and natural resources require a cross-fertilisation of viewpoints and methods. It opened up my view of problems and provided me with a different set of skills," says Mwangi.
She has also worked at the International Food Policy Institute (IFPRI) in Washington DC, where she coordinated and managed a global project on poverty reduction.
Says she: "I learnt a lot on linking science to actions and achieving positive results on the ground."
This was further reinforced at Harvard's Kennedy School of Government and Center for Environment where she got a fellowship to pursue work she had done during her PhD programme. The work was exploring why Maasais in Kajiado had gone towards individualisation of land instead of sticking to the communal land tenure common in pastoral communities in semi arid areas. She examined the implications of this privatisation on livelihoods and the environment and tried to establish the reasons why some of them were reconsolidating.
About the same time, she, along with Elinor Ostrom took on a USAID-supported research on forest decentralisation in East Africa and Latin America under the Sustainable Agriculture and Natural Resources Collaborative Research Support Programme. This research identified the impactsof devolving forest management to communities, something that close to 60 per cent of developing countries have done over the past decade. Countries under study were Uganda, Mexico, Bolivia and Kenya, a relative newcomer to devolution.
Challenges
As exciting as the career path has been, it hasn't been without challenges. One of her biggest challenges, Esther says, is being female and being African in research on the world's stage.
She explains: "You hardly see anyone who looks like you. There was no one to whom I could share experiences of my kind and learn from; no one sees through a similar lens as myself."
Even at IFPRI she was the only African female at that level during her term, but this has improved over the past few years. There are several other African women at CIFOR, some in research. However, most are based in Cameroon and Burkina Faso while Esther is in Indonesia.
"The movement upwards looks so much harder. It starts looking distant. It helps to see people like yourself in top positions," she says.
There has also been the challenge of living and working away from home for long periods. She has worked out of Kenya for the last 10 years.
She says: "Living away does take its toll on relationships, family and friends. I now want to reconnect better with my family and friends."
She initially got a professor who was interested in her work and who backed her.
"It happened so randomly; I didn't design it," says the scientist, who considers herself lucky.
She adds: "From there your work speaks for itself. In the end, it's your level of competence that people will acknowledge and support."
She also attributes her success to networks she cultivated, especially with her professors.
Esther is intent on participating in environmental management of natural resources and especially as concerns the empowerment of women, the rural poor and other marginalised people.
"I hope I can make a difference with this work. I will also continue the global level kind of work that I have been doing for the past few years. It is very satisfying working with like-minded people across the world, learning and sharing lessons and experiences," she says.
Who is the skirt wearer in the house?
For three long weeks, I have tried to hold my peace –— but damn it, the dam has to burst. It is all to do with a couple — let's call them Toby and Carol — that I read about in a magazine.