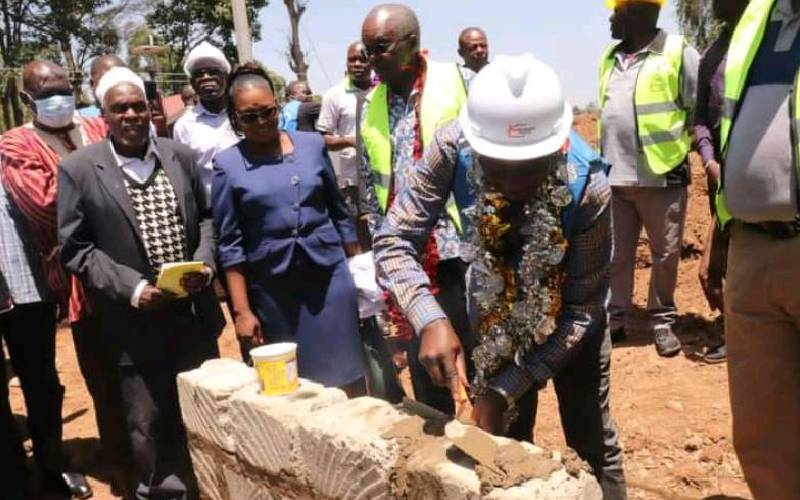 The Vihiga county government in collaboration with the World Bank will build a Sh30 million maternity theatre at Hamisi sub-county Hospital.
Governor Wilber Ottichilo commissioned construction of the theatre on Friday.
Ms Susan Khavai, a resident, said the facility will reduce maternal and newborn deaths. It will also reduce the cost of transport to hospital
"We have lived in despair for many years. I delivered my children at Mbale Hospital but we are hopeful that in future most cases that surgery will be done closer home after the construction of a modern theatre," said Ms Khavai.
The Sh30 million project is a collaborative venture between the County Government of Vihiga and World Bank.
"We have commissioned this theatre that we hope will go a long way in saving the lives of our women in this region. My administration has been committed to addressing cases of maternal and child mortality," said Dr Ottichilo.
The facility will be equipped with machines for diagnosis, surgery and specialised treatment.
"Patients will be able to access quality services at affordable cost and closer home," said Dr Ottichilo.
The county chief noted that it was challenging to move patients who require specialised treatment from Hamisi to the county referral facility.
"We know Hamisi has been neglected for years and we shall fast-track development to ensure that the area has the required social amenities and infrastructural development like other sub-counties," said Dr Ottichilo.
According to the governor, the new theatre will be complete in three months.
"This will be the largest theatre in the county. It will compliment the one at the referral hospital in Mbale," he said.
Hamisi sub-county also received laboratory equipment from the national and French governments.
Last week, the county government commissioned 90-bed wards at Emuhaya sub-county Hospital.