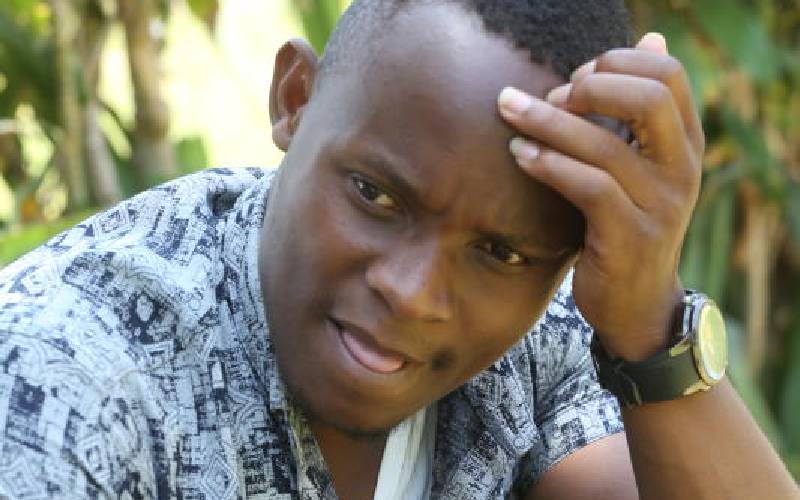 A case in 2019 when a stowaway fell from a Kenya Airways plane at Heathrow Airport in London continues to haunt Cedric Shivonje.
Although Shivonje says it is a case of mistaken identity, the incident has cast a shadow over his life and is now rejected by his kinsmen who believe "he died when he fell from the skies".
Shivonje, 27, who hails from Makhwabuye village in Malava Sub-County, is also shunned by his villagers who believe he could be a spirit that has returned to torment them by roaming around.
But how did Shivonje find himself in this situation?
In an exclusive interview with The Standard, the former primary school teacher said his tribulations date back to when he was a manager of an orphanage located in Kawangware slums in Nairobi.
Shivonje's responsibility was to take care of pupils from baby class to Class Two. He also worked as a teacher at a nearby private school where some of the children under his care schooled.
"I spent much of my time at the school and would come back to the orphanage in the evening to ensure the children were safe. I was paid an allowance for extra responsibilities at the private school owned by a pastor.
When schools closed for the August holidays in 2019, Shivonje fell out with the pastor after he demanded to be paid accrued allowances of Sh24,000.
"On August 7, I was preparing the pupils for tuition when the pastor came to the orphanage and requested to see my employer who was still asleep. He left but returned minutes later and told me to meet him at the orphanage gate," he said.
Shivonje claims to have been roughed up and thrown into a waiting car outside the gate and was taken to Kawangware chief's camp office.
"The pastor claimed he found me defiling a Class Eight pupil at his school. I was so shocked and demanded to know the victim who was not presented for examination to help prove the allegations," he said.
Shivonje said he explained to the chief and the police that the pastor had sinister motive as he had refused to pay him for services he offered earlier as a teacher "but no one appeared to pay attention to what I was saying. The officers asked for Sh20 000 cash bail."
He claims to have been taken to Muthangari Police Station in the evening where he stayed for one week. His wife brought Sh20,000 but the police declined to take the money and have him freed.
Shivonje would later be arraigned at Kibra Law Courts for defilement and was slapped with Sh200,000 cash bail or a bond of the same amount, which he could not raise immediately and was taken to Industrial Area Prison.
"For three months, I attended court proceedings but there was no complainant. Around mid-November in 2019, I was having supper when other remandees informed me about my photos that were being shown on television linking me to an incident where someone fell from KQ plane at Heathrow Airport and died," he said.
He went on: "The victim's name was Paul Manyasi but the photos were mine. The following day, DCI officers came to the prisons, interrogated him for two hours about the incident but he told them he was not the stowaway.
According to him, the officer in charge of prisons directed that Shivonje's security be beefed up and he could be served food as a security measure.
Three days after his photos were circulated, six people visited him at the prison.
"One of them introduced himself as a lawyer, saying he would wish to take over the matter and help me get compensated by the international media outlet that aired the story," he said.
According to Shivonje, the lawyer gave him Sh14,000 as pocket money and left. "Before leaving, he told me that I would be free after 14 days."
He was transferred to Kamiti Maximum Prison on November 30, 2019, and returned to Industrial Area one week later.
Shivonje said the lawyer gave his uncle Sh200,000 that he paid as cash bail and secured his release.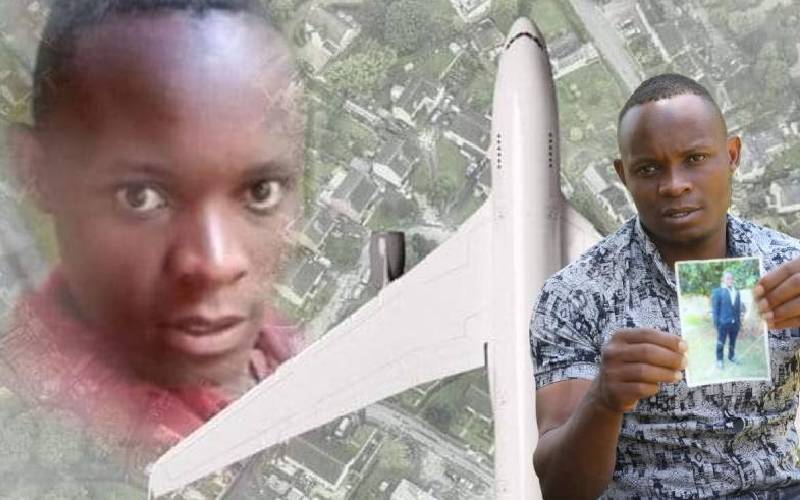 All this time, he had been going to court but no complainant was present, prompting the court to throw out the case.
After his release, Shivonje travelled back to his rural home in Kakamega County on December 13 for a cleansing ceremony. "The same lawyer offered me and my uncle fare.
After the cleansing ceremony, he decided to go back to Nairobi on December 27 and back to Kawangware.
"The lawyer sent me Sh46,000 and informed me that he won the case and the media outlet offered an apology over the erroneous reporting. He promised to give me the balance but I could not reach him thereafter," he said.
Shivonje says he was not told how much was paid in compensation by the media outlet through the lawyer.
According to him, the same lawyer has been pushing his uncle to go and apply for a refund of the Sh200,000 cash bail.
"When my uncle demands to know where the balance of compensation is, the lawyer hangs up the phone."
Back in the village, life is not easy for Shivonje who locals believe could be a ghost roaming around.
Shivonje's wife left him after villagers told her that he was a member of a cult and that she could be sacrificed.
"People in the village still believe that I am the stowaway who fell from KQ plane. I have tried explaining myself that I am not a spirit wandering in the village yet none of them listens to me. In fact, I am blamed for anything bad that happens in the village, including when someone dies," he said.
Shivonje said he opened a shop at Malava market but no one would buy anything from him, forcing him to close shop.
At one point, he bought a motorcycle but no one ever boarded his bike because they believe it is one of the proceeds of evil spirits.
"All I wish for is to be integrated into the society. People should understand that I am not a spirit. I am jobless but no one is willing to employ me. Even my friends have deserted me, it is a lonely life I am leading."