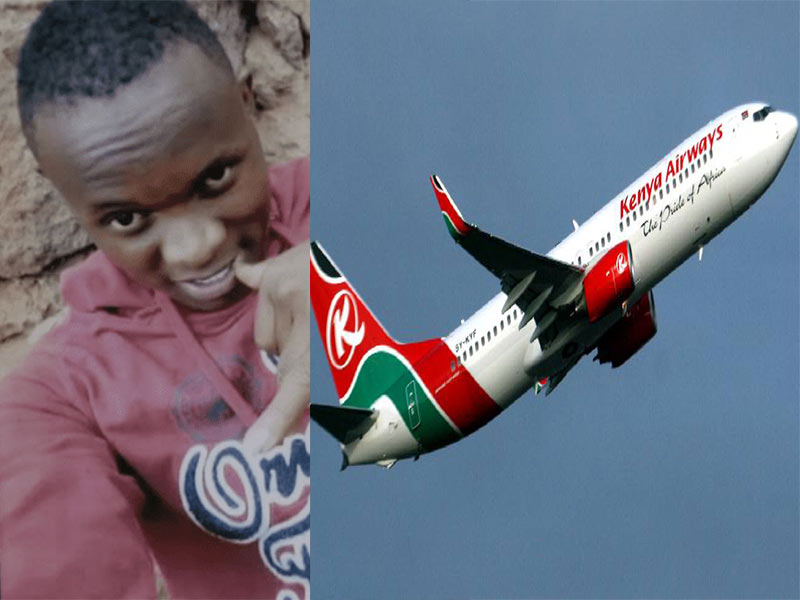 It was sunny and warm on June 30 as residents in South London finished their lunch and unwound on a leisurely Sunday afternoon. But the peace was shattered in Offerton Road with a terrifying thump. A man occupied a crater in one of the back gardens after falling through the sky for a kilometre. His lifeless frame had pulverised the concrete and mangled the lawn and he had barely missed a tenant on a sun-lounger. A witness said the man looked like a "block of ice". The locals were shocked and puzzled. Did he have a name? Where did he come from? Was he a stowaway on a passenger plane? Had he risked his existence in a desperate attempt to improve it? Sky News has spent the last few months trying to determine the identity of this individual and we now believe he is a 29-year-old who worked as an airport cleaner in Kenya. His girlfriend said they had planned to start a family, but he made a decision that virtually guaranteed his demise.
SEE ALSO: Kenya airways suspends flights to eight destinations
Clapham Common in London is a tranquil and comfortable-looking place. There are plenty of smart-looking Victorian terrace houses bordering sleepy, tree-lined streets. The only reminder, perhaps, of the great city that surrounds it comes from the flight path overhead, as airplane after airplane make their way to Heathrow. The metallic drone from their engines echoes tunelessly below as the residents of byways like Offerton Road go about their business. One tenant in Offerton Road was surely unaware of the aircraft passing overhead on the afternoon of June 30. He was busy reading on a lounger in the garden when the ground shook with a terrifying thud. A man had created a hole in the garden just three feet from the end of his sun bed. It had only taken 20 seconds or so for him to plummet from a Kenya Airways passenger plane. He had hidden in the Boeing 787's landing compartment and fallen when the wheels were lowered for landing. Still, the stowaway was probably dead before he hit the ground. The plane had spent eight hours at 37,000ft (11,277m), where oxygen levels are thin and the cold is colder than any deep-freeze. Passengers are protected in a pressurised cabin but the stowaway was subjected to the elements. His fate was sealed when he hid himself away. The police were called to Offerton Road at 3.39pm and word soon spread to the media. The neighbours said they were appalled.
SEE ALSO: Kenya Airways cuts flights
"It's such a surreal thing to think of a dead body falling from a plane to anywhere and to happen in this really quiet street," said Jake Gilbaro. "It's almost too horrible to believe." For Emeric Molnar it was an unexpected reminder of global disparities. "It came as a bit of a shock for everybody... here we are living our very affluent lifestyles in a very wealthy country and people are obviously drawn towards a country like this." The police said the incident was "not being treated as suspicious", but they have not been able to finish their report. No one seems to know the stowaway - and nobody has come forward to identify him. A coroner-led inquest has been postponed. But this individual came from somewhere and he decided to leave the people and the places he knew and loved. Sky News wanted to find out more. We began our hunt at the biggest airport in Kenya on the assumption the stowaway had probably worked there. Jomo Kenyatta International Airport, in the capital Nairobi, is a big and bustling place with large areas occupied by companies exporting fruit, vegetables and flowers to Europe and the UK. I was assisted by local journalist Christabel Ligami and together we asked agents and cargo operators whether they knew of anyone who had gone missing. It took us a couple of days, but we finally got a break from an Uber driver called Kamau. "I've been following the stowaway story," he said, as he bossed his Toyota Corolla around the airport.
SEE ALSO: Businesses bet on flights resumption
"Anybody gone missing?" I asked. "Yeah. A cleaner from Colnet. He went missing around the same time. Some (airport) workers were talking about it." It was a scrap of information that felt like something solid after hours of fruitless questioning - and it gave us somewhere to start. Colnet is one of dozens of firms providing services at Jomo Kenyatta International. It deploys hundreds of people as cleaners and sanitation workers and the company does pest control as well. The pay is poor. Companies like Colnet offer their employees around Sh9,000 a month in take-home pay. It works out to roughly £2.25 (Sh297) a day. According to the head of Kenya's aviation workers union, Moses Ndiema, working conditions at the airport are barely tolerable. "The work environment and job security are not good. The salary is very low," Mr Ndiema said. "(Employees) can't pay for good accommodation or places where there is security, running water... staff are fired before they hit six months (of service) because companies are supposed to offer fix-term contracts. "It creates a precarious work environment." We reached out to a number of current and former workers at Colnet and met several at an Irish-themed bar called Craic near the airport. A women called Irene said she could help us. We have changed her name to protect her identity. She told us her colleague at Colnet had gone missing at the end of June. His name was Paul Manyasi. "The last time I saw him, we were at work, he suddenly disappeared, nobody knows where he went," she said. "Did you go to work with him?" I asked. "Yes, I was with him in the morning." Irene said she was told to clean inside the passenger terminal on June 30, while Paul was assigned to the area outside. At the end of their shift, she could not find him anywhere. "How did you realise he was gone?" I inquired. "I called his phone and it was off. When we came in the morning the following day, the supervisor called us and told us there is somebody missing. (The supervisor had told them) We are not sure of the person so we keep it a secret until we know the person." "You were told by the company to keep it a secret?" I asked. "Yes," she said. Irene had some photos of Paul, who was 29, and she told us they had been in a relationship for two years. "Paul was a nice guy," she said. "He was just a jovial person. I just liked him the way he was. We had agreed one day maybe we could make a family. "I just feel like I lost someone who I loved so much – yes, I miss him." Irene had provided us with a name and it felt like a big step forward. But the stowaway's motive was not clear. Why would Paul Manyasi risk his life and leave his girlfriend behind? Irene said they were planning on having a family. "Maybe he was curious," said Irene. Irene told us that Paul was living in a slum called Mukuru kwa Njenga. It is an overcrowded neighbourhood of some half a million people tucked behind a four-lane highway near the airport. You would not choose to live there – the slum is dirty and unsafe – but it is the only affordable option for cleaners, cargo workers and baggage handlers. Paul shared a room with a man called Patrick and we spent several weeks trying to locate their shack. Eventually we found it in a long, rectangular construction, but a neighbour told us that Patrick had moved out. It would take another week to secure his phone number. We met Patrick after dark on a dead-end street and he told us that he had wrangled Paul a job at Colnet. "Paul was a friend of mine," he told us. "We came from the same county, the same school and I was working at Colnet so I took him to the company and we started together." But Patrick says the 29-year-old was dreaming of something more. "There was another job Paul was seeking. It was not in Kenya ..." he said. "What did he say to you?" I asked. "He didn't specify where, but he said it was outside Kenya." "He wanted to leave Kenya?" "Yes, he informed me ... he talked to me (about it)," said Patrick. Paul's motive seemed clear. He wanted a shot at a better life but Patrick was not certain he was the stowaway. "I cannot know if he flied. I don't know, I cannot guess," he said. We needed some additional support so we approached the Metropolitan Police in London. Was there anything they could possibly share? To our surprise, the investigating team published an e-fit picture – or a computerised mock-up of what they thought the victim looked like before he fell from the plane. They also provided us with some pictures of the clothing the stowaway had been wearing and images of personal possessions that were left in the landing compartment of the plane. It was an important development although there was one piece of evidence that did not make sense. The police included a picture of the letters 'MCA', which had been sketched onto the strap of a well-worn bag. We studied the letters closely, but their meaning escaped us. We went back to see Paul Manyasi's girlfriend, Irene. She had returned to the family home in rural Kenya and when we found her, she told us she would have a look at the photographs. I began by showing her the e-fit picture. "Does that look like Paul to you?" "They look alike but (Paul) wasn't dark – not dark – but the face resembles (Paul)." "What about this bag?" I inquired. "Yes, hii bag ni yake (the bag is his)," she said in Swahili. Irene continued as she pointed to the bottom of the bag. "And it was written somewhere – it must be written somewhere here. MCA or something." I inhaled deeply. This was it. If Irene could demystify the letters, we would be closer to solving the identity of the stowaway. I passed her the Met Police's photograph of MCA scribbled on the strap. "Yes, MCA, somewhere (on the bag)," she said. "That is his bag?" I asked. "Yes." "What does it stand for?" "Member of County Assembly," she answered. "He liked to be called that name. Like a nickname." It was perfectly simple, she said: Member of County Assembly is a bit like calling yourself honourable or an MP. "Do you think Paul Manyasi is the stowaway?" "Yes, according to these pictures," she said. "You are sure, are you?" Irene replied in the affirmative and began to cry. She asked us if the police in Britain would send Paul's body home and responded to a question that she posed herself. "Maybe he did it on impulse." Paul's decision to sneak inside the aircraft was a foolhardy thing to do. The Boeing 787 is one of the world's most efficient passenger aircraft, engineered to fly at higher altitudes over longer distances while using significantly less fuel. However, aviation expert Guy Leitch says there are pockets of space underneath the main cabin where a stowaway can wedge himself in. "There are places where you can stand and get away with it, although you're not going to know when the wheels retract and where they are going to go," he said. "You could easily be crushed." Mr Leitch, a qualified commercial pilot, peered into the underbelly of the Boeing 747 at the South African Airlines Museum near Johannesburg, then plotted a stowaway's hypothetical path. "You can imagine a stowaway could get up through the gear legs ... climb along the lower spar and stand in that corner over there and he would probably think to himself 'made it, I am safe'. Then, of course, the aircraft takes off and the noise must be absolutely terrifying." The limitations of the human body are manifest at higher altitudes. Only a small number of stowaways have survived long-distance flights. "I just don't understand how anyone can survive," Mr Leitch added. "It is beyond comprehension to think you could survive at -60C (-76F) for eight or nine hours, or even 10, at 33,000ft. "There's so little oxygen that your body starts pumping it back out into the air. You couldn't hold your breath even for a minute." Irene thinks her boyfriend, Paul Manyasi, made a spur-of-the-moment decision to board the aircraft. Any sense of human prudence was jettisoned by desperation or anticipation of a better life overseas. As an airport worker, he would have watched thousands of foreign nationals board their flights through the transparent passenger bridges which link the terminal to waiting aircraft. The temptation to join them must have been immense. Did he know where KQ100 was heading? Did he even care? It was heading overseas, away from Mukuru kwa Njenga and his cleaning job at £2.25 a day – and that may have been enough. We went to the people who run Nairobi's international airport – the Kenya Airports Authority and asked them for a response to our findings. We asked them whether they agree with our conclusions about Paul Manyasi. Furthermore, we asked whether his presence as a stowaway on a passenger jet would constitute a security breach at Jomo Kenyatta International Airport. They did not reply. We also went to cleaning company Colnet. We asked if they could confirm that their 29-year-old worker went missing at the end of June. They did not reply either. There was one more stop we had to make. We wanted to meet Paul Manyasi's parents, who reside in an impoverished region of western Kenya called Kakamega County. But we were worried. What if the cleaning company or the Kenyan authorities had not said anything to them about their son? Would the responsibility of informing them fall on us? Surely the police would have said something? We parked our car on the side of the road and Christabel walked up to a modest mud-walled house. There was a man in a plaid shirt standing outside and he greeted her politely. His name was Isaac Manyasi and when we told him we had come about Paul, he quickly beckoned us inside. Paul was Isaac's eldest son and he and his wife Janet have not heard a word from him since the beginning of July. "Has anyone been in touch with you?" I asked. "No one," he replied softly. "Are you worried about him?" "Of course," he said. The couple have five other children and I could see them hiding behind a wooden door in the shed next door. Paul left home 10 years ago but Isaac said they were still in touch. His son called every month or so. I asked Janet whether she had contacted anyone about Paul. "I didn't know where to start or where to end, I don't know who to ask. Paul's phone isn't working." I took out the photographs from the Metropolitan Police and I asked if they recognised any of the stowaway's things. Much like Irene, Paul's parents said the e-fit was similar but the skin colour was too dark. But they recognised his personal things. "That one," said Isaac, as I showed him the picture of the stowaway's bag. "He used to have it, he used to have a bag like that." "You recognise it, do you?" I asked. "Yes." The bag, the sports shoes, a pair of red underwear – those were Paul's, they said. The evidence now suggested that it was their son who fell from the airliner. I asked the pair how they wanted to proceed, but Mr Manyasi said there was nothing he could do. With a large family to feed, he could not afford to bring Paul home. "Let him stay (in the UK). Those are too many expenses. Soil is just soil." Paul's mother gently disagreed but she came around to the same conclusion. "I would really love him to be buried here, but the expenses ... It's just too expensive," whispered Janet. There was something they wanted to show us before we left - a single photo of Paul, aged 15, dressed in his Sunday best. He looks smart and bright and handsome, as if a promising future seemingly awaits. This story was first published on news.sky.com