Atisanna: Musician plucks Nyatiti to promote conservation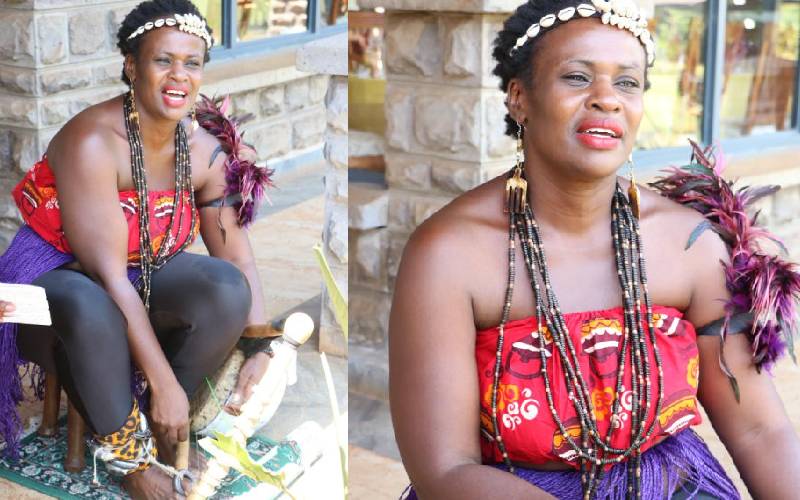 "Just wake up and plant one tree today/ As you wait to plant more tomorrow/ Water it and you will have conserved the environment," goes one of her many songs.
Well known as Atisanna, Jenifer Atieno Sanna from Vihiga County is the talk of the town for her artistic skills of playing Nyatiti, a traditional Luo instrument resembling a guitar.
A singer, songwriter and performer based in Kisumu town, Atisanna usually strums the instrument skillfully with her fingers, producing exciting music meant to teach people about the importance of environment conservation.
It is not a mean feat playing the eight-string instrument that was considered a reserve of men only in Luo community.
"Usually, I play music promoting environmental conservation in order to teach communities to embrace the practice," Atieno told The Standard.
Her artistic name is Atisanna. "Just wake up and plant one tree today, as you wait to plant more tomorrow, water it and you will have conserved the environment," one of her many songs goes.
Another motivating song she has sung is 'Kundwe' loosely translating to a hummingbird.
The song is about folklore based on a hummingbird that helped put out the fire in a burning forest with the little water she could carry in her mouth as bigger wild animals watched helplessly.
She said her composition of the song was based on a story as was told by environmentalist and Nobel Prize laureate Noble Laurent the late Wangari Maathai.
"The song is based on a Wangari Maathai story about a hummingbird, a small bird that did its best to try to save a forest yet other bigger animals that could have carried much water watched," said Atisanna.
Her other works are captured in an album called "Pedagogy of the African song "that has one of her hit songs "Bidii", meaning hard work.
"For birds and other wild animals to be safe, we must be responsible and conserve the forests, water sources and the environment in general."
Atisanna says that she has been passionate about environmental conservation because many natural resources in Western Kenya including forests and even Lake victoria have been affected by human activities.
"You can see the challenge of global warming and its effects on food security and health, all I want is to pass the message to the people to be responsible and embrace environmental conservation."
Irrespective of the language used in her song, be it Dholuo or Swahili, the message is crystal clear-conservation of the Margoli Hill Forest and other natural resources in Western Kenya.
She focuses on restoring and protecting water catchment areas through illustrations drawn on her musical instrument.
Atisanna fuses Afro-jazz, pop, and soul, a combination that blends well when she unleashes her artistic expression through 'Nyatiti' instrument.
The face of the Maragoli hill forest changed in the late 1990s when one could barely see trees on the 1,000-acre forest.
When the local communities could not stop logging in the forest, they opted to join licensed millers who were felling the trees in large numbers leaving the forest bare.
Born in a family of Musicians, Atisanna grew up playing modern instruments until she had a change of mind and shifted to traditional ones.
"I shifted to the traditional instrument because I knew it would help me achieve my goal of educating people on environmental conservation through singing."
It is a journey she began at her village before and according to the musician, it has started paying dividends.
"I prefer Nyatiti because it mirrors nature and the environment we leave in especially in Western Kenya."
Atisanna says her music performance has attracted many people to embrace environmental conservation.
"Remember a well-conserved environment contributes to peace, food security and unity, I have been singing to help people achieve all those aspects."
According to her, insecurity experienced on border points in Western Kenya contributed to her singing.
"To me, music is a powerful, non-invasive means of disseminating information to the audience, and when I get a chance to sing I dedicate my lyrics to change like saving the earth through conservation of the environment," said Atisanna.
The Standard met Atisanna at one of the environmental events on the border of Vihiga and Kisumu counties.
As the environmentalists were planting trees, she was busy entertaining them with her Nyatiti lyrics.
Atisanna insists she is just doing her bit in a way that makes her and other people happy. "Everyone has different abilities, I am a singer and I would like to impact society positively."
"My musical journey has taught me a lot including caring for those close to us and minding the wellbeing of your neighbor's environment. It is through this that you protect every aspect of the environment," said Atisanna.
Atisanna's main ambition is to use music in instilling a positive attitude and trigger actions by all walks of Kenyan in taking part in tree planting and forest conservation.
Sometimes, she stages live performances for environmentalists who come to plant trees on Maragoli Hills.
The musician's efforts to conserve the environment was heard and acknowledged by novelist and climate advocate Teddy Warria.
Warria who doubles up as director of Climate Advocates Voces Unidas (Cavu), recently led a group of artists to team up and plant 1000 indigenous tree seedlings on the slope of Maragoli Hills Forest.
"We planted trees in commemoration of people and legends like environmentalist Wangari Maathai and Archbishop Desmond Tutu who wanted the world to be a better place for everyone," said Warria.
Others who have joined the artists in expressing their desire to save the environment are the Global Peace Foundation forum.
The Director at the foundation Daniel Juma said the restoration of forests like Maragoli hills was essential as it was an element of peace fostering among the communities that border the resource.