River Yala was the last place we thought we'd find my brother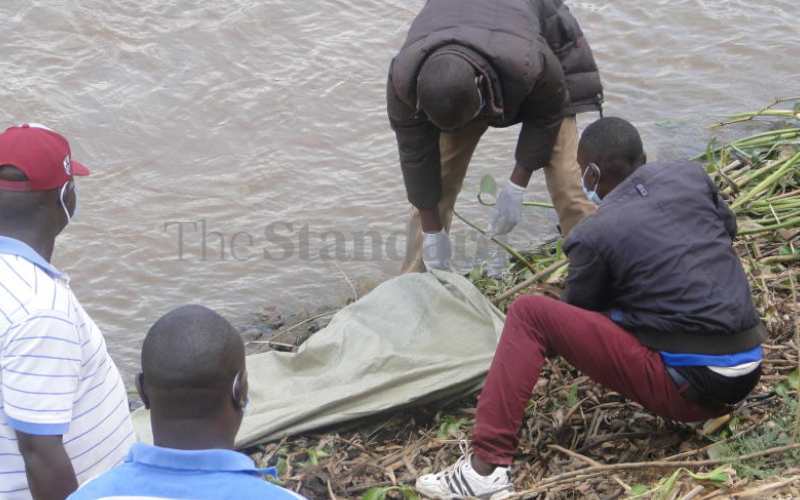 Titus Muasya has had a dark beginning to the new year.
Living with the reality that he will never see his brother, Peter Mutuku, again has been a nightmare he wishes he could wake up from.
Mutuku's body was among those recently found dumped in River Yala, leaving anguished families with dozens of questions that may never be answered.
Mutuku, 35, is believed to have been abducted alongside his friend Philemon Cheruiyot in Gilgil, alongside other friends, on December 2, last year. They were headed to Nakuru for work.
Mutuku's body was identified by Cheruiyot's brother, Meshack Chepkwony. He was among the 21 bodies taken to the morgue by the police after they were retrieved from River Yala.
Muasya talks of the moment his worst fears were confirmed when he identified his brother's body on Friday night.
He had travelled from Machakos, accompanied by his elder brother and two uncles. Muasya says Mutuku was with Cheruiyot on their work assignment when they met their death.
Something was wrong
Muasya says he last spoke with his brother on December 2, but the wife and children spoke to him around 1am. He promised to be at their rural home in Makueni around 9am to take one of his children to the hospital.
"I was the first to realise something was not right when I could not reach him on the phone. Mutuku and I spoke a lot, in fact on a daily basis.
"When his phone was off the entire days on 3rd and 4th, I told the rest of the family that something was not right. We reported the matter at the Dandora police station, although nothing has been shared with us to date from their end," he said.
Muasya told The Sunday Standard they searched in all morgues from Nairobi to Machakos and Nakuru for an entire month before finding the body in Yala.
He says Mutuku's body had visible marks, a clear indication he was tortured. His face, chest, and head showed he may have been hit by a blunt object. He was also strangled.
Chepkwony also recalled his last conversation with his brother Cheruiyot. He says the two last spoke on November 30, 2021, via a video call over some business proposal.
He later found Cheruiyot's missed call around 6pm on December 1 but he forgot to call back. The following day, while talking to his younger brother, he remembered the missed call.
"On December 4, I received a call from Mutuku's brother. He asked if I had communicated with Cheruiyot, because his brother was also unreachable. The two were inseparable and spent a lot of time together," Chepkwony said.
He added that his concern for his brother grew as he remained unreachable. "A few days later when I realised his phone was still off and his wife confirmed she could not reach him either, I got scared and told my other siblings that it was time to file a police report. We travelled to Nairobi together with my elder brother and reported at Dandora police station."
The two families remained in constant communication.
"Mutuku's brother suggested we start searching in morgues. We visited morgues in Nairobi, Kiambu, Machakos, and Nakuru the entire December," he said.
Chepkwony says a social media trend on Yala bodies caught his attention and he convinced his brother and another friend to travel, just to check.
"We were very skeptical, we had no hope at all. In fact, Yala is the last place we thought about because honestly, who would carry a body from Nairobi to Yala?
"But we travelled and that is how we identified our brother's body and his friend among those unclaimed bodies. They had been tortured." The morgue attendant told them the two bodies were retrieved on December 4.
Meanwhile, more distraught families whose relatives were missing thronged the Yala Sub-county Hospital morgue yesterday to confirm if they were among the unclaimed bodies retrieved from the river.
Nancy Kamanda travelled from Kisii on Friday morning to check if her son Edwin Kamanda's body was among those unclaimed.
She says Edwin, 44, had travelled with Cheruiyot and Mutuku from Nairobi on a work assignment.
Nancy said the family started their search when Edwin's boss communicated to the family that the vehicle they were travelling in had been found in Gilgil. "My son together with his two colleagues left Nairobi for work in Nakuru.
"They, however, were abducted in Gilgil where the vehicle they were travelling in was found. My son was their driver.
"When we watched the families of his colleagues in the media confirming that they found their bodies, I decided to rush here to check if he is among those yet to be claimed," she says.
Nancy said her son together with his two colleagues left Nairobi on the morning of December 3, 2021.
She said they have searched for him everywhere, including all the morgues in Gilgil and Nakuru, in vain.
"I was allowed to go inside the morgue and check. Most of those bodies are in bad shape. They are badly mutilated. Some have acid burns, a clear indication that they were killed.
"I hope their families will be able to claim them soon. My son was not among them. I was told some bodies are yet to be retrieved from the River although nobody knows when they will be retrieved."
River Yala mystery
Nancy urged the government to step in and help the families camping at the Yala Sub-County morgue to find their lost relatives.
She said the majority of the families at the morgue to search for their relatives believe they were abducted or got lost in Gilgil.
"I still have hope of finding my son, dead or alive. Now that two of his colleagues have been claimed, I have more hope.
"I wish the government would put in more effort in investigating this mystery. We need to know why they are being thrown in River Yala and who is killing them," Nancy added.
Details on the number of bodies yet to be retrieved from River Yala as of yesterday and why remained scanty as local police remain tight-lipped.
But in a notice, the Yala Sub-County hospital administration announced it would no longer receive unclaimed bodies since it has no capacity.
In a notice dated January 20 addressed to the Gem Sub-County OCPD, Yala Sub-County hospital medical superintendent Bruno Okall said any unclaimed bodies should henceforth be sent the county referral in Siaya or any other public hospital morgue until the situation is contained.
"This is to notify you that Yala Sub-County hospital mortuary is overstretched and unable to receive more unclaimed bodies," read the notice copied to all county officials of the Health department.
Okall said the remaining spaces in the morgue will be reserved for regular services.