Kigame launches presidential campaign, promises 'godly' rule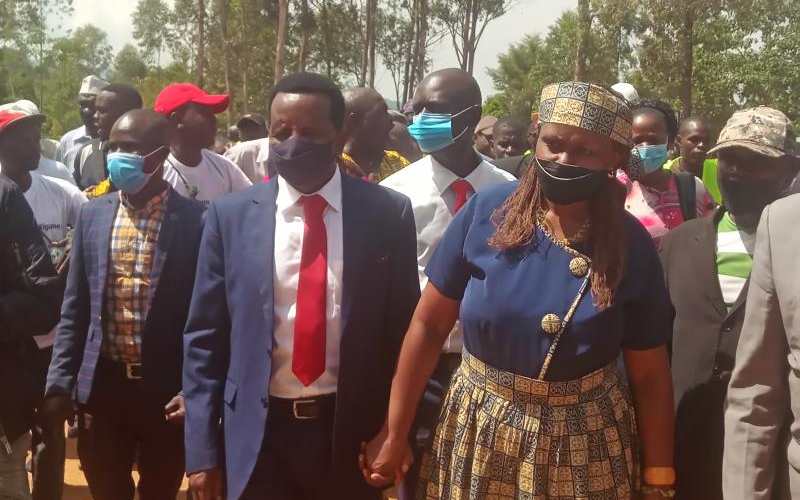 Celebrated gospel singer Reuben Kigame has launched his presidential bid and laid out his agenda if elected to the top seat on August 9.
Kigame unveiled his campaign for the top seat at his birthplace in Musinaka village, Luanda Constituency, Vihiga County.
The function was largely attended by Kigame's clan members and religious leaders.
"Today I have gone to my people so that they will give me their blessing as I head to all the 47 counties seeking votes," said Kigame.
Kigame made public his intentions to contest for the top seat in April 2021.
During yesterday's event, Kigame said if elected he will govern the nation in a 'godly' way as he aims to get rid of corruption and eradicate poverty.
"We have very serious issues affecting the country. I will be offering alternative leadership based on religious faith and godly ways," said Kigame.
The 'Fadhili Zake' hitmaker, said it would be historic for the nation to for the first time have a visually impaired presidential candidate.
Kigame, in 2013, unsuccessfully vied for the Vihiga governor seat and came fourth after garnering 4,880 votes out of 164,437.
The gospel singer intends to use the yet-to-be-announced Eagle alliance consisting of several parties.
"We will be announcing our intended party of choice soon but to hint that the party is in Eagle National Alliance. I expect that they will endorse me in two or three weeks and then we will give the name of my running mate," said Kigame.
The race has so far attracted heavyweights, with DP William Ruto and former PM Raila Odinga presumed to be the frontrunners.