Nowhere to go for truckers as customs hitch leads to chaos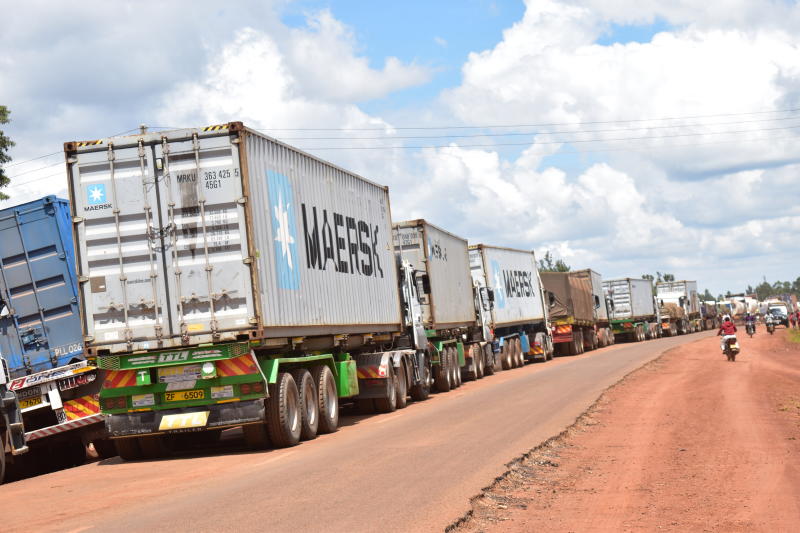 Sebbiah Abdulahi, a truck driver has been stranded in Bumala, along the Busia – Kisumu road, waiting to cross into Uganda for eight days and counting.
Abdulahi, like hundreds of his colleagues, has been spending nights in his cabin. He is now left with three fingers of bananas. He looked exhausted and distraught.
He is transporting petroleum products from Mombasa to Uganda. "I have spent all the money I had yet I still have 30 kilometres to reach the customs office for clearance but the border is closed," says Abdulahi.
Meanwhile, the stand-off between Kenyan truck drivers and Ugandan authorities at Busia and Malaba borders over Covid-19 clearance is making residents uncomfortable.
"Residents want us to leave because of Covid-19 fears. They want us to stay inside our lorries until the issue is resolved yet we have nothing to eat and nowhere to refresh," said the driver.
Daniel Indusa, a resident, claimed some truck drivers were luring women and young girls into illicit affairs. "We will not allow them to promote immorality," he said.
The drivers now say they have been rejected at home and away. "Residents want us to vacate this place yet we cannot cross the border because Uganda authorities won't allow us into their territory," said Abdulahi.
Drivers have been experiencing delays in clearance at the customs offices to allow them to enter Uganda and other East Africa countries.
"Last week, the Ugandan administration refused to clear us, demanding we take fresh Covid-19 tests at a cost of Sh3,600 yet we have a free Covid certificate from Kenya," said Abdulahi.
The traffic snarl-up stretches more than 150 kilometres from Malaba border to Kipkareni and 30 kilometres from Busia towards Kisumu.
Some of the drivers interviewed urged Uganda and Kenya governments to intervene and have the issue resolved.
"We cannot afford to get out of our trucks and buy food from shops. We are forced to remain inside because residents have become hostile. They think we are carrying Covid-19 virus. What they don't know is that many of us have immunized and some have even received booster jabs," said Abdulahi.
The drivers said they were relieved when the Uganda government lifted mandatory Covid-19 testing.
In a letter dated January 6, Henry Mwebesa, Uganda's Director General of Health Services, said the decision to lift the directive that required truck drivers entering the country to take fresh tests for Sh3,500 was arrived at after an inter-ministerial meeting.
Before the lifting of the directive, the Ugandan administration treated Covid-19 certificates by truck drivers from other East African countries as fake and required them to test in clinics and laboratories set across the region. A spot check by The Standard yesterday showed some drivers had been engaging in fistfights accusing each other of attempting to overlap.
Joseph Mutinda, 40, a driver, said the situation is getting out of hand. "I have been stuck here for six days. I should have reunited with family by now but as things are, it may take longer because," he said.
"It is even difficult for us because we are not wanted here anymore by locals and we have no one to share our problems with. Most of the drivers spend time sleeping in the cabins," said Mutinda.
For the six days, he has been stranded, Mutinda has not been lucky to take a shower "because I cannot risk walking into the streets since people will attack me."
The drivers are left with some packed food that they prepare outside their trucks "and we are forced to relieve ourselves in plastic bags."
Fester Makau, a driver, urged the government to help them replenish their food stocks.
"We are scared due to the hostility from residents. We need to be accorded security or else the people may decide to attack us," said Makau.
Adam Wafula, a resident, said they feel insecure because trucks transporting petroleum products could explode and cause deaths.
Wafula added: "We also fear about Covid-19 spreading fast. The government should help clear the backlog."
Busia Sub-County Deputy Police Commander Steven Kimunya said they are engaging customs officers and relevant agents from both countries to speed up the clearance.
"The issue is with the customs. We have communicated with them and they have assured us that they are dealing with more than 500 trucks per day," said Kimunya.
He said security had been beefed up at Busia and Malaba border towns to ensure the safety of drivers and the residents.
"We have enough officers to ensure drivers follow traffic rules and maintain law and order."