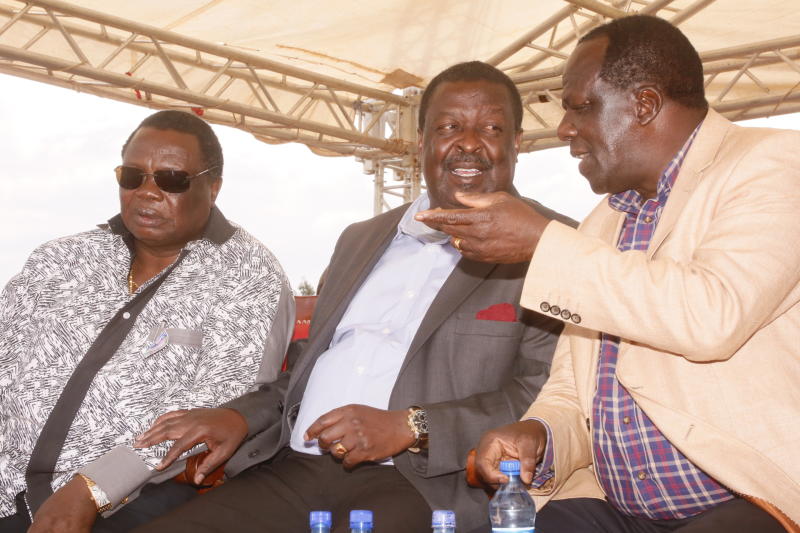 The call for Luhya unity is not new. Not surprisingly, it only comes alive every five years -coinciding with the elections. Yet, interestingly, the disunity among Luhya leaders becomes more apparent whenever such calls are made.
At the recently convened Luhya unity meeting dubbed Bukhungu II on December 31 - a follow-up to a similar meeting held on December 31, 2016 - personal and political differences among Luhya leaders played out.
Barely 30 kilometres away in Mumias, on the same day, some Luhya leaders congregated under the (Cleophas) Malala cup tournament, an event that was graced by Deputy President William Ruto, while at Bukhungu Stadium, some of the leaders endorsed ODM chief Raila Odinga's presidential bid.
They asked ANC leader Musalia Mudavadi to drop his presidential ambition in favour of the former Prime Minister. Still, there was a good number of leaders who did not attend either event.
Western Kenya leaders are divided down the middle on whether to support Raila, Ruto or Mudavadi. By the look of things, the quest for survival and money is likely to carry the day.
These divisions extend to the council of elders that are supposed to give the community directions. There are two camps, one known as the Luhya Council of Elders and led by Patrick Wangamati while the other known as Western Council of Elders is led by Phillip Masinde. They have serious ideological differences, yet are in charge of uniting the Luhya.
Masinde's camp has endorsed Mudavadi while the group led by Wangamati has a soft spot for Raila.
The last two Luhya meetings were called by Cotu Secretary General Francis Atwoli who many leaders accuse of partiality and being used by powerful forces to divide the Luhya nation. In reality, however, that is escapist, according to a section of elders interviewed by The Saturday Standard. "In so doing, they are merely trying to find justification for their insecurities," argued the elders.
Mistrust among the Luhya dates back to the advent of Christianity in Western and the need for self-preservation under Kanu's heavy-handed one-party rule. For decades, Kanu was a juggernaut whose path could not be crossed. As well, cultural differences and conflicting beliefs among the Luhya that have been handed down for generations, continue to sow seeds of mistrust.
According to Joseph Kedera, an elder, "When missionaries came to the Western region, they first settled in Vihiga before moving to Kaimosi. While at Vihiga, they trained the Maragoli in many things and translated the Bible and hymn books into the Maragoli dialect. Until recently, the other Luhya sub-tribes had to read the Bible in Maragoli. Among other things, this 'Maragoli hegemony' has caused some hard feelings."
Indeed, when the Maragoli embraced Christianity in the early 1900s, they abandoned most of their traditions while other Luhya communities that had not taken to Christianity stuck to theirs. An example is that while the Maragoli conduct simple Christian burials, some of the other communities observe traditional rites that the Maragoli now find offensive.
To that effect, they quote Acts 26:18 that says; "to open their eyes, so that they may turn from darkness to light and from the power of Satan to God, that they may receive forgiveness of sins and a place among those who are sanctified by faith in me." But disparaging what other peoples hold dear is cause for friction and disunity.
Some words in the 17 dialects of the Luhya sub-tribes clash, causing derision that eventually leads to hard feelings. Such words include "masana' 'emondo' 'mutwi' that, while in one dialect are innocent, they become abusive in the other. It is thus difficult to unite people exposed to a language barrier.
Elders say the first step to unity is finding a common bond such as language and customs, yet the Luhya, with 17 sub-tribes, has many dialects and different customs that cannot foster unity in the sense that Luhya leaders envisage. The bigger, dominant communities try to hog the political limelight, and therein lies the rub.
In a recent interview with 82-year-old Richard Wafula, son of late Bukusu spiritual leader Elijah Masinde of Dini ya Musambwa, he said the Maragoli and Bukusu cannot respect each other thanks to transactions conducted centuries ago.
"The Maragoli used to give their women to Bukusu men in exchange for food," Wafula said. He might have been innocent in his assertion, but it is insulting to the Maragoli.
"That is nonsense. Nothing of the sort happened because the Maragoli were never short of food those days, even now," says Maragoli elder Ellam Ambasa.
"Divisions among the Luhya were instigated by their leaders' way back in the 1950s and 1960s," says 75-year-old Eliab Imbiakha from Shibuli.