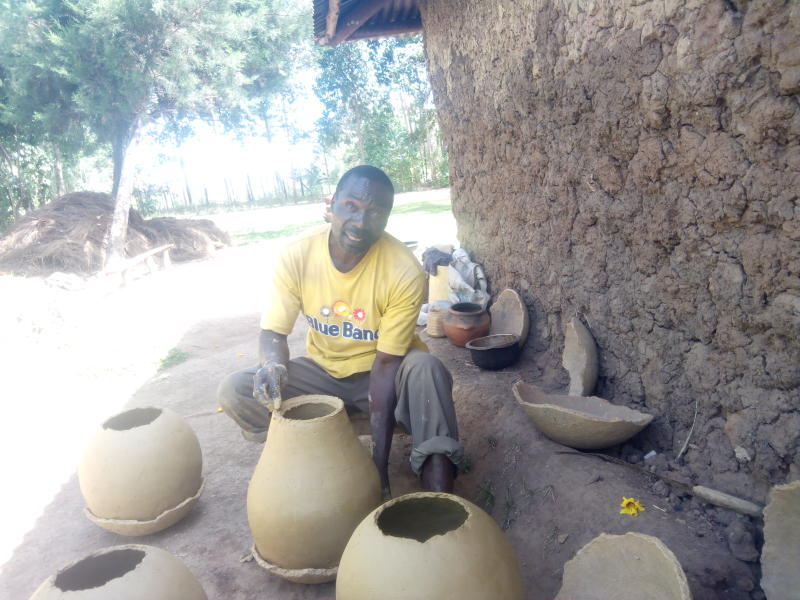 Daniel Amina, 55, dropped out of school at the age of 10 to join his grandfather in making pots.
The father of six who hails from Mukhonje village in Kakamega County has perfected the art of making a variety of clay products, including flower vessels, pots and chick warmers.
"I learned a lot from my late grandfather at a very tender age because he was a renown potter across Westerna," says Amina.
The first time he joined his grandfather in his business was 1974.
"I would help him dig out clay in swampy areas and prepare the soil well before he embarked on the real work of designing and moulding traditional pots meant for different uses," he notes.
Once the job was done, his grandfather would buy him a loaf of bread from the proceeds.
"I joined him every day until I learned the ropes," he says.
The venture has seen him travel to Nairobi, Tanzania and Kampala to showcase his products.
"In the 1990s, a middleman who used to purchase pots and flower vases from my shop in Nairobi offered to take me to Tanzania where I worked for two years before proceeding to Uganda where I showcased my works for at least one year before I travelled back home."
Amina says he was not satisfied with the low returns his business attracted in Uganda and Tanzania partly because middlemen exploited him and taxes in the two countries were not favourable compared to Kenya.
"The payment was not good and I felt I was being exploited, so I decided to come back home," he said.
Using part of the proceeds he had made, he bought a parcel of land at Mukhonje, in Malava sub-county where he exhibits his products.
He sells the products at between Sh200 and Sh1,200, depending on the size and use.
Amina makes flower vases on order. "If the sales are good, I take home anything between Sh35,000 and Sh50,000. I use part of the money to pay school fees and cater for other basic needs. I believe jobless youth can earn a living from this venture, all they need to do is acquire the requisite skills."
According to Amina, pottery has a huge potential across East Africa.
"The demand for pottery should be a wake-up call to our leaders to support us through grants so that we can expand our businesses and train the youth," he noted.