Clerk ouster causes staff panic at County Assembly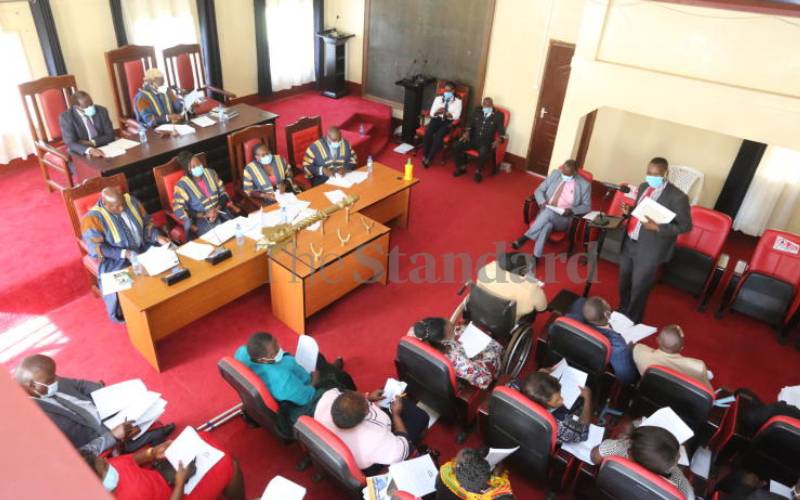 Trouble is brewing at the Kakamega County Assembly following the suspension of Assembly Clerk Laban Atemba by Speaker Morris Buluma.
Buluma cited illegal promotion of some staff, exaggerated prices of goods and services procured at the assembly and misuse of funds as reasons that led to the suspension.
Atemba's suspension came barely two days after Governor Wycliffe Oparanya met all Orange Democratic Movement (ODM) MCAs and advised them not to impeach the speaker.
"I write to convey the decision of the Kakamega County Assembly Service Board to suspend you (Atemba) from its service in accordance with Section 22 of the County Services Act no. 24 of 2017 for 60 days to facilitate investigations," reads a letter dated December 6, this year.
The speaker accused the clerk of failing to remit statutory deductions from MCAs and Assembly staff contributions to Lapfund, Laptrust and other financial institutions.
He also faulted the Clerk for giving the Service Board inaccurate information on remittance of statutory deductions to the relevant bodies and failing to account for monies received on behalf of the county assembly by the exchequer for August and September this year.
"You promoted staff members illegally and awarded them hefty benefits without the approval of the service board and procured goods and services at grossly exaggerated prices," said Buluma in the letter.
Atemba, when contacted, said he is being used as a sacrificial lamb for political reasons.
A day after Atemba's suspension, Joel Ongoro, an ally of Governor Oparanya and strong supporter of the Speaker, resigned as Majority Leader and condemned the decision to suspend the Clerk.
"We suspended the Speaker, and he came in through the back door and is causing confusion by suspending the Clerk. It is illegal," said Ongoro
"Fifty-eight ward reps suspended the speaker and not the Clerk. We have not allowed him back to the chambers," he added.
Ongoro said he decided to throw in the towel because Governor Oparanya was meddling in the affairs of the Assembly and making it hard for the Clerk to discharge his duties effectively.
"My hands were tied. We are investigating the speaker over the loss of money, and before the probe is over, we are summoned and told to drop the impeachment motion, then nominated or show cause why they should not be disciplined," said Ongoro.
But Buluma dismissed Ongoro's claims, saying he did not suspend the clerk, but was merely communicating the decision of the Kakamega County Assembly Service Board, and that Atemba should explain the whereabouts of Sh70 million.