I escaped death by a whisker, says woman in abusive marriage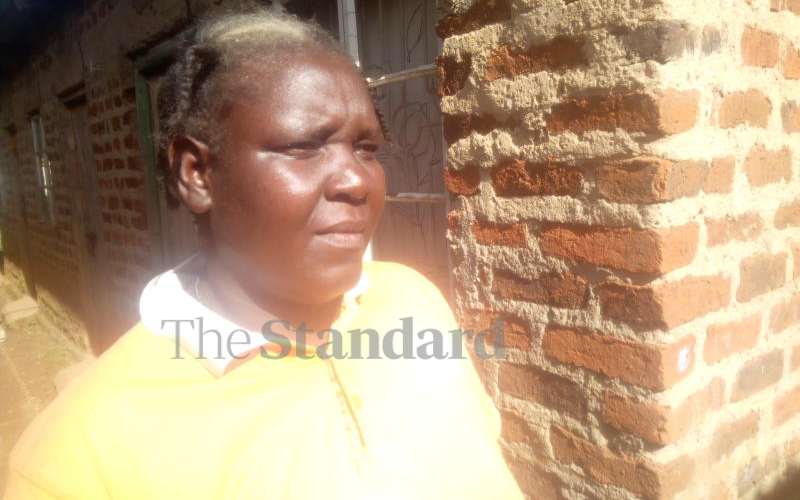 Five years ago, Betty Sakaya, 42, parted ways with her husband over claims of domestic violence. "I felt as if my life was hanging by a thread for the 10 years I was in the abusive marriage. My husband could attack me without warning," Ms Sakaya told The Standard.
It was in January 2017 that she felt their relationship had hit a point of no return.
"He would beat me senseless and threaten to kill me. Having heard about similar cases, most of which ended in tragedy, I decided to pack and leave," says Sakaya.
"That night my husband pushed me, and I landed on a table, hurting my back. He rained blows on my face. I almost lost two teeth. I was treated at Matete Hospital in Lugari Constituency," said Sakaya from Matsakha in Kakamega North.
She rented a room at a nearby market so she could keep an eye on their property.
"I feared that my husband would take advantage of my absence and sell our land at the expense of our children," she said.
According to Sakaya, her husband has since demolished their matrimonial house and sold a portion of their land. "He cares less about the children and has sold the land to two different buyers, who did not bother to involve the children and I."
Sakaya, who has scars all over her body, which she says are constant reminders of her abusive marriage, says she sought the help of local administration. "I told our chief to intervene and stop my husband from selling the land because the children would suffer, but he did not help in any way," she says.
According to Sakaya, at one point the local assistant chief, the husband's family and clan elders witnessed the demarcation of the land where a portion was given to her and the children - only for the man to change his mind and sell that particular portion.
The mother of three has resorted to menial jobs like washing clothes, cooking and tilling people's land to fend for her children aged between eight and 15.
She says efforts to get justice proved futile, as the local administrators appeared to be working in cahoots with individuals who convinced her husband to sell the land without following due process.
"I have been threatened after questioning the administrators' decision to allow my husband to sell land without the knowledge of his family," she says.
According to Sakaya, one of the buyers, an influential businessman, has vowed to teach her a lesson.
"I urge relevant authorities to intervene and have my children get a rightful share of the land sold illegally by my husband," she said.
Her husband could not be reached for comment, but Juma Inzai, a local chief, regretted that land disputes were on the increase locally.
"Most disputes reported in my office involve land. The matter raised by Sakaya is being investigated, and we are working towards ensuring the children get justice," said the chief.