Inquest into the death of 15 pupils pushed to July next year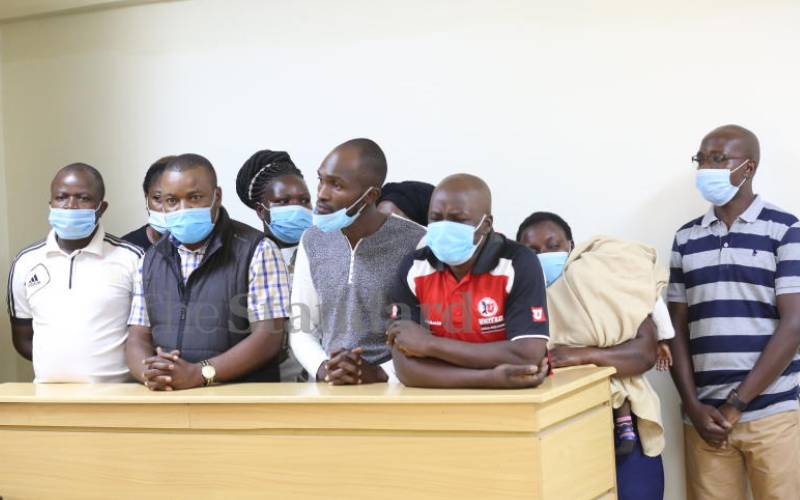 The inquest into the death of 15 pupils during a stampede at Kakamega Primary School will continue in July next year.
Witnesses, including teachers, pupils and some of the parents who lost their children, appeared before Kakamega Senior Principal Magistrate Dolphina Alego on Wednesday for cross-examination.
Eleven teachers, led by the school deputy headteacher, gave an account of what happened before the court directed the inquest to be heard on July 14 when the remaining 25 prosecution witnesses are expected in the dock.
The inquest is aimed at establishing the circumstances that could have led to the tragic incident on February 3, 2020.
Fifteen pupils aged between nine and 12 died in the stampede while 46 others were injured on the fateful evening.
The stampede was said to have happened when one of the learners who was leading others downstairs tried to block her colleagues' mid-way along the staircase on the third floor.
Police investigation indicated that the stampede was an accident and that there was no crime committed.
"There is no clear criminal act that has been committed that is evident, no persons have been mentioned in connection with the stampede as well. This was an unfortunate event," reads the report.
The report downplayed claims of structural errors in the three-storey building housing the school's classrooms.
The report was a relief for teachers who had been accused of negligence.
Postmortem reports had indicated that the pupils died from lack of oxygen.
During cross-examination, the teachers told the court that they had just got out of a meeting when the incident happened.
They indicated that after the meeting most of them proceeded to their respective classes to give out homework when they heard unusual noise from downstairs of the building. They then received phone calls from their colleagues who were on duty for assistance.
They were the first people to rush to the scene to help their colleagues on duty and class teachers who normally direct pupils out of school, who were overwhelmed by the number of learners and the commotion.
"We also got assistance from boda boda riders who had come to pick up learners," the witnesses told the court.
The court heard that upon reaching the scene, the teachers found learners lying on the floor, with some on top of others.
The teachers told the court that they do not know what caused the accident. They said they were told by learners who survived that one of the pupils blocked another from passing, forcing those who were behind to push, causing the stampede.
They told the court the stampede occurred at a building located 50 metres away from the administration block where there are other classes. The school has a population of 3,128 pupils, 51 classes and 74 teachers.