Three charged with carjacking, killing taxi driver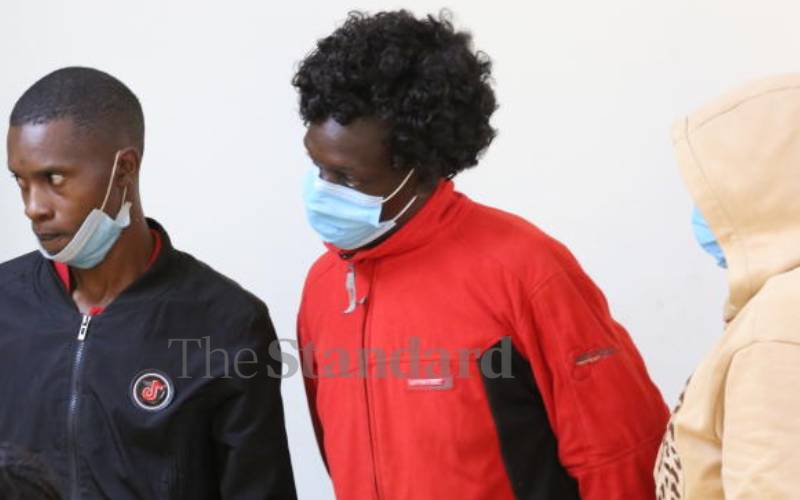 Three suspects have denied robbing a taxi driver of his car before killing him in Kakamega.
Hassan Wandati Nando, Rhoda Viyanzi Litsalia and Mwajuma Imbwana Asman were charged with violently robbing and strangling to death 26-year-old Ibrahim Omodo on October 1.
The prosecution told the court the three posed as passengers and paid Omodo before they robbed him of the car he was driving, a Toyota Prado, and dumped his body in a sugarcane plantation in Nandi County.
Nando was charged with another count of possessing a stolen ID card and an ATM card of the dead man at Kahoya in Eldoret on November 15. He denied the charge.
Similarly, Litsali faced an additional count of handling a car tracking gadget investigators believe was stolen from the Prado.
The state lawyer said the car was recovered in Tororo, Uganda, following a concerted search operation by the Kenya and Uganda detectives.
Kakamega Senior principal magistrate Dolphina Alego said the alleged criminal offence was capital in nature and granted the suspects a Sh2 million bond.
"You will also to give a surety of the similar amount and attend court for mention on December 14, and you should be present when the hearing begins on May 25, next year," she said.
Litsalia requested the State to return her two phones since the investigations were over.
Omodo's body, which was discovered two days after he went missing, had ropes wrapped around his wrists and ankles, and his face was mutilated.
Taxi drivers in Kakamega town protested the death and called for a quick probe into the murder.