Residents live in fear after hippos invade farms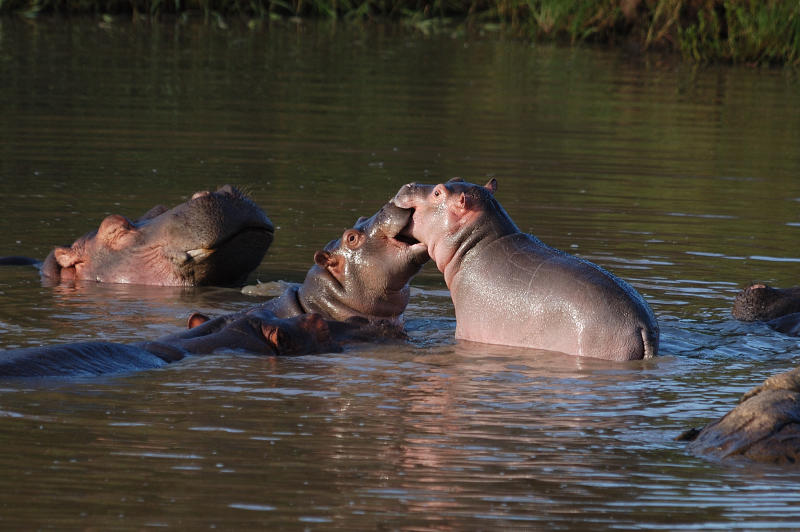 Whenever the sun sets in villages bordering Lusumu River in Mumias West, residents have no option but to lock themselves in their houses.
For the last few months, hippos have been wreaking havoc in farms from as early as 7pm.
"It is by the grace of God that no life has been lost but our crops have been destroyed. We have lost productive working hours as everyone rushes home before the animals get out of their hiding places," said Mr Shariff Weyimi who claims to have been attacked by the animals twice in the past month.
He went on: "In the first attack, it was repulsed by workers from a company next to my home. After a week, it returned and wanted to attack my calf but I managed to chase it away."
Vincent Nanjinia from Burangasi village said he lost his entire maize plantation to the animals when they invaded his farm recently.
"The worst thing is that I had borrowed a loan from One Acre Fund to invest in the farm. I am now faced with a double tragedy – I don't know how I will manage to repay the loan and survive without food," he said.
The residents installed solar lights to scare away the hippos, but this hasn't worked.
Lureko Chief Leo Wanzala said the hippos have been roaming the villages for almost a year now.
Mr Wanzala said the villagers now sleep with their cows inside the house to keep them safe.
"On October 20, I received a phone call in the night about a huge hippo that had invaded the home of Sale Musiko, about a kilometre away from River Lusumu. Villagers managed to chase the beast away," said Wanzala.
The chief said the local administration had alerted the Kenya Wildlife Service (KWS) officials in Kakamega to intervene.
"We have informed KWS but nothing has been done so far. Locals are forced to chase away the animals using stones. KWS should consider this as a matter of urgency and act before it is too late," he said.
In Lureko location, the hippos killed seven bulls between 2018 and 2020.
Buchifi location chief Joshua Adua, however, faulted the wildlife agency for failing to respond promptly to their woes.
"Residents have counted up to nine hippos that roam around. They have destroyed acres of land under maize, potatoes, nappier, and beans and killed livestock. It is unfortunate that the farmers are never compensated for the losses," said Mr Adua.
Kakamega County KWS senior warden Grace Kariuki said the agency was working to reduce human-wildlife conflicts in the region.
She said KWS had dispatched officers to the said area to contain the straying hippos and warned locals against engaging the wild animals by attempting to confront them.
"Our rangers are on the ground to assist the affected villagers. Soon, the roaming hippos will be contained," she said.