Small-scale miners predict bright future from gold refinery project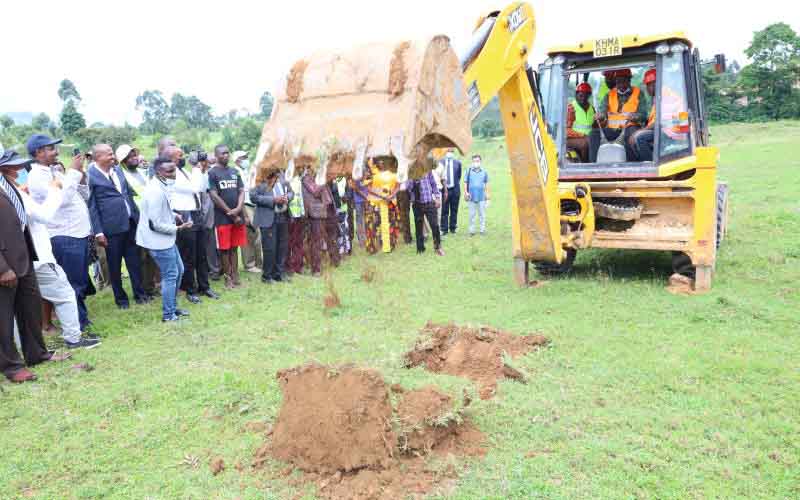 The construction of a gold refinery promises to be a game-changer for artisanal miners who have long been exploited by unscrupulous traders and middle-men.
On Monday, Kakamega Governor Wycliffe Oparanya graced the ground-breaking ceremony of the Ikolomani Gold Refinery Factory in Lidambitsa.
Mr Oparanya said the project that is being undertaken by H-NUO Company will create employment in the Lake Region Economic Bloc.
"Having realised the social and economic benefits that locals will get from the refinery, my government is donating 12 acres of land to speed up the construction of this factory," said the governor.
H-NUO Managing Director Khalid Abdi promised to have the project, which is estimated to cost Sh3 billion, up and running before the end of next year as stipulated in a deal signed between the firm and the government.
"We are going to do it in the interest of locals. We will also ensure miners have standardised rates applied at the international market, and also help them acquire knowledge and experience on safety measures and how to mine more gold," said Mr Abdi.
Edwin Isiaho, one of the artisanal miners, said the factory will change how gold mining is done in the area. According to Mr Isiaho, small-scale miners look forward to being trained and provided with the necessary mining tools and protective gear.
"I am confident miners will no longer be exposed to mercury, which causes miscarriages, loss of fingers and even death," he said.
New taxes
But the miner expressed reservations about newly introduced taxes that will affect their bottom-line.
The Kakamega County Finance Bill, 2021, which was recently signed into law, has imposed a Sh4,000 annual levy on menial workers at mining sites.
Individuals who own mines will also be required to pay Sh10,000 annually to the county government.
The miners urges the governor to lower the charges or abolish them altogether. "The levy is not realistic because the menial jobs we do at the mines hardly pay us Sh200 per day," said Isiaho.
Artisanal Miners Committee chairman Timothy Mukoshi urged the governor to revise the rates downwards.
"The new law poses a threat to the small-scale miners. In simple terms, we are being told to quit the business and leave it to big companies," said Mr Mukoshi.
The official said there were 8,000 artisanal miners whose labour can benefit many families if they are guaranteed a friendly working environment, sound policies and proper tools.
According to Mukoshi, there are 181 gold mine sites spread out in the four sub-counties of Lurambi, Butere, Ikolomani and Shinyalu, out of which 171 are fully registered.
"We produce 8-10 kilogrammes of gold per week and 416 milligrams per year estimated at Sh2.5 billion. We are contributing between 20 to 30 per cent to the country's gross domestic product. We need more support to scale-up our production," said Mukoshi.