Village where pitiful university graduates toil in gold mine shafts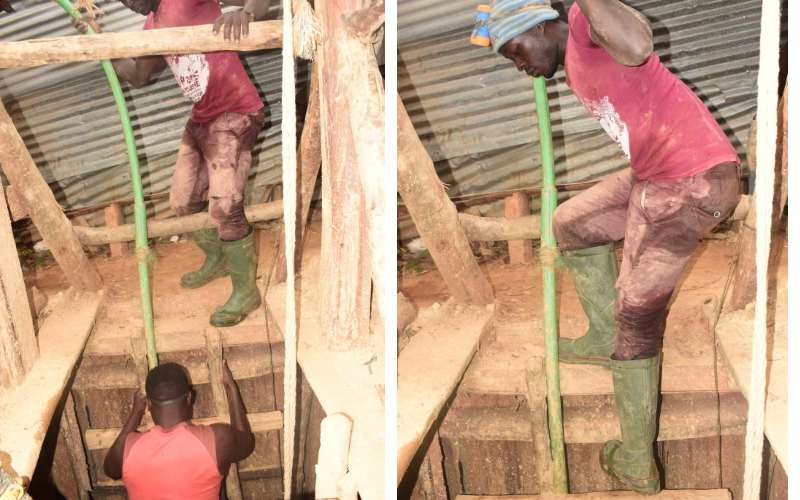 Levis Musembe, 27, had huge expectations when he left Moi University Eldoret in 2017.
The Human Resource graduate obtained a Second Class, Upper Division, and was sure of securing a job in government or in one the leading private firms.
But the excitement he had of completing university education and acquiring a degree would soon pale into insignificance.
"When I stepped out there, it dawned on me that an academic degree is not a guarantee for securing a white-collar job or any other admirable job for that matter. Looking for a job was not easy," Musembe said.
"The only option left was to swallow my pride and join hundreds of artisanal miners working in mining pits near my village."
Musembe is among a group of university graduates in Vihiga that have taken to gold mining.
At least 11 of them are casual workers in the mines at Ebuvasi village.
No one in the mines along the Lirhanda corridor - stretching from Kakamega all the way to Vihiga - appears bothered about Musembe and the other graduates, some fresh out of college.
"What counts here is the amount of work one can do because that dictates what one takes home at the end of the day," says Musembe.
Huge deposits
He works at Maloboti gold mine, one of the largest in the village with close to 100 artisanal miners.
It is among 17 other gold mining sites at Ebuvasi.
Maloboti has five graduates, but they can hardly be picked out from the rest of the miners.
Locals believe the village is endowed with huge deposits of gold but there is no guarantee one will get a gold nugget even after toiling the whole day.
Musembe says he travelled to Nairobi with hopes of securing a job in line with his profession but things didn't work out as he expected.
After an endless search for a job, he travelled back to his rural home in Yala, Siaya County.
Musembe moved to Vihiga where he got a six-month stint as an assistant human resource officer at Vihiga Teaching and Referral Hospital.
However the contract was not renewed, spitting Musembe back into the pool of joblessness.
And without any other opportunity coming his way, he was forced to seek work at the gold mine.
Eight months ago, he joined the Maboloti mining site where he was given the responsibility of ensuring mine pits are well dug and constructed to guarantee safety.
Menial jobs
Musembe says he has braved taunts from school dropouts working in the same mine shafts, but he is happy.
Augustine Orenge has never looked back since he arrived at the mine pits.
"We are despised and told all manner of things.
"They have nicknamed us the 'dirty graduates' because of the menial jobs we do but that never bothers us because we are here for a reason," said Orenge.
Orenge dropped out of university in 2014 due to lack of fees.
He went back to the village and joined his childhood friends, some of whom never went beyond lower primary school, in excavating gold.
"Usually, we pray before entering the shafts hoping that everybody gets out safe and rich."
Orenge,30, routinely reports to the mines at 7am and leaves at 7pm.
To him, this is a job like any other despite the earnings that can hardly sustain his two children and wife.
His predicament is shared by Kevin Lugalia, a Masinde Muliro University of Science and Technology (Mmust) graduate.
Lugalia has a Bachelor of Science degree in Criminology and Criminal justice and had expectations of being absorbed into the police force.
He says unscrupulous gold merchants have made life unbearable at the gold mines.
He says many merchants are not honest and usually pay as little as Sh4,000 per gram of unrefined gold.
"They give us peanuts for the gold we have laboured for and sell the same overseas at high prices."
Despite the gloom associated with this type of work, the graduates say they are doing what most of their peers will not do.
"The government encourages young graduates to seek and acquire alternative skills that will make them productive citizens.
"That is exactly what we are doing, " he says.
They owe their resilience to one Jackson Mwito aka Baba, a veteran artisanal miner.
Baba dropped out of primary school but has mastered artisanal mining.
"In this mine shaft, I have at least eight graduates. I trained them and they are fully qualified artisanal miners," said Mwito, who is in charge of Maboloti site.
"Most of the people you see around work on empty stomachs hoping that one day they will manage to strike the gold deposits and transform their lives."
But the graduates have petitioned the government to help them acquire sophisticated but affordable equipment to aid them in their work.
"The State ought to invest in our talent and skills by giving us upgraded and modern machines like pumps, compressors and drills," said Musembi.