Western leaders bicker over unity as aspirants hit campaign trail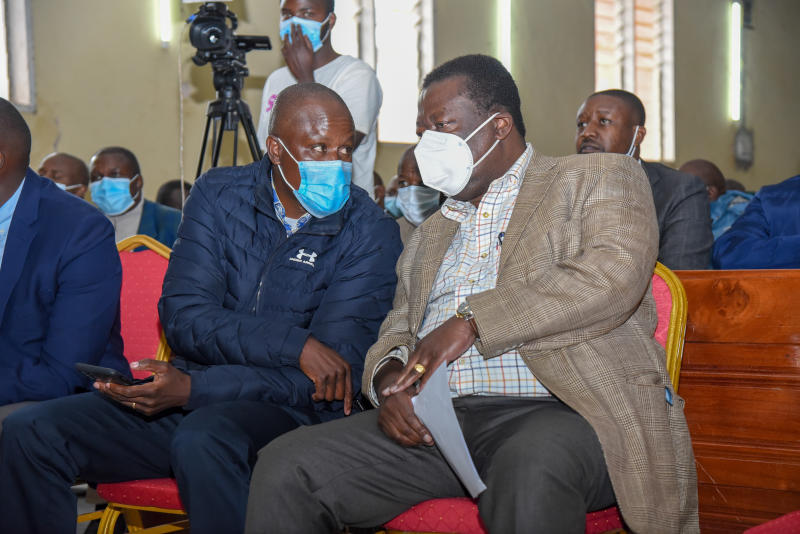 The Luhya community appears once again divided a year to the general election despite many attempts by political leaders to unite the region under one kingpin.
The community has at least five people eyeing the presidency and non appears willing to step down for the other, leaving millions of voters a confused lot.
ANC leader Musalia Mudavadi, Kakamega governor Wycliffe Oparanya, Bungoma senator Moses Wetang'ula, Devolution Cabinet Secretary Eugene Wamalwa and former United Nations Conference on Trade and Development Secretary-General Mukhisa Kituyi have all declared interest in the presidency.
Yet this has been the community's undoing as the numerous presidential candidates and general failure by communities forming the Luhya nation to agree over the years has divided their votes while others opted to support candidates from other regions.
Former Kakamega senator Boni Khalwale says politics have evolved and gone beyond tribe. "Those banking on their tribes alone to win an election stand no chance," he says.
"Raila Odinga and William Ruto have not gained prominence because of their regions or their ethnic communities, but because they have attributes that appeal to people across the board, including the common man. Their brand of politics draws national attention," argues Khalwale.
He adds: "ANC and Ford Kenya lack numbers in parliament. How do they plan to win the presidency? Many presidential candidates, especially those from Western Kenya, lack what can endear them to people from all societies and this has been a major undoing for them.
Khalwale has dismissed the presidential bids of Mudavadi, Wetang'ula, Wamalwa and Kituyi saying: "They are missing the bigger picture by concentrating on ethnic mobilisation when it is clear that cannot pay any dividends."
"Raila has captured the imagination of Kenyans by suggesting a different way of governance through the Building Bridges Initiative which, I daresay, is a mongrel that is neither a parliamentary nor presidential system".
He adds: "The rallying call by our brothers is for the Luhya nation to unite to propel their own to State House. Who among them should the people rally behind? It will not happen because ethnic mobilisation is no longer in vogue."
"Look at Ruto for instance. His campaigns are anchored on national issues. These issues don't necessarily have anything to do with the Kalenjin community. He has endeared himself to the poor and has distanced himself from ethnic mobilisation. This contrasts sharply with Luhya leaders who are only focused on the community support. In any case, who says Luhya's are not united?"
Lugari MP Ayub Savula and Vihiga Woman Representative Beatrice Adagala are however convinced Mudavadi will become Kenya's fifth president.
"ANC is on course and gaining ground. We are working on winning support from all Kenyans and there is no doubt Mudavadi will be our next president," says Savula adding that Kituyi stands no chance.
Adagala says: "Mudavadi is the most qualified person to take over from President Uhuru Kenyatta. More importantly, he is an economist and we need his experience to fix this country. When he served as a finance minister under president Daniel Arap Moi, Mudavadi stabilised the economy."
"It is Kituyi's democratic right to vie for the presidency, but Mudavadi is clearly the people's choice," according to Adagala.
She says a move by United Democratic Alliance (UDA), which is associated with DP Ruto, to open offices in Western is not a threat to ANC.
"What UDA is doing is merely a fulfilment of a requirement by the Registrar of Political Parties that a political party with a national outlook must have offices in at least 24 of the 47 counties. ANC is also planning to open offices across the country," says Adagala.
She adds: "You have seen us on tours at the Coast and Nakuru and Central Kenya. ANC is a solid party that will shock the naysayers."
Plans to strengthen the party, says Savula, include opening branches and recruitment across the country. He says three Western Kenya MPs will soon be joining ANC "due to the party's growing influence".
Khalwale notes the DP is courageous enough to leave Jubilee Party and root for UDA. The "Bull fighter" believes the only way Mudavadi can make it to the national stage is by teaming up with another candidate, may be as a running mate. "Anything short of that is unrealistic."
And Oparanya, who is also one of ODM's deputy party leaders, terms One Kenya Alliance (OKA) where Mudavadi, Wetang'ula and Kalonzo Musyoka of Wiper Party are among its luminaries, as inconsequential.
"OKA leaders should read the writings on the wall or they will remain tribal leaders after the 2022 General Elections," says Oparanya.
Senate Speaker Kenneth Lusaka say: "For us (Luhya) to be taken seriously in national politics, the leaders must work together."
He adds: "With our numerical strength, if we are united, we will for sure form the next government, or join forces with other groups so we can be part of the next administration. What is the way forward for Western leaders is the big question we must answer?"
Political analysist Barack Muluka argues the Western region expects Mudavadi to go all the way to the tape.
"If he (Mudavadi) drops out of the race in support of another candidate, he will face the backlash of disappointed voters across the region," says Muluka.
Muluka says all Mudavadi can do is galvanize the region is by reaching out to local leaders then get out there and make alliances and create networks to enhance his chances of clinching the top seat.
"The mood across Western is that Mudavadi must be on the ballot. He cannot afford to withdraw from the race at any stage," says Muluka.
Wetang'ula said he will work together with Mudavadi to galvanize Western to enhance the chances of the region producing the fifth president.
But Muluka says unless Wetang'ula is willing to fold his party and back Mudavadi's presidential quest, the senator's sentiments may count for nothing.