School tussles with a family over felled tree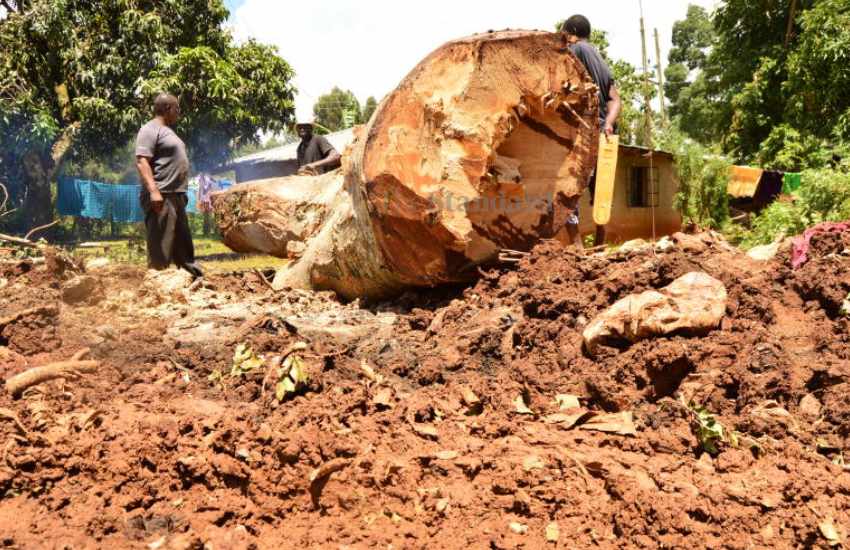 Kakamega High School and a neighbouring family are embroiled in a tussle over a tree that was recently felled by the institution.
The family insists they are the genuine owners of the indigenous tree, which they claim to have inherited from their forefathers.
According to the family, there was a binding pact between the school and the local community that ownership of trees growing along the border would be determined by the side a tree falls on when it is cut down.
Led by Thomas Shabaya, the family argued that the agreement was reached by their forefathers when they donated and sold a section of their land to the school for expansion many years ago.
"We even made an effort to remind the school through the generations that when the time to cut down the tree comes, the side it will fall on would determine the owner in accordance to the earlier agreement that existed between the institution and our forefathers," he said.
"The tree planted around 1918 by my grandfather was cut down recently and it fell on our land, but the school violated the earlier pact by taking it away."
Kenya Rural Roads Authority cut the tree during the expansion of a road that passes behind the school on Wednesday.
"We are in shock that the institution cannot keep a simple agreement entered into between it and our ancestors who gave out the piece of land they occupy today," said Shabaya.
"Let them not think they are punishing us, they are getting it wrong. They could as well be daring the spirits by going against the agreement."
But the school principal, Gerald Orina, denied the existence of an ancestral pact, saying the tree belonged to the school. He said the confusion as to who owned the tree arose when the school was erecting a perimeter wall around the institution.