Father's sudden loss of vision dims family celebration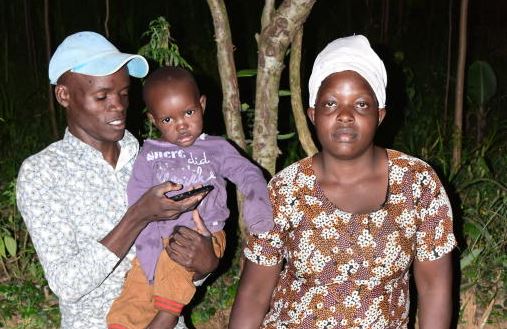 Joakin Muchesa was looking forward to seeing his newborn child, but his hopes were dimmed by an affliction.
Like any other parent, Muchesa, 30, had great expectations, but then the unthinkable happened.
"I was not around when my wife gave birth.
"The day I planned to travel home to see my son marked the beginning of my misfortunes," recounts Muchesa.
On August 12 last year, he left his work station in Kericho for his rural home in Shagungu village in Kakamega County, where his wife was.
He was beaming with joy at the prospect of seeing his family after being away from them for close to a year.
His wife, Vickilance Khaoya, 21, notified him through the phone that the child resembled him.
Something strange
As he boarded a matatu from Kericho to Kisumu, something strange happened.
"I was scrolling through the images in my phone when suddenly everything became blurry.
"I also felt a lot of pain in my eyes. All I could see were white stars. When I told the person seated next to me what was going on, they were perplexed," recalls Muchesa.
Despite that, he reached home and when he tried to tell people that he could barely see, no one believed him.
His wife noticed that he had no clue where the newborn baby was sleeping.
Suddenly, a moment of joy and celebration turned into sorrowful one.
"They (family) struggled to understand how one could go blind so fast.
"I had no signs of any sickness. I asked myself many questions like why the disease came at a time when my son was born," Muchesa says.
The next day, his mother, Agnes Khatiala, took him to Sabatia Eye Hospital in Vihiga County where his condition was declared permanent.
A diagnostic report by Dr Regina Ondigo revealed that Muchesa was suffering from optic atrophy.
Optic atrophy is the loss of some or all of the fibres in the optic nerve.
The disease is usually caused by inflammation, ischemia, nutritional deficiencies or trauma. It can also be hereditary.
Muchesa, a holder of a diploma in information technology, also lost his job.
They say every dark cloud has a silver lining.
Undeterred, Muchesa is writing a Swahili book titled 'Utazoleka' which highlights the ills of bad leadership in society.
The book is an anthology of short stories that castigate the style of leadership in Kenya.
"My brain is not blind, I had to find something to do. "This is a complete book of short stories only awaiting publishing," he said.
It has taken him time to accept his present condition but he wants to learn Braille because the condition is irreversible.