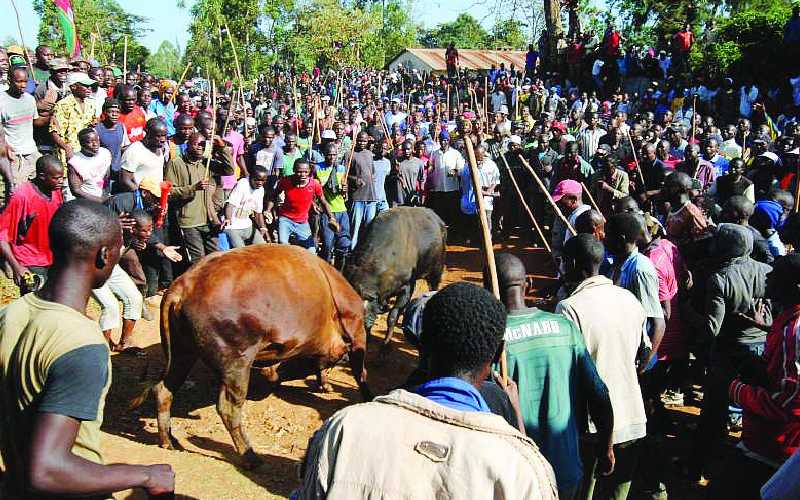 A charged bull smashes into the opponent with shuddering force as hundreds of fans cheer them on at Shitao grounds, just a stone's throw away from Kakamega Airstrip.
The fans are in a frenzy, vigorously dancing and chanting songs in praise of the two giant bulls racing one another down the field.
Push comes to shove as Jeshi charges hard, injuring his opponent 'Corona the Beast' with razor-sharp horns and forcing it to scamper for safety, hollering uncontrollably.
A section of fans suddenly goes quiet; they are disappointed because 'Corona the beast' just let them down.
That was late last week when residents bid farewell to 2020, a year ravaged by the coronavirus pandemic.
Ironically, the crowd left no space for social distancing and there were no designated areas for handwashing or sanitising. There were there no face masks, either.
Danger of infection
The allure to gamble and make quick money is far too enticing, regardless of the danger of infection.
Kakamega is among those that have lost key personalities to Covid-19, including Matungu MP Justus Murunga Makokha, who died early December and county chief of staff Robert Sumbi, who succumbed to the disease in October last year.
At one point, Governor Wycliffe Oparanya shut down county government offices following a spike in infections.
County Health Executive Collins Matemba urged bullfighting enthusiasts and organisers to adhere to Covid-19 containment measures "because coronavirus is with us."
But for some, the stakes in popular sport are high. They bet as much as Sh20,000 while the youthful fans stake between Sh500 and Sh1,000, according to Vincent Shimali, a bullfighting gambler.
Shimali says he has built a home with proceeds from the gambling business which he has been doing for the past six years. "Initially, I would just cheer on and leave after the matches. But then I discovered people were making good money through betting. All you need is to predict correctly who will win the bout between bull A and bull B," he says.
According to Shimali, gamblers in bullfighting stand higher chances of making correct predictions because they are able to see the bulls and make a judgment from an informed point as opposed to the football gamblers who just make wild predictions and rely on luck to win.
Most fans earn between Sh6,000 and Sh10,000 from predicting the fights correctly.
"I have always got my predictions right and received some money from it, sometimes I lose and although it pains when that happens, I let it go and focus on the next fixture," says Patrick Kulecho, a bullfighting fan from Lurambi.
Sometimes, fans have to travel to far flank areas like Vihiga, Mumias and even Kakamega North to watch the bullfights live.
The results can hardly be manipulated and money is handed to the winner in the presence of security agents hired specifically for that particular job.
But this kind of betting is not recognised by the Betting Control and Licensing Board (BCLB) under the Ministry of Interior and Coordination of National Government.
Bullfighting is a popular game among several Luhya sub-tribes, including Batsototso, Waisukha, Kabras and Idakho and Maragoli.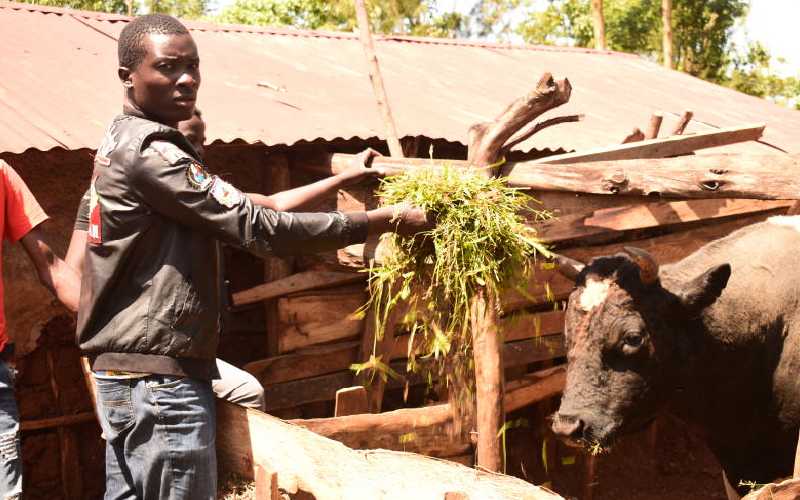 Elders say the sport has been passed from one generation to the other and jealously guarded.
"We are appreciating what we inherited from our forefathers to preserve and promote our culture. We appreciate bullfighting and as a young generation, we will not disappoint by letting it die," said Jonathan Mukonambi, a fan from Malava sub-county.
But far from the cultural aspect, bullfighting appears to be gradually transforming into a lucrative venture for both bull owners and even the fans.
Former Kakamega Senator Boni Khalwale, the self-proclaimed patron of the Kakamega Bull Fighting Association, says the sport has capacity to earn Kenya foreign exchange, give the county governments in Western much needed revenue and even create jobs.
Prized bull
When the signing window opens, a bull can be sold for as much as Sh300,000 depending on weight and ability to win matches.
"A butcher had offered me Sh150,000 for Malinya Pogba before he died. His handler would take home Sh5,000 every month," Khalwale says.
The former senator said he spends Sh25,000 every month to feed and treat the bull.
Khavele is the prized bull at the moment across Kakamega and Vihiga counties.
Ben Mululu, who works at Africa Safari Club, paid Sh300,000 to get the coveted bull during the last signing window.
Khavele the beast has become a scare to foes.
Mululu and other owners of fighter bulls could make between Sh10,000 and Sh20,000 in a single fight certified by the association, Khalwale says.
"A bull may have at least two fights in a month or more. Since 2002, we have been organising a tournament where the bulls fight regularly. Sometimes, the bull owners would get up to Sh50,000 with financial support from European Union," says Khalwale.
The climax on returns in bull fighting is when Deputy President William Ruto rewarded owners of the bulls with 20 in calve pedigree heifers two years ago.
"Although we lost two of them, the dairy heifers were a major boost with each costing between Sh150,000 and Sh200,000. Most of those who received the heifers have embraced dairy farming," says Khalwale.
Khalwale recalls the day the Sportpesa betting firm approached the bull fighting association with intention of sponsoring the sport.
"Initial talks had just kicked off. Unfortunately, there were cartels who deceived some of the bull owners to have their bulls exported to Nairobi where fights would be staged," he says.